GetGlobal 2016 How to Navigate and Win in the Global Marketplace
GPI recently attended GetGlobal: The Global Growth Conference in Los Angeles, CA. This was the first event of its kind and it proved to be a reflection of what has been happening with international trade on a global scale.
The attendee and panelist list was a cross-section of government officials specializing in international trade, smaller business organizations and representatives from some of the most recognizable global brands.
This event aimed to help with global readiness by providing information for how to successfully take your business global and concrete steps businesses must consider regarding taxation, international trade regulations and employment laws, and possible legal obstacles.
After a welcome reception Wednesday night, the conference offered two full days of keynotes, panel discussions and sessions offering something for everyone.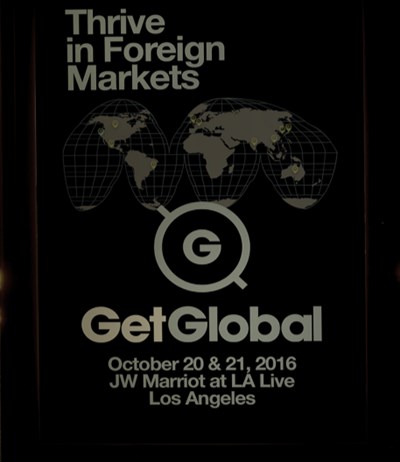 GetGlobal Day One
Day one offered seven different sessions under the umbrella of Global Industry Outlook. Sessions were segmented by industry ranging from Aerospace and Renewable Energy to Travel, Tourism and Hospitality, which is the one I attended.
The founders of The Guestbook and Equinox Hotels provided great insight into how they approach global expansion by researching and effectively target their locales and adjusting their approach to make sure their brand identity is maintained.
That session was followed by one of the most enlightening and powerful keynotes of the event:
The Truth about Strategy in a Changing World. Carlos Gutierrez, Chair, Albright Stonebridge Group & Former U.S. Secretary of Commerce
Gutierrez made many note-worthy points all U.S. businesses should keep in mind as they are looking to take their products and services global:
Globalization does not mean Americanization but more and more regionalization, and localization in a culturally literate and sensitive way.
The future is not about looking inward; we must look outward and it starts with the willingness to understand the culture of the countries we seek to engage in.
95% of consumers do not speak English.
Europe is currently America's biggest trade partner but the Asian market will by far outgrow and surpass the EU in the near future.
Of the 10 biggest ports in the world six are in China. The potential for commerce and trade with China is huge, yet U.S. investment to Europe is huge vs. investment in China which in comparison is tiny.
Another session which I felt resonated with me personally as well as the rest of the audience who attended this panel discussion was:
Building Cultural Fluency: Understanding Foreign Cultures & Protocol. Kyle Hegarty, Managing Director, Leadership at Nomad, a Division of TSL. Dave Eaton, Senior Client Partner, Practice Leader, Culture Transformation, Korn Ferry Hay Group. Marta Grutka, Founder & Principal, Bespoke Consultancy Pte Ltd.
The moderator and panelists took a deep dive into the nuances of culture to help attendees understand the importance of obtaining cultural fluency when working with individuals from other cultures. Kyle Hegarty highlighted the fact that what seems acceptable and admirable in one culture may seem confusing and puzzling to another. As Dave Eaton from Korn Ferry put it best, "once you understand the whys behind people's actions based on their cultural upbringing and background it's easier to navigate foreign territory."
GetGlobal Day Two
Day two dealt primarily with the financial aspects of conducting global trade. Global Money: Currency Management and Risk provided insight into the monetary pitfalls and solutions for global organizations. Other tracks discussed security and corruption, the challenge of keeping your employees and operations safe in Mexico and Customs & Corruption: Getting to Market Efficiently & Reliably.
The second day also offered several country and regional sessions for China, Europe, Canada and the U.A.E. Dubai Airport provided an overview on business in Dubai and touted its tax-free benefits for FreeZone businesses and other advantages for setting up shop in Dubai.
Currently there are 1,600 companies conducting business in the FreeZone and Dubai aims to double or even triple that number. The stats presented seemed to bolster Dubai's case: profit for U.S. companies from international growth will increase from 39% in 2015 to 47% in 2016 and Dubai aims to continue to remain a great place to do business for American companies.
Summary
Overall the event was very educational and offered expert advice on just about any topic of interest to businesses going global. The top notch speakers and great panel discussions only added to its appeal, and I look forward to attending next year's conference.