The History of Thanksgiving
We are just a couple of days away from the annual Thanksgiving celebration in the United States. This national holiday is commonly celebrated by gathering together with family and friends, cooking a turkey and pumpkin pie (and much more) and sharing stories of what we are thankful for.
In September 1620, a ship called the Mayflower set sail from Plymouth, England carrying 102 passengers bound for the New World. Many of the passengers were religious separatists and others were attracted to the idea of prosperity in a new land. After a dangerous 66 days crossing the ocean, the travelers landed near Cape Cod and later, Massachusetts Bay, where they established a village at Plymouth.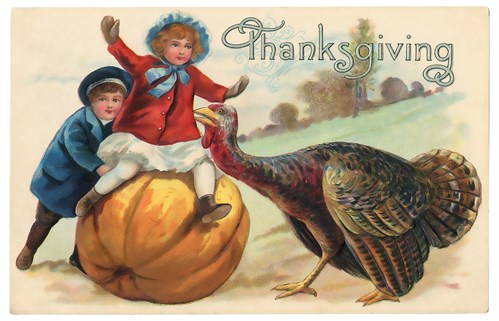 After a brutal first winter, which many of the original 102 Pilgrims did not survive, the Pilgrims met Squanto, of the Pawtuxet tribe, who had been kidnapped by an English sea captain and sold into slavery before escaping London and returning to his homeland. Squanto taught them how to grow corn, extract sap from maple trees, catch fish and avoid poisonous plants.
Squanto also helped the Pilgrims form an alliance with the Wampanoag tribe. This alliance lasted for more than 50 years, and sadly, remains one of the only examples of harmony between European colonists and Native Americans.
In the fall of 1621, the Pilgrims successfully harvested their first corn crop. To celebrate, they planned a feast and invited a group of the colony's Native American allies, including the Wampanoag. This is regarded as American's first Thanksgiving.
More than 200 years later in 1863, President Abraham Lincoln named the final Thursday in November as Thanksgiving. In 1941, Congress officially declared Thanksgiving Day a national holiday.
Thanksgiving Fun Facts:
According to the National Turkey Federation, 88% of Americans said they eat turkey at Thanksgiving. The average weight of Thanksgiving turkeys is 15 pounds, which means roughly 690 million pounds of turkey is consumed in the U.S. during Thanksgiving.
The first Macy's Thanksgiving Day Parade (originally known as Macy's Christmas Parade) took place in New York City in 1924. It was started by Macy's employees and featured animals from the Central Park Zoo. It is now attended by three million people and viewed on TV by 44 million.
According to the Guinness Book of World Records, the largest pumpkin pie ever baked weighed 2,020 pounds and measured just over 12 feet long. It was baked in 2005 by the New Bremen Giant Pumpkin Growers in Ohio, and included 900 pounds of pumpkin, 62 gallons of evaporated milk, 155 dozen eggs, 300 pounds of sugar, 3.5 pounds of salt, 7 pounds of cinnamon, 2 pounds of pumpkin spice and 250 pounds of crust.
Three towns in the U.S. get their name from the traditional Thanksgiving bird, including Turkey, Texas; Turkey Creek, Louisiana and Turkey, North Carolina.
The first national Thanksgiving football broadcast by NBC radio network was in 1934 and featured the Detroit Lions and Chicago Bears at the University of Detroit stadium. Since then, the Lions have played a game every Thanksgiving except between 1939 and 1944. The first televised Thanskgiving football game was in 1956.
Source: https://www.history.com/topics/thanksgiving/thanksgiving-facts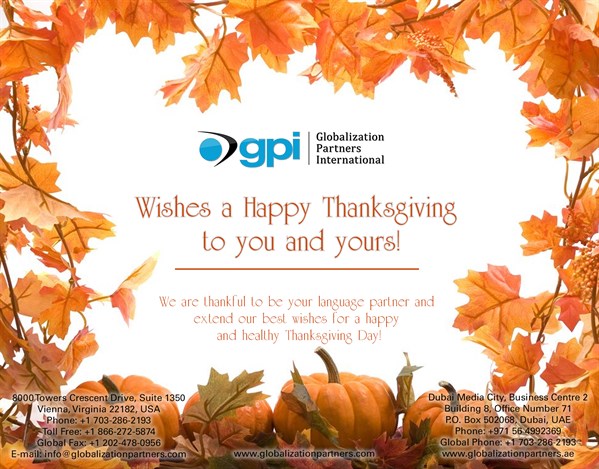 From all of us at GPI, Happy Thanksgiving!