How to Drive Traffic to Your Website
For most business owners, the problem isn't how to create a website or even start a blog; it's how to attract potential customers to visit that virtual location floating around in cyberspace because increasing website traffic is the goal of many business owners and marketers. Visitors to your website can learn more about your products and services, establish trust in your brand, and eventually convert into leads and consumers. Read more to learn how to increase traffic to your website: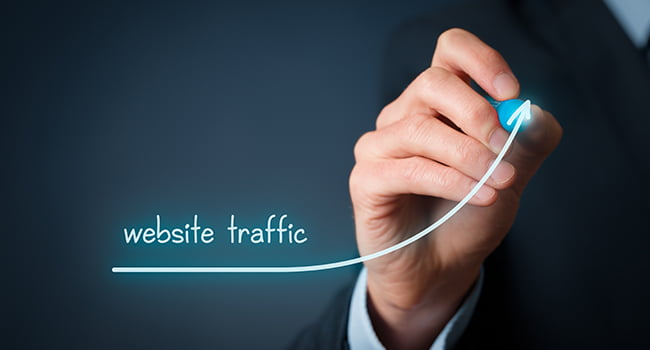 1. Implement Google Search Engine Optimization
Nowadays if you don't know about SEO you are doing a disservice to yourself. Learn the complexities of SEO so you can engage in the appropriate traffic delivery techniques. You can boost your results by having a thorough understanding of SEO.
2. Optimize Your Google Business Profile
A fully optimized Google Business listing receives a 7x higher number of hits than one that is incomplete. Remember that your listing contains a link to your website, so this is an excellent approach to increase traffic to your site. Google's results pages are becoming increasingly intelligent. If your listing contains all the information that a potential consumer requires to make a decision, they may choose to contact/visit your business location directly rather than visiting your website – which is even better! See example: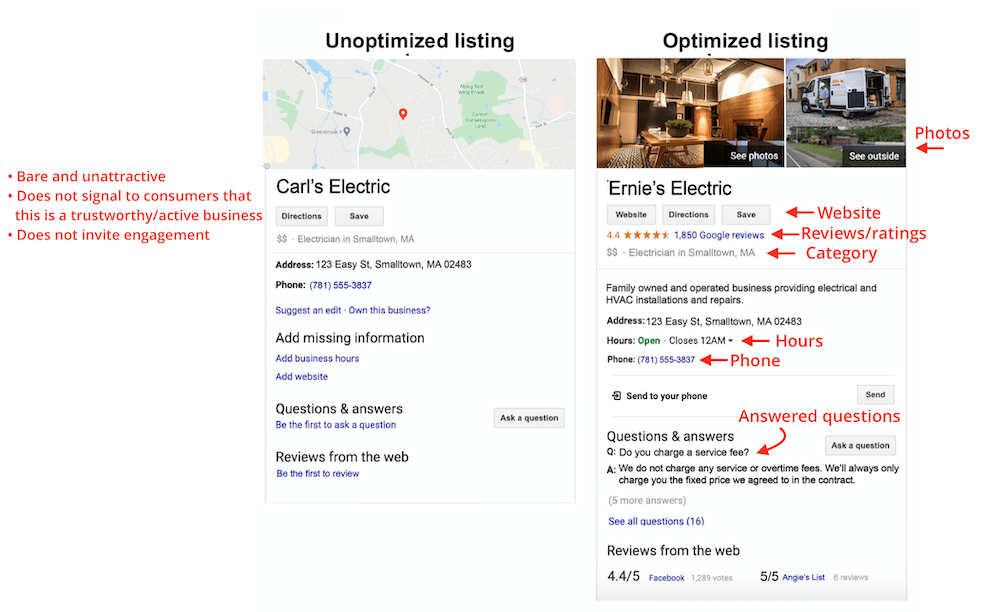 Image Source: LOCALiQ
3. Build Backlinks
A backlink is a link to your website from another website. Backlinks from relevant companies or industry leaders will not only raise your company's visibility but will also drive qualified traffic to your website.
Furthermore, Google notices backlinks and will place more faith in your company if it attention to other reputable websites linking to yours. More Google trust means higher rankings, which means more traffic. Quality backlinks will help you get recognized on Google.
4. Social Media Marketing
One of the most popular free marketing techniques is social networking, which helps drive traffic to your website. Promote blog posts and other relevant pages on your website using social media platforms for Facebook, Instagram and LinkedIn. If you post shareable material, you may convert your social media followers into website visitors and generate traffic from their networks.
5. Email Marketing
Regularly sending out newsletters and advertising special deals via email is a wonderful way to stay in touch with clients and may also help drive traffic to your website. Provide useful information and links to areas on your website where they can learn more, such as blog posts and landing pages for specific offers.
6. Responsive Website
Mobile devices are used to access the internet by more people than ever before and requiring your visitors to pinch and scroll their way across your site is practically asking them to leave. Even if you only have a simple website, it must be viewable and available on multiple devices, including handheld smartphones.
7. Website Speed
Have you ever had to wait for a webpage to load for thirty seconds? I don't know either. If your site takes an eternity to load, your bounce rate will be exceedingly high. Make sure your pages are technically optimized, including photo file sizes, page layout, and the use of third-party plugins. It's important if your website is quick to load.
8. Blog
Blogging is good for SEO because it helps with several important ranking factors. If you have a blog that is updated regularly with a high-quality blog on topics that are important to your audience, it might make a huge impact on how well your entire website performs in search engines.
9. Internal Links
The number of sites linking back to your website isn't the only factor that influences the strength of your link profile; your internal linking structure can also be influential. When creating and posting content, keep an eye out for internal linking chances. This not only helps SEO but also improves the user experience.
10. Google Analytics
Google Analytics is free to use, and the information it provides can help you increase the number of visits to your website. Use tracked links in your marketing campaigns and monitor your website's metrics on a regular basis. This will help you better understand the factors that contributed to the success of your campaign and learn from the ones that you can improve on.
Conclusion:
We have mentioned the best ways and methods that are used to increase the number of visits and views to your website. Of course, many other ways can be implemented, however, we have narrowed them down to include the fundamental and proven ways to help increase website traffic
References: