Welcome to Languages & Locales: May Edition
The latest edition of Languages & Locales is here…
For our first time visitors, this is the official newsletter of Globalization Partners International.
In this issue, you'll get a Case Study detailing how Globalization Partners International (GPI) provided translation and multilingual desktop publishing services for a variety of &Beyond training materials and policies, as well as destination itineraries and descriptions generated from a proprietary web content management system.
Languages we covered in this project:
Portuguese
Spanish
Swahili (Kiswahili)-Tanzania
Swahili (Kiswahili)-Kenya
Zulu (isiZulu)
In Tools & Tips, you will learn about Translation Memory (TM) technology that allows GPI translation team to store and reuse both source and target language content for any translation project.
In Meet the Team, you will go behind the scenes and meet some of the GPI translation professionals. And don't miss the Curation Corner bringing you interesting news and articles from around the world.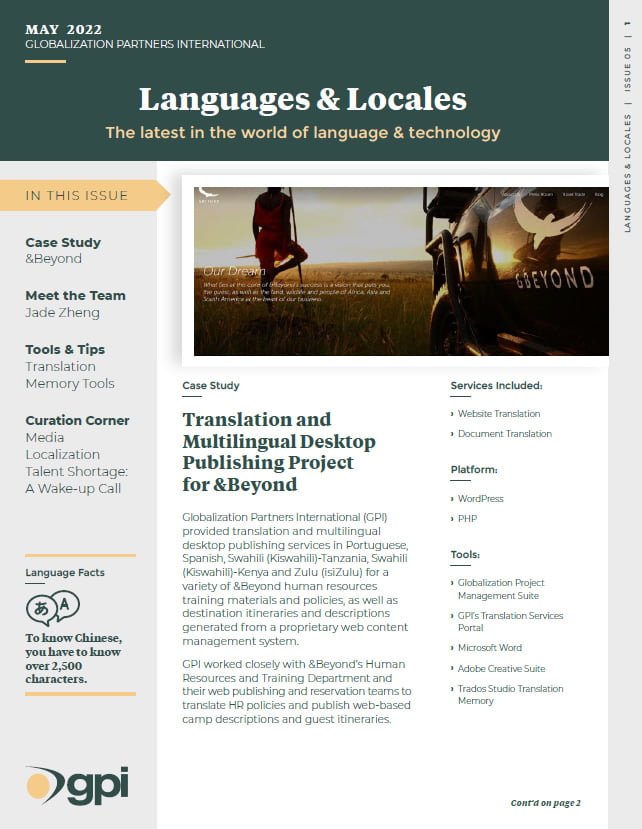 Are you ready to dive in? Read the Languages & Locales May edition now!
Subscribe here if you want to receive the upcoming editions of Languages & Locales.