Franchising has been a key area for small business growth in the United States for over half a century, but recently real growth is happening in our neighbor to the south, Mexico. Mexico is not just a country with tourist beach locations but multiple large cities and a growing middle class. It is a market that franchisors should be considering or reconsidering.
Why Mexico?
Mexico has a growing population of 132M with a median age of 29, compared to the United States with a median age of just over 38 years of age. Many of the largest countries in the world are seeing their population trending to the middle to older populations on average and with either nominal or declining population growth. Mexico is youthful by comparison and with a growing population that is expected to trend upward to reach close to 150M by 2030.
The largest city in Mexico is Mexico City with a population of over 22M and growing. Over 80% of the population of Mexico resides within their cities and urban areas. In addition to Mexico City, other leading cities are Guadalajara (5M+ in the metro area), Monterrey (5.1M+ in the metro area), and Puebla (3M+ in the metro area). Today 70% of the franchising activity resides within the urban areas of the three largest cities.
Is Franchising Active in Mexico?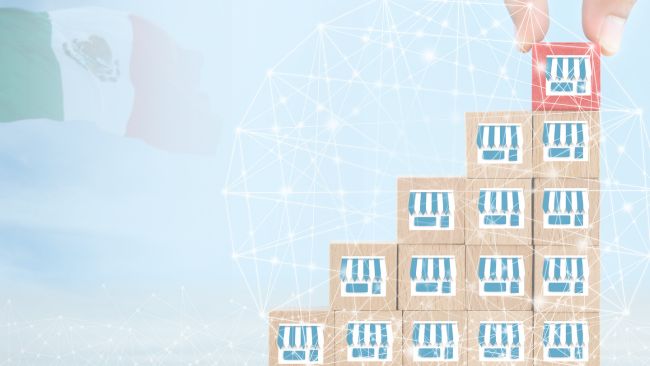 According to the US International Trade Administration, franchising is quite active and accepted as a business concept in Mexico. The Mexican Franchise Association states that there are 90K franchise locations in Mexico of which 85% are Mexican-based brands, and 10% are USA brands.
Historically, economic growth in Mexico has been low, but pre-Covid the Mexican economy was showing strong growth, and it is now again doing so with Covid issues easing. Mexico has a large footprint geographically for a franchisor to consider how to plan a master franchisee strategy for the country.
The food and beverage industry accounts for 35% of the franchises in the country. As of 2022, there were about 400 Mcdonald's in Mexico. Dominos has over 800 units. KFC reports having about 440 units in Mexico. Wendy's has 28 units but has recently announced an expansion plan for Mexico.
American brands are well known in Mexico,  with its growing population, growing middle class, global top 15 economy, and large cities to support multiple units in close proximity; all these factors can make expansion easier for a master franchisor.
While Dubai is a hot market with every franchise concept to compete with, it may be worthwhile to consider Mexico for the new expansion.
As a translation company, expanding your services to support franchise operations in Mexico can open up a range of new opportunities. Providing language translation and localization services for franchisors and franchisees entering the Mexican market is crucial for ensuring effective communication, cultural adaptation, and success. By bridging the language and cultural gaps, your translation company can play a vital role in facilitating the growth of franchising in Mexico.
With the right strategies and partnerships in place, franchisors can seize the potential that Mexico offers and establish a successful presence in this rapidly evolving market. The time is ripe to explore the possibilities and expand your franchise into Mexico
References: