Online and Mobile Shopping in UAE and MENA Region
When it comes to shopping online, the UAE (United Arab Emirates) and MENA (Middle East North Africa) markets are finally starting to take off, with notable growth in the travel and leisure industry. This blog focuses on key growth indicators and provides compelling evidence why you may wish to localize your websites and marketing message for this key marketplace.
A recent survey by Mastercard indicated that the percentage of respondents in the UAE accessing the internet for shopping increased from 29 per cent in 2009 to 42 per cent in 2010, led by consumers within the 25-44 age groups.
Categories leading the growth in the UAE in 2010 include:
Airline tickets (74%)
Hotel bookings (66%)
Home appliances and electronic products (32%)
Clothing & accessories (34%)
Restaurants/home delivery of food (32%)
Supermarkets/superstores (32%)
The number of successful startup ecommerce companies within the region may also be one of the driving forces behind online purchasing in the UAE.

My personal favorite success story is about Gonabit; just one year old as of May 26th, it is the first company to lead the way in "group buying" in the Middle East. Gonabit started in Dubai and has expanded to Abu Dhabi, Beirut, Amman, Sharjah with more cities to come. Every day GoNabit features a cool new deal per city at 50-90% off on great things to see, eat and do locally.
For their one year anniversary, Gonabit featured 50% off a Full Spa Day at Atlantis. They received an overwhelming response with over 288,655 AED (United Arab Emirates Dirham) spent on credit card transactions.
Adding to their success, in August 2010 Gonabit reinforced its commitment to serving the region by launching the world's first Arabic language group-buying website. This new version of the website offers a completely localized interface. Dan Stuart CEO of Gonabit says "consumers have more choice, and serving both English and Arabic languages strengthens the GoNabit model for our partner-merchants as we can now market their services in both English and Arabic."
As a further sign of GoNabit's success, they were snapped up by LivingSocial in late June of this year. LivingSocial, which is understood to have acquired 100 per cent of the firm, operates a similar business model, and is the second largest player in the U.S. market after GroupOn.
Mobile Marketing Trends in MENA
By now, nearly everyone has heard of Gartner's prediction that by 2013 mobile phones will overtake PCs as the most common web access device worldwide. In the Middle East there is no doubt that these devices are the medium of choice for consumers accessing the Internet.
Mobile Marketing Statistics in UAE and MENA
According to a study by Effective Measure and SpotOn PR:
45% of all MENA users surveyed use their mobile phones to access the Internet
50% of users in the UAE use their mobile phones to access the Internet
44% of all MENA mobile internet users have more than one smart phone.
The table below summarizes the top reasons for using the mobile Internet in the Middle East and North Africa Region (MENA.)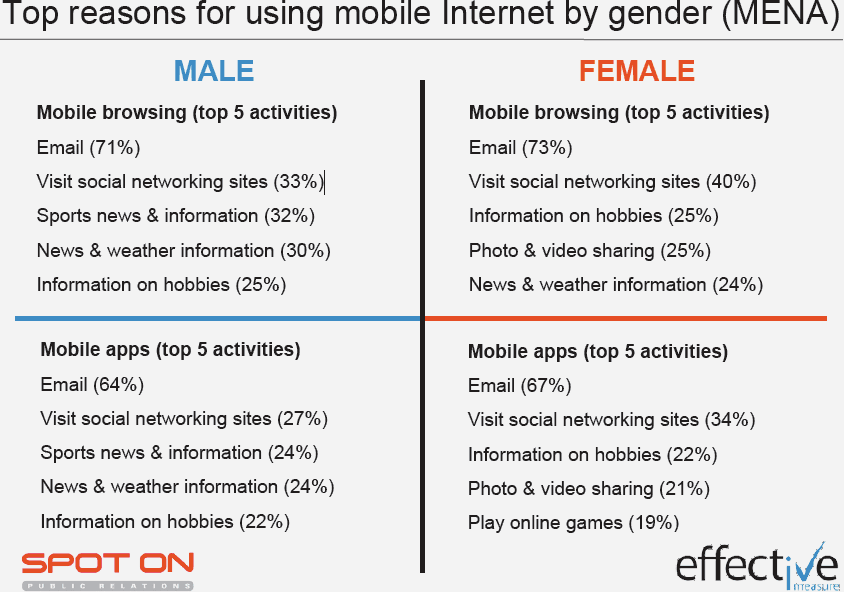 Mobile Websites in the UAE
Dubizzle, a classifieds and community website recently launched a mobile version of its site that will allow individuals the ability to browse Dubizzle classifieds and conduct searches via their mobile device. The first rollout of the site is available in English; however, the company has plans to develop an Arabic and French version of the mobile platform later this year.  Dubizzle also plans to create Smartphone apps for Apple, Android, and Blackberry devices, which will be released to the public later in 2011.
Yahoo also introduced a mobile website localized in Arabic as well as English tailored for the Middle East in June. Ahmed Nassef, Yahoo! vice president and managing director of Yahoo Middle East, told The National that over four million users in the Middle East and North Africa currently access Yahoo! via mobile devices, and it is expected that visits would rise substantially with the launch of its Arabic site and the growing use of smartphones in the region.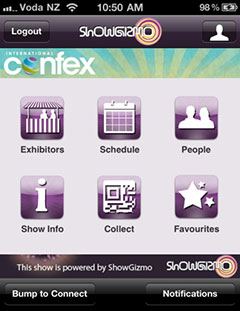 Mobile Apps in the UAE and MENA
There are a number of initiatives to promote Arabic-language mobile applications in the UAE and throughout the MENA region as regional organizations invest heavily in their development.
One such example is appsArabia, a newly established organization funded by twofour54 ibtikar. appsArabia has set a charter to invest in the "best app ideas" throughout the region. appsArabia also helps get new apps to market and provides assistance to promote such apps to maximize ROI for their creators.
Another example is Khalifa University, Abu Dhabi, which hosts a Mobile Application Contest (MAC.) Participants in this competition submit culturally focused applications which are designed to run on mobile devices such as smart phones and tablets. MAC is open to all university and college students in the UAE and Middle East.
Mobile apps are also heavily used to promote events, exhibitions and conferences in the UAE. The recently held Arabian Travel Market Show (ATM) and Middle East Event Show (ME-Event Show) among others, all created mobile apps to interact and engage their audience.
Online Advertising in the UAE and MENA
Just a few days ago, Gartner predicted: Worldwide mobile advertising revenue is forecast to reach $3.3 billion in 2011. In the MENA region with the UAE as its hub, mobile advertising is already taking off with the launch of Dubizzle's mobile website. Etisalat, together with Alcatel-Lucent, also launched a personal advertising service whereby customers can "opt-in" or subscribe to receive ads according to their lifestyle preferences via SMS/MMs.
Key Takeaways
There is no doubt that the region's e-commerce industry will continue to evolve with the emergence of numerous startup companies such as Gonabit
Companies will continue to invest in mobile apps and websites mobilization to reach, engage and retain their audience
Mobile advertising will continue to surge and create new revenue opportunities for companies in the region
Companies will continue to invest in localizing their mobile website and apps in multiple languages reaching out to their audience the language they are comfortable using.