Digital Media and Translation in the Middle East
Digital media has played a significant role in shaping the economy, culture and behavior of consumers and companies in the Mena region with pioneering trends in video advertising, mobile marketing and Social Media to name a few. Digital is vastly becoming the focus for investment – according to a recent report by E-consultancy, 58% of companies in the region have increased their digital marketing budget for 2012, recording an average 5% increase on digital spend from 2011 to 2012. Many companies have been taking a multichannel approach to increasing their audience reach.
Email marketing remains the most widely used channel by most marketers at 78%
62% of marketers are using off-site Social Media (Facebook, Twitter)
56%  of markers are using Search Engine Optimization (SEO)
27% are using On-site Social Media (Blogs, User Generated Content and Social Sharing)
61% plans to increase their mobile Marketing efforts
56% plans to increase spending on Video Advertising
52% have been using SMS which is the most widely used mobile marketing channel
[Stats taken from E-consultancy Report –
State of Digital Marketing in Mena 2012
]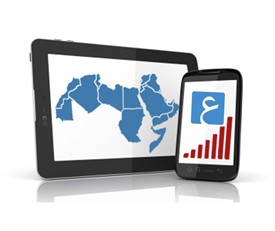 eCommerce in the Middle East
The MENA region is still considered the most underdeveloped ecommerce market as compared to the rest of the World. This is mostly attributed to challenges with transacting business online- lack of stable online payment systems, the high level of credit card fraud in the region, customers' inhibitions about making card payments online as well as lack of functional and trusted web properties servicing the market. That being said, in recent times, we have seen the rise many successful start-up companies such as Jado Pado, souq.com, glambox and group buying sites such as cobone that have all been able to overcome these hindrances. According to Aramex COO, Iyad Kamal, 2012 has seen a 300% growth in ecommerce activity in the region. A significant factor contributing to this growth is the cash-on-delivery option offered to consumers – 70% of online transactions made in the region are cash on delivery.
Companies considering launching ecommerce properties in the MENA region need to carefully research and employ the following as part of their strategy:
Audience – Proper research about your market will help you understand your target audience, consumer behavior and market trends.
Awareness – What are you doing to attract the right audience to your website? Are you visible, can your audience find you easily? A well thought out SEO strategy is a must for any successful ecommerce website.
User Experience – The de facto rule – a user should be able to find and consume the information they require in 3 clicks or less! In order to keep visitors interested in your site and retain repeat customers you must keep user experience top of mind when launching an ecommerce website. The ultimate goal is to ensure that the user encounters no hurdles from the time that they view a view a product on your website to the moment they press the purchase button. It is important to work with a professional translation partner in order to provide a fully localized Arabic user experience including right-to-left layout and fully functional Arabic appearance for your business.
Localization – localization goes hand in hand with user experience. Part of providing the ultimate user experience is delivering engaging content to your audience in the language that they understand.
User Generated Content – Have you booked a hotel recently without reading reviews about the hotel on TripAdvisor? User generated content builds a level of trust in your audience that cannot be established even through the most carefully crafted marketing campaign. This is simply because people trust people. Providing the right medium for your audience to interact with you and other users on your website is a critical component of launching an ecommerce website.
Social Media – Are you engaging with your audience? What 3rd-party social media tools are you employing to engage and attract visitors to your website? Do you speak their language? It is very important to speak the users' language and to localize your message and services for social media channels. Engage with them using localized graphics, offers, promotions and instructions.
Analytics – Track the user behavior, figure out what ultimately leads him to make a purchase on your website.
Arabic Content Creation and Translation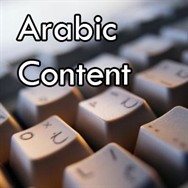 There are over 86 million Arabic speaking internet users according to Internet World Stats yet the majority of websites and mobile applications targeting Arabic speakers are in English. Carefully choosing the right medium to communicate with your audience will certainly help you increase your foothold in this region.
Content must not only be translated into Arabic but also localized and adapted to your target audience in the Middle East.
– Identify your target markets: You will always need to clearly identify your target segmentations and try to reach them with your content. User behavior and trends should be considered while you are setting up your content strategy. There are many tools that can help you track user behavior such as Google Insights which provides you the search volume for specific keyword in each country.
– Localize your social media channels and create engaging content: Engaging content is the most effective tactic in social media. In order to fully engage your audience you need to speak the local language. In order to create Arabic-engaging content you need to understand your users and provide them useful and new information. Provide them the right topic that draws conversations and comments, localize professional reviews into Arabic for your products, discuss services into Arabic, provide useful translated news and Arabic resources they need.
Etihad Airways, the national airline of the United Arab Emirates has certainly recognized the value of social media localization by recently launching an Arabic Facebook page to allow their Arab speaking customers to gain access to privileged content, view the latest news, participate in competitions and directly engage with the brand through localized Arabic content. The airline also plans to launch an Arabic twitter account to service their audience 24/7 [Source AME Info]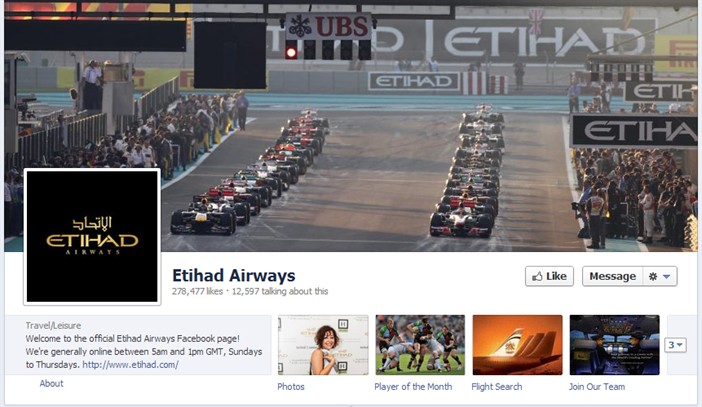 – Use video marketing: Video marketing is very effective in the Middle East. According to Google YouTube was the fastest rising search term in Saudi Arabia in 2011. Creating Arabic videos and using video marketing is one of the most important roles in digital marketing. Consider video localization for your videos and multimedia in order to speak your client language and to expand locally.
– Optimize your Arabic content for search engines: Arabic search engine optimization is a must for every localized website. Expand your website reach by optimizing your Arabic content for search engines. For more information, please check our previous blog post Arabic SEO and Localization.
Digital is all about having fun, understanding and engaging your audience via the medium they consume in the language in which they understand. A few final tips when planning your digital strategy:
Know your audience and what influences their decisions
Choose the most effective medium to communicate and engage them
Engage them in the language in which they understand
Track your audience behavior
Maintain their interest
Make sure they can find you