ArabNet Digital Summit 2013 held its debut show in Dubai
The ArabNet Digital Marketing Summit was held for the first time in Dubai on June 24th-26th at the Atlantis, The Palm Jumeirah.  This was the fourth edition of the summit which was previously held in Cairo, Beirut and Riyadh.
The 3-day event was action packed featuring:
Over 120 speakers from the big players in the industry to the young and vibrant entrepreneurs,
A digital showcase of start-ups in the Arab region
A developer tournament which aimed to seek out the best web and mobile programmer in the Mena region.
Here are just a few highlights from my attendance:
Day 1 started off with a panel discussion on what is hot in web and mobile. As the day progressed, we saw exciting demos on augmented reality from Jason Reid at FuzzyLogic and Matthias Krampe at Explore Engage Mena.
Sitecore Workshop
The event also featured a 2 hour workshop on Sitecore's Customer Engagement Platform by Andrew Hooks, Technical Sales Manager at Sitecore and Chris Vezey, Sales Director at Sitecore. The workshop was very insightful showing the many capabilities of the Sitecore platform and how you can gain brand loyalty and repeat customers by offering your online audience a more personal experience. The workshop also featured a case study on one of Sitecore's clients Easyjet who was able to increase their conversions by 20% which equated to 400 sales per minute by serving their audience with relevant content and offering a personalized experience.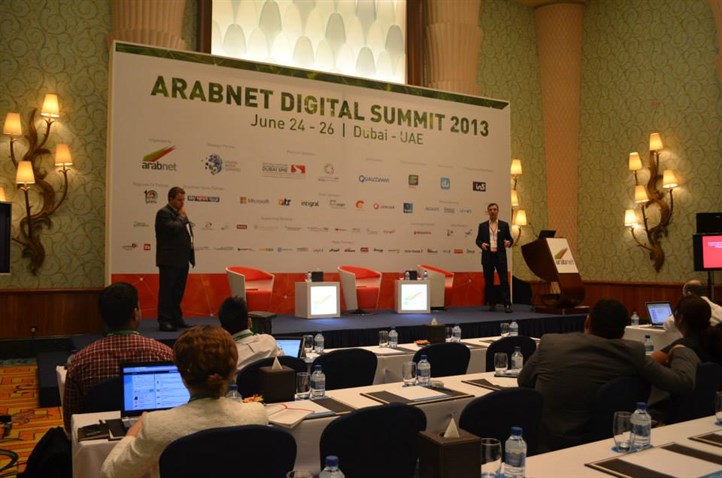 Anthony Hooks and Chris Vezey presenting during the Sitecore Workshop at Arabnet Digital Summit 2013
Another bit of exciting action that took place during the summit was the Launch of PAYFORT, a new Online Payment Platform which aims to target the Arabic speaking online community.
"While e-commerce has seen impressive adoption gains in the MENA region, the Arab world continues to address present information security challenges with both consumers and retailers demanding simplified, secure payment options,"  said Omar Soudodi, Managing Director of PAYFORT." PAYFORT was developed specifically to address these challenges by deploying a secure payment network that is built using the most sophisticated and up-to-date fraud prevention and anti-money laundering technologies and completely eliminating the risks associated with online payments for both buyers and sellers."
The second day of Arabnet focused on digital opportunities in the education, retail, hospitality, and banking sectors. There were many interesting talks on Social Media Listening and Engagement which was led by Fawi Rahal, founder and Managing Partner of Gamutt, Jan Rezab, Founder, CEO of Social Bakers and Roy Jugussur, Head of EMEA Shoutlet.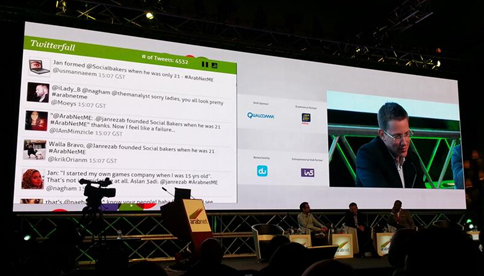 Jan Rezab, Founder, CEO, Social Bakers sharing his personal success story on Arabnet 2013
Facebook's Eric Edge, Head of Marketing Communications for the EMEA also led a talk on how Facebook promotes brand marketing. Eric spoke about using Facebook's newsfeed feature to engage your audience and demonstrated how it provides the same user experience across multiple platforms thereby allowing brands to connect with their customers in a consistent and meaningful way.
Travel Commerce
I ended my day and visit to Arabnet 2013 by attending the travel commerce panel. The panel included Terry Kane, Director of Digital Strategy and Ecommerce at Jumeirah Group, Stephan Ekbergh, Founder of TravelStart based in South Africa, Expedia, Diego Lofeudo, Senior Director of Market Management at Expedia and Amer Halabi, Regional Manager Mena of Hotels Combined. The discussions explored the changes in customer behavior when booking travel and accommodation using websites and mobile apps. Diego Lofeudo, Senior Director of Market Management at Expedia, said: "Your job as an online travel commerce is to adapt your payment solutions to the 300 million consumers in the region."