Dubai is one of the seven emirates in the United Arab Emirates (UAE) with a population of nine million people, including nearly eight million expatriates. For companies planning to conduct global business in Dubai, Arabic translation is necessary for success. However, other than Arabic localization, there are additional factors to consider to be successful in Dubai. In this blog, we will cover which languages people living in Dubai speak, the top industries, growth potential and the business environment.
Dubai's Demographics
The official language in Dubai and the rest of the UAE is Arabic. English is widely spoken and you will also come across many speaking Hindi, Urdu, Bengali, Tagalog, Persian, and Malayalam.
The official religion followed by approximately 80% of the population is Islam. There are also Hindus, Christians, and Buddhist and Sikh minorities.
Dubai is well known for welcoming people from many cultures and countries who bring along new business opportunities. So the many shopping festivals, business conferences and trade shows have made the UAE successful in attracting foreign investors.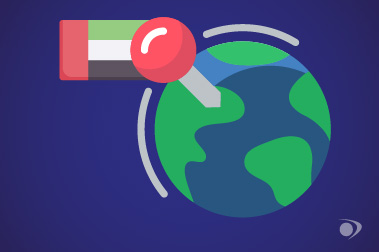 Dubai's Top Industries and Economic Growth
Historically, most of the UAE's economy was driven by pearl diving, seafaring, and fishing. The discovery of oil in the late 1970s helped the UAE begin necessary infrastructure developments. To avoid developing a dependency on oil, the president and vice president of the UAE during that time had bold visions and led the country to diversify and thrive in other industries.
In the 1980s, Dubai focused on trade, shipping and logistics. As a result, several ports like the Free Zone of Jebel Ali and Dubai International Airport played an important role in contributing to the city's economy.
The top industries in Dubai include automotive & aerospace, construction & real estate, agriculture & food, healthcare & pharma, tourism & hospitality, logistics & trade and technology & finance.
Conducting Global Business in Dubai
Dubai is a fast growing, promising and investor friendly region for many types of businesses. To open a business in the UAE you previously needed a UAE national sponsor to partner with. However, with the UAE's 2019 initiative to attract foreign investors and companies, multiple Free Zones were opened across the emirates, which allow 100% foreign ownership with no taxes, except the 5% VAT.
Now, foreign companies can establish their permanent set up by launching as a limited liability company, a sole proprietorship or by setting up a branch office in a UAE Free Trade Zone.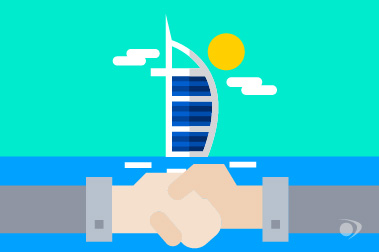 The benefits of establishing a business in Dubai include:
No personal income taxes.
Corporate tax exemption for 15 years, which can be renewed.
100% tax exemptions for imports and exports.
100% repatriation of capital and profits.
Support for sponsorship and housing.
Support for employee appointment.
Please refer to the below link for additional information on business regulation in Dubai:
https://www.government.ae/en/information-and-services/business/business-regulations.
Localizing Content
In the UAE, customer behavior is sensitive towards cultures and languages. So content must not only be localized to meet the standards of the Arabic language, like right-to-left directionality, but images, colors, slogans, etc. also need to be carefully adapted with this cultural sensitivity in mind.
Arabic is the most widely spoken language across the UAE but depending on your targeted audiences, you may need translation for other languages, like Hindi or Persian, as well.
Poor Arabic translations have caused brand reputation and business opportunities for many companies in the UAE. Compromising on quality and research will be a risk to the launch of any business entry.
Summary
To summarize, Dubai has visionary leadership, ever-evolving innovative strategies, an abundance of manpower, Free Zones, and an appealing legal framework, which make it attractive for foreign investment. The country's focus on diversifying into sectors other than oil opens the possibility of doing global business in Dubai for companies across many industries.
Reference links:
https://www.government.ae/en/information-and-services/business/business-regulations
https://www.varaluae.com/company-formation-in-dubai/business-startup-dubai/
https://www.government.ae/en/information-and-services/business/business-regulations
https://www.professionallawyer.me/legal-articles/business/business-laws-and-regulations-in-dubai-uae