New Website Helps Companies with Translation Services in Dubai, Abu Dhabi and the Greater MENA Region
The Dubai, UAE office for Globalization Partners International (GPI) has launched a new website to help clients who require document, software, audio/video and website translation in Dubai, Abu Dhabi, and the greater MENA region.
The new website can be found at www.globalizationpartners.ae and offers a wide range of information on professional translation, copy writing, graphic design, global SEO and website localization services with a special focus on languages used widely in the Middle East and Africa.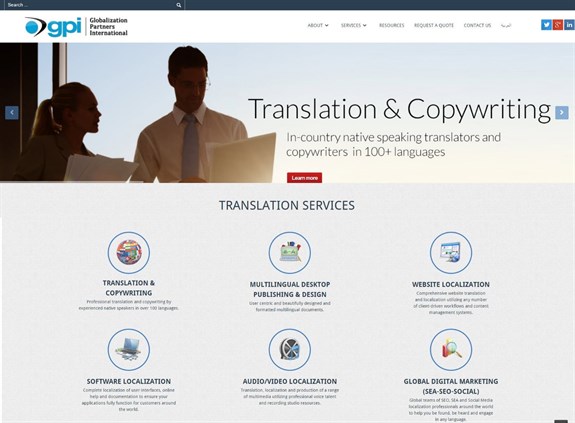 The UAE is quickly becoming a major hub for regional and global international trade, travel, sports and the arts, including serving as host to some of the world's highest profile global events from the World Economic Forum and the Dubai World Cup to the Dubai Shopping Festival and the upcoming World Expo 2020.
GPI, FZ-LLC is based in the United Arab Emirates in Dubai Media City (DMC) the region's premier hub for media companies including Forbes, CNN, BBC, and Sony Pictures, to name a few. Next to Dubai Media City is Dubai Internet City, home to companies such as LinkedIn, Facebook and Google.  The two technology and media business parks combined along with Dubai's seven other business parks, offer an ideal environment for Globalization Partners International, UAE to support global clients and recruit translation and localization professionals in the MENA region.
In order to enhance and support the global communication needs of our clients for African and Middle Eastern languages, GPI opened offices in Dubai, UAE (2009) and Cairo, Egypt (2010) to support our clients doing business in the Middle East and Africa. GPI has successfully recruited and trained teams of professional translators and copywriters for many African and Middle Eastern languages whether national or indigenous, who are available to help companies with their language copy writing, translations, website localization and global SEO needs.  GPI's teams of translation professionals for the MENA region come from a wide range of countries including Egypt, Jordan, Kenya, Lebanon, Iraq, Iran, Nigeria, Qatar, Saudi Arabia, South Africa, Tanzania, Turkey and the United Arab Emirates.
The new website is available in English and Arabic and includes an eBook Resource Library with over 30 eBooks for companies looking to expand the markets for their products and services.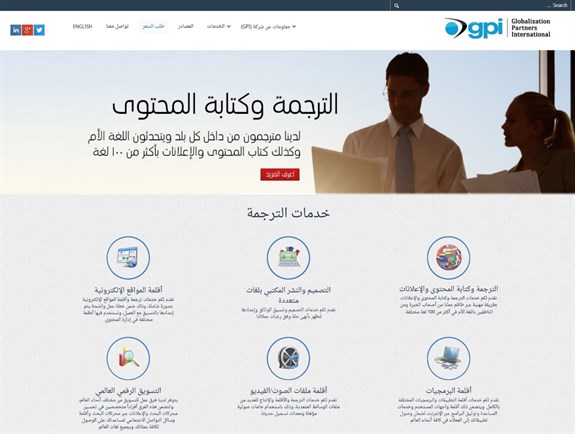 Services for Translation in Dubai 
When you require translation in Dubai and you are looking to launch a multilingual website enhanced for maximum findability with global SEO into Russian and Chinese, or localizing a user manual into Arabic to help sell your product across the Middle East and Africa, the website provides eBooks to help you make an informed decision and request a quote for translation services with just a few clicks.
GPI prides itself on their team of professional translators all native speakers from countries across the Middle East and subject matter specialists.