Microsoft Worldwide Partners Conference
I had the opportunity to attend the Microsoft Worldwide Partners Conference in Houston, Texas July 7-11. The theme of the conference this year was 'Accelerating growth. Together'. The 5 day conference is one of the largest partner conferences in the tech industry with over 16,000 attendees from over 160 countries.
For more a full list of sessions and keynotes please visit this link: www.digitalwpc.com
The core topics the conference focused on include Cloud, Big Data, Devices and Mobility, and Enterprise Social.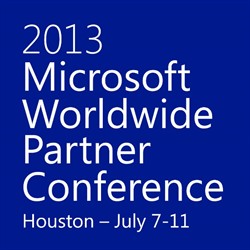 The top sessions identified by Microsoft included:
Business Leadership
Converting strategy into revenue: a workshop to help leaders address this critical challenge – Shaun Fröhlich
Faster, Higher, Stronger:  Understanding The Drivers of Profitable Cloud Partners – Darren Bibby
Lead the enterprise social revolution: how to drive sustainable adoption – ​Dux Raymond Sy Emerging Leaders
Effective Storytelling for Maximum Reach and Influence – Jill Giacomoni & Steve Clayton
Maximize your personal brand – Dux Raymond Sy & Ray Rasmussen
Enterprise
Successfully Navigating Microsoft – Jason Krech
Hosting & Cloud Service Providers
How hosting service providers can use effective marketing to increase their customer acquisitions and profits – Ted Eisele & Victoria Magaz
Microsoft's cloud vision for hosting partners – Eugene Saburi, Julia White & Marco Limena
Microsoft Dynamics
Microsoft Dynamics for Retail SMB: partner-ready SMB retail – Melissa Stern
The future of retail is here today with Microsoft Dynamics for Retail – Ashvin Mathew & Michael Griffiths
College recruiting is key to your future success: Microsoft Dynamics Academic Alliance can help – Katie Hasbargen
Sales and Marketing
Presenting at C-level: how to close the deal with CxOs – Dave  Underhill
The top three strategies for more profitable negotiation – Ron D'Andrea
Growing your business faster than the competition in the new era of cloud computing – Per Werngren & Richard Dorfman
Server and Cloud
Intelligent systems and Windows Embedded technology: devices and services offerings in the retail industry – Jeff Wettlaufer & Karen Roberts
How to win with Big Data – Eron Kelly
Differentiate and win with the Microsoft cloud platform – Takeshi Numoto
The new Office
Making Money with the new Office in Enterprise Accounts – Andres Caldera, Chris Hutton & Doug McCutcheon
Selling the new Office in SMB – Elaine Sher
How to Beat Google with Office 365 – John Donahue & John Westworth
U.S. Subsidiary
Beyond the breakeven: building a successful U.S. cloud business – Kenneth Lince, Mike Chan & Paul Spencer
Delivering solutions and driving revenue with enterprise social in the U.S. – Amanda Arch & Margaret Loosemore
Game changers in the U.S.: go mobile – Suzanne Calabro
Winning and growing in the U.S. SMB relationship era – Cindy Bates & David Nour
Windows Client
"Here, take my money": all of the Windows campaigns for FY14 explained – Jay Paulus
Getting off Windows XP in 30 minutes or less – Stephen Rose
How to pitch Windows 8 to reluctant  enterprises – Pieter Uittenbogaard
How to talk to customers about Windows 8 devices – Arthur Lesne
One of the highlights for me personally was that I was able to visit with the Sitecore team. During the conference Sitecore held an evening Partner Appreciation Party in which I was able to meet the USA sales team for Sitecore. It was great to learn more about their latest Sitecore 7 release.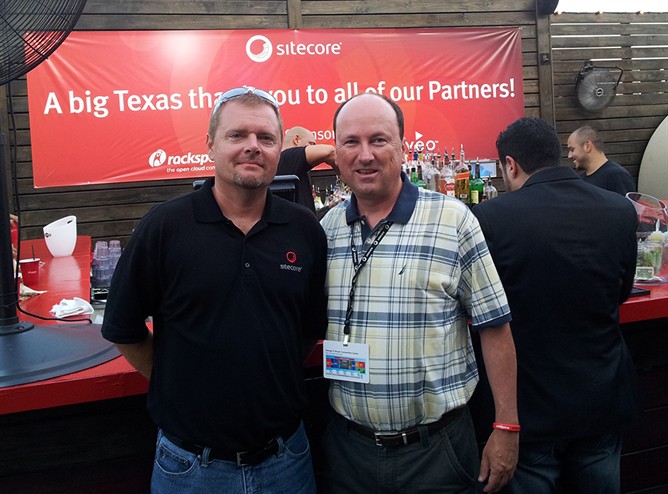 Globalization Partners International has extensive experience with website localization and is a Sitecore partner ( Sitecore Translation Connector).  Sitecore is a great CMS to author and publish multilingual websites. You can check out a series of blogs we have written on topic at: