Arabic Website Translation Best Practices
The Arabic online market is a significant, expanding market segment with great potential for Arabic content. The majority of websites in Arabic speaking markets however are still in English, which means they are less competitive in the region. With business expanding rapidly in these markets, it is very important for companies to pay closer attention to their Arabic content marketing strategy including comprehensive Arabic translation, culturally customized content, localized brands and services into Arabic in order to dominate their sectors.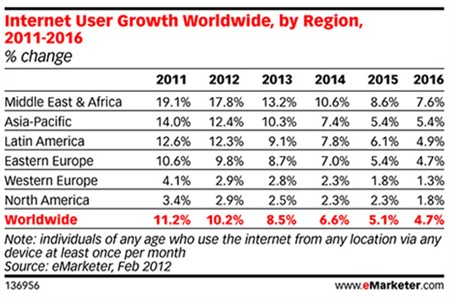 Why is Arabic Important?
With more than 344 million Arabic speakers worldwide, Arabic is the 7th most widely spoken language on the web. Moreover, the Arabic language is considered the fastest-growing language on the Internet. The Arabic-speaking population spans 22 countries and has a combined economy equaling over $1 trillion annually.
The Middle East and Africa (MEA) also demonstrates the most dramatic increase in digital ad spending-not least because activity on online platforms is trackable and provides the clear indications of ROI that marketers may not have found in other media. Growth was an impressive 50% in 2011, and will likely remain above 47% in 2012 and 2013. In 2016, when worldwide spending on digital ads will rise by around 10%, spending in the MEA will still be growing more than twice as fast according to eMarketer.
Arabic online content has grown in the past year, but most of the content which is still mainly generated by users and often machine translated, is very low quality. The need for properly localized, high quality content presents great potential for Arabic users, businesses and local governments.
The government in Saudi Arabia has imposed the use of Arabic as the primary language in all commercial and business dealings, including in utility bills, advertising, and all sorts of contracts and insurance certificates.
Arabic Website Translation
In order to truly have your website translated for Arabic-speaking markets, you must also have your website fully "globalized" for your target Arabic country or market. The term "Globalization" means many things outside the language services industry. Within the translation industry, globalization for Arabic markets defines the process of enabling a website to fully function for an Arabic target market. Specifically, a target market is a "locale" encompassing the combination of target country, language and culture.
Arabic translators and other localization team members must be familiar with Arabic translation services challenges and issues pertaining to Arabic copywriting, or "Arabization", to ensure that your Arabic website content has the right message and is current and relevant for a global market.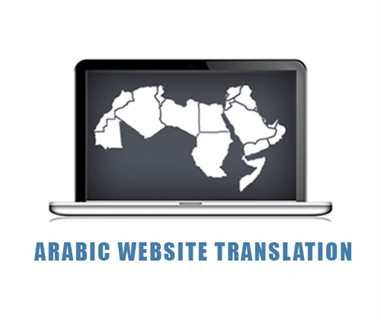 Arabic Website Translation Best Practices
Whether your project is simple or complex, your preferred translation services provider should have solid experience and a comprehensive process. The following are best practices:
1. Define your target market
Arabic is a very rich language in terms of dialects, accents and styles. For this reason, it is critical to identify the specific regional locale and target audience for your website content.  Defining your target market will help your localization partner to deliver the right message to your local consumer.
2. Develop an Arabic glossary
You should always take in consideration that glossary and terminology development is a must for Arabic website translation.  Determining the best translation for brands, industry-specific words, phrases, names, abbreviations and acronyms will increase the quality of your localized content and will maintain your marketing image.
3. Understand the culture
Conducting cultural correctness is important for the local target culture to avoid any unsuitable website content that may be forbidden by religious or cultural customs. For instance, Arabic culture is sensitive to some images that are commonly used in hotel brochures such as bikinis, couples embracing, etc.
4. Avoid machine translation
Arabic is a highly expressive language and thus far, machine translation and online free translation tools provide poor quality. In most cases, such tools will deliver an unclear or incorrect message.
5. Customize the layout properly
Arabic websites require a different type of user interface. The Arabic language is right-to-left (RTL), which will affect the direction of the webpage layout and website user interface (UI). This also affects menus and navigation display as well as the margin and alignments. This process requires several modifications including:
Graphic optimization for right-to-left interface which might require some modifications to match the flipped direction
HTML direction and encoding optimization
CSS positioning optimization which includes alignments, margin and overflow
JavaScript optimization for functions and components such as photo galleries, menus display, sliders directions, etc.
Setting your templates for text expansion. Make sure you have enough room for text expansion in the templates, buttons and menus. Arabic translation sometimes could be longer than the original language.
Websites or online mobile apps that perform e-commerce or professional tools have additional user interface requirements in Arabic: contextual analysis, rendering and shaping, Arabic numeric display, Hijri dates, character extenders for text expansion, etc. This underscores why your localization partner must have extensive experience in Arabic internationalization and Arabic localization.
6. Review by online advocate
Many online terms like buttons, navigation links, forms, etc. could be translated or transliterated several ways in Arabic. The variations make it challenging to find standards for technical or website terms commonly used in English. It is important to review the translation by native Arabic user experience specialists with solid experience in Arabic online layout.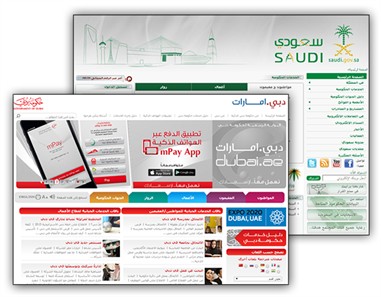 7. Test online
Online testing and quality assurance is an essential step to make sure your website is fully functional.  Arabic translation providers should follow best practices in handling Arabic website customizations and internationalization issues including:
Reviewing and analyzing the source website content
Arabic usability testing and Arabic localization testing, ensuring the support of the bi-directional (right-to-left) layout design and components
Resolving issues related to Arabic address, time, date and numerical formats
Arabic website testing including bug reporting and trouble-shooting
8. Optimize for search engines
Search engine optimization is a must for Arabic websites. Your Arabic SEO partner should have solid experience in handling Arabic website search engine optimization issues including:
Registering local domain names (.ae, .com.eg, etc.)
Selecting accurate Arabic keywords for your target market
On-page and Arabic content optimization (meta data, headings, keywords density, images Alt, etc.)
SEO copywriting for Arabic content modifications
On-site modification for Arabic website (XML Sitemap, robots.txt, internal links, URLs, etc.)
By optimizing your Arabic website for search engines, you have a great chance to increase your website traffic and sales. For more details check our blog post on Arabic SEO to learn more about the effective steps for Arabic optimization. You can also find all details about our search engine marketing and optimization services at Global Search Engine Marketing.
9. Select the right CMS:
Before starting your website development, you should make sure that you select a web content management system that supports Arabic language. There are many types of multilingual web content management solutions that support Arabic language and website localization such as Ektron, EPiServer, WordPress and Sitecore.
To learn more about web CMS localization, check out Website Localization and CMS and our Translation Connector Library.