Search Engine Marketing Benefits for Hotels
Most hotel websites are developed with useful features like booking engines, city guides and photo galleries, but not all hotel websites are doing enough to bring in the qualified traffic to engage with these great features. Today, it is not easy to get your hotel website noticed by search engines and/or your potential guests, even if your hotel provides the highest quality facilities and services. When it comes to your online presence and digital direct selling, you should consider the power of running a pay per click (PPC) campaign to ensure your Search Engine Marketing (SEM) efforts will afford you the opportunity to deliver the right message and experience to the right online traveler at the right time.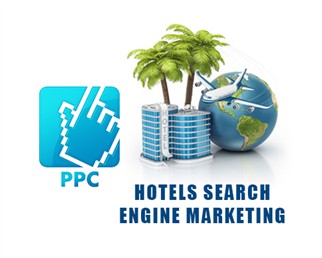 The Benefits of PPC Campaigns for Hotels
Reach your Target Audience: As per Google's 2013 survey, almost 64% of online travelers use search engines for planning their travel including booking their hotel. Running PPC campaigns for your hotel will provide you the opportunity to share your hotel packages and/or services with these travelers when they are search for services like yours.
Measurable and Cost-Effective: PPC is very measurable. You have the chance to measure your return on investment (ROI) in real time by defining and monitoring metrics that include, Cost per Click (CPC), Conversion Ratios (CTR), Return on Ad Spend (ROAS), Cost per Action (CPA), Key Performance Indicators (KPI), etc…
It is Flexible: According to your campaign's performance, you can enhance or improve your conversion rate or advertisement for the whole campaign with a few clicks (e.g., adding keywords, changing ad content, refining your targets, refining your target locations).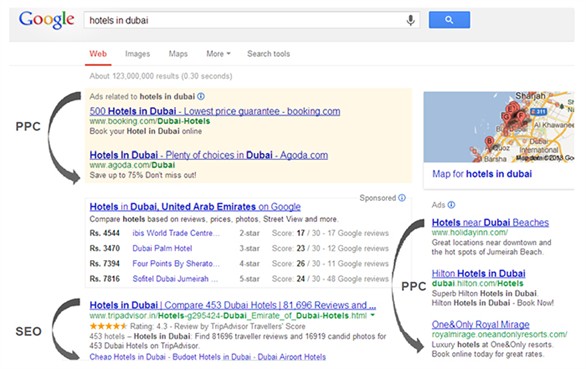 For more information on PPC Best international Practices, you may wish to check our blog topic on Best Practices for International PPC Campaigns.
IN-HOUSE vs. OUTSOURCE
Are you torn between keeping your pay-per-click hotel campaign in-house or outsourcing management to a Search Engine Marketing company?
Here are some key considerations to help you decide: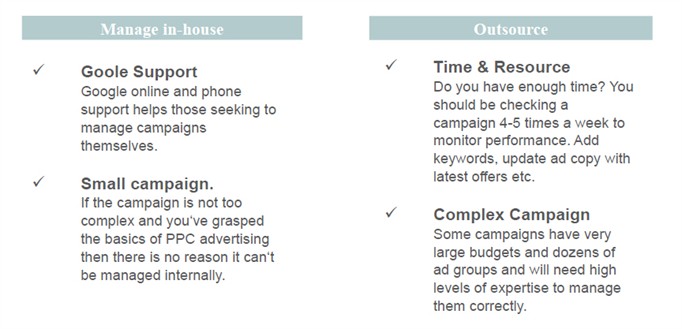 In-House PPC Management
In-House Pros:
Dedicated employees whom you can reach whenever you want.
Accountability is on your employee and easier to control.
No one understands your business better than you.
In-House Cons:
It's not an easy task to find a qualified PPC manager who can manage your PPC hotel campaign while Search Engine Marketing companies have people and processes in place to attract and hire the right type of talent, with the right level of experience.
Finding employees who can cover if the assigned person is out as you have to monitor your hotel PPC campaign every day.
If you lose your hotel PPC campaign manager, finding a replacement and then on-boarding that person can take a lot of time-time that impacts your campaign performance.
Outsourcing PPC Management
Outsourcing PPC Pros:
Experience, expertise and professionalism are the main reasons why you should consider outsourcing management for you hotel PPC campaign.
You get a team of PPC specialists to execute your PPC strategy.
Hiring a full-time PPC specialist is usually more expensive than outsourcing your hotel PPC campaign to an SEO company.
Outsourcing PPC Cons:
You cannot know for sure the number of hours devoted to your campaign management.
Choosing the right company is not an easy task as there are thousands now in the marketplace. This is where due diligence is needed to ensure you have chosen the best partner.