Marketing to the New "Digital Elite" Traveler
As I was sitting recently in the airport anxiously awaiting my flight, I casually watched a young couple pull a variety of portable electronic devices from a carry-on in a futile attempt to pacify their two young children. Between the four of them, they easily had five, possibly more, devices between them. I visually counted a laptop, two mobile phones, a tablet and a portable game device. I quickly realized that the days of packing a book, magazine or even a coloring book or two for in-transit entertainment are long gone. It seems we are more connected to our screens these days than to each other. Just look around the airport on your next trip and I'm sure you will see 9 out of 10 travelers with a device in hand, likely checking their Facebook account. This is the new digital reality and it is certainly affecting how we interact and even how we travel. Hoteliers take note!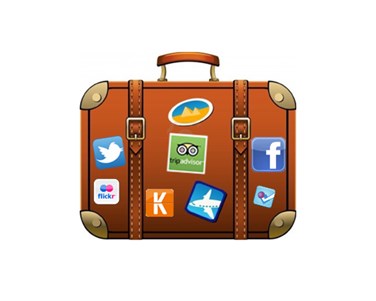 In a recent survey from MMGY Global/Harrison Group, it was discovered that travelers who are more digitally savvy tend to stay at hotels more often than their peers who are not. The survey dubbed this digitally-obsessed traveler as the "Digital Elite."
According to the survey, the segment of travelers who own and use at least two digital devices to plan and purchase travel services has grown from 5% of all active travelers in 2011 to 33% today. This is an increase of over 600%.
"The travel industry should certainly study the emergence of this new group very carefully, as in many respects they represent the 'next generation' of travelers," states Steve Cohen, vice president of insights at MMGY Global, an integrated marketing firm that specializes in the travel industry. "We've found that the 'Digital Elite' not only travel and spend significantly more than other travelers, but they plan to spend even more in the year ahead." (www.hotelinteractive.com)
Let's look at the statistics revealed in the survey:
The Digital Elite are defined as travelers who own both a smartphone and tablet and access the Internet through either device. In just two short years, smartphone usage among active travelers has nearly tripled from 23% in 2011 to 62% in 2013. Tablet adoption has exploded as well. In 2011, only 7% of travelers used them to access the Internet; however this year, usage is up six-fold to 43%.
The Digital Elite are discernibly family focused. 50% have children in the household compared with 37% of their less-connected peers and they are more likely to travel with them (51% vs. 38%). They are also more influenced by their children when it comes to choosing a vacation destination, (78% versus 70%).
In 2013, the Digital Elite traveled on average 10% more frequently for pleasure compared to their counterparts. This included weekend trips, extended stays, last minute get-aways and "stay-cations". With the increase in travel, comes the increase in spending. These elite will spend an average of $4,988 compared to $3,812 than less-connected travelers. It is estimated that they will spend an average of $5,210 on leisure travel in the year ahead, compared to just $3,690 from their counterparts.
International destinations are also on the Digital Elite's radar. In the last year alone, more than half (53%) traveled to at least one destination outside the continental United States. This is compared to only 38% of their less-connected peers. Top destinations for these elite were Western Europe (39% vs. 29%) and the Caribbean (34% vs. 29%).
So what are the key traits of the Digital Elite? They are on average 5-10% more likely to describe themselves as happy, fun, confident and sociable than their less-connected counterparts. Fitness, health and beauty are important to them. According to the survey, 50% describe themselves as already healthy and many more (63%) plan to improve their health. 42% plan an improvement in their overall appearance in the coming year.
When it comes to shopping price and booking travel, the Digital Elite are more likely to turn to an online travel agency (OTA) compared to those less tech-savvy travelers (53% vs. 45%). Nearly half found the OTA a more convenient way to arrange their travel.
So the question is what can hoteliers do to attract the Digital Elite? The answer is simple: improve your web presence through more targeted, localized and optimized web content. These elite travelers find more sophisticated content, designed specifically for the web shopping experience, more desirable. This content should reflect their lifestyle and appeal to their sense of fun, well-being and adventure, as well as inform. Here are some items you may want to consider including in your site:
interactive maps that explore the destination (65% vs. 60%)
downloadable discount coupons for airline tickets, hotel rooms, rental cars and vacation packages (62% vs. 56%)
user-generated reviews or commentary from past guests (58% vs. 47%)
optimized content for mobile usage (57% vs. 31%)
virtual tours of the property and area (56% vs. 52%)
an easy-to-use booking engine (76% vs. 72%)
photos of the property and area (76% vs. to 72%)
the ability to preview room (74% vs. 65%)
Search engine optimization is a must! The Digital Elite need to find your website through their preferred search engines. And finally, translating the content for international travelers is strongly recommended. Travelers who speak English as a second language are more likely to book with your hotel if the content is in their native language. It gives them greater security and confidence in the booking.