Culture and E-Business in Germany
If you are considering doing business overseas, particularly in Europe, Germany should to be on the top of your country list. As Europe's most powerful economy and fourth largest in terms of nominal GDP worldwide, Germany also has the largest online population in the European Union. Globalization Partners International's newly updated country research reports also include one tailored to the German market and focuses on website globalization and e-business. This report touches upon a range of topics relevant to the German consumer, from language to culture, search engine marketing to website translation tips for Germany. The accompanying infographic illustrates some of those key factors that are quite compelling.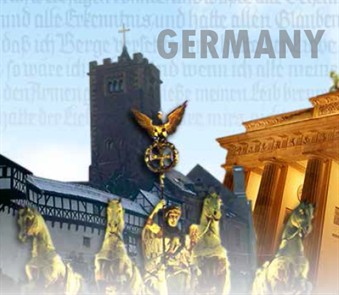 There are a number of factors to consider if you wish to be successful in marketing to the German marketplace. This blog post will provide some highlights of our recent whitepaper report on understanding the nature of the German market, as well as the cultural values of German consumers in order to help you achieve the best results as you enter and conduct business in Germany.
Facts about the German Market
Germany's economy is the fifth largest by purchasing power parity and is the second largest exporter and third largest importer of goods. (Wikipedia)
GDP of $3.593 trillion (Imf.org 2013)
Economy growth rate of 0.7% (Worldbank 2012)
Out of a population of approximately 80.5 million, over 84% (c. 68 million) frequent the internet and spend about $68 billion online. (Internetretailing.net 2012)
According to a Forrester report, German consumers would rather pay for their online transactions with an electronic direct debit instead of a credit card.
Currently 60% of all online purchases are paid for with direct debit.
Based on a Postbank study, 77.3% of German e-shoppers have security concerns with purchasing from a new retailer online and if no security advice is provided, 75.2% of German shoppers will not proceed with the given transaction.
Germans primarily shop from trusted brands when shopping online.
25% of all purchases are made during their business lunch break between the hours of 12:00 and 2:00 pm.
Culture Values in Germany
Germany is a western society that shares some of the common symbols and traditions of other western cultures, yet it has its own unique and rich culture. At a macro-level, the German culture can be described using the five cultural values Individualism-Collectivism, Power Distance, Masculinity-Femininity, High-Low Context and Uncertainty Avoidance based on the work of Hofstede.
Cultures that rank high on individualism such as Germany tend to typically value individual goals over group goals and appreciate and emphasize independence and self-expression. At the same time, the German culture is high on power distance and its belief in authority and hierarchy (high power distance), and is low on egalitarianism, meaning that in such cultures less powerful citizens accept unequal power distribution in society.
Search Engine Optimization in Germany
If you are considering any digital marketing (SEO) campaigns, it is important to understand search engine optimization in Germany and the top search engines used most by the German consumers you are targeting. Note that local German search engines favor sites that are displayed in German, hosted in Germany and also have the .de in their URL.
Top search engines in Germany:
Google (94.71%)
Bing (1.81%)
Yahoo (1.09%)
Web.de (0.57%)
Conduit (0.51%)
Social Media in Germany
Today social media influences all online communications. Simply localizing your website content is no longer enough, as understanding the social media landscape in Germany has become one of the most important components for online strategists looking to leverage those same channels for the German consumer.
Key Insights from the Digital Landscape in Germany:
Social media continues to be an increasingly popular activity for German mobile users. The number of Germans accessing social networking sites via mobile at least once each month has increased by 27 percent over the year, from 14.9 million users in the three month average ending August 2012 to nearly 19 million in August 2013. (Source: ComScore)
According to socialbakers.com, Germany had over 25.2 million Facebook users by 2013. The top 4 brands on Facebook by number of fans were Amazon.de, stylefruits, McDonald's Deutschland and Kinger Riegel.
Nearly half (49.3 percent) of all German mobile social media users read posts from organizations/brands in August 2013. (Source: ComScore)
Top Social Media Networks in Germany:
Facebook (80.27%)
Youtube (4.75%)
Twitter (4.63%)
Pinterest (2.85%)
Reddit (2.42%)
Culture and Online Shopping in Germany
The following infographic provides several useful facts and insights about Germany. The infographic contains a handy graphical sampling of what's inside the report.

If you are planning to do business in Germany, it is important to understand the needs of your target customers. You need to understand the consumer behavior, the language and the key insights about the market. Our updated research report for the German market on website globalization and e-business along with accompanying infographic covers a range of topics from language facts to website translation tips for Germany.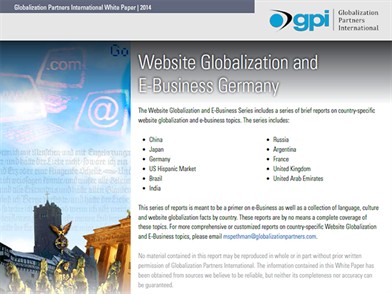 Doing Online Business in Germany
The Germany country research report is 14+ pages and provides useful information and statistics about the country and local consumers and market. The newly updated report for 2014 is available in PDF format and is free to download at: Website Globalization and E-Business – Germany.
Looking to sell your Goods or Services in Germany?
If you are looking to expand into the German market and have a website localization project in the works, this report is for you. First published in 2008 and newly updated for 2010, 2012, and 2014, the report contains tips and information on e-business, website translation and web consumers in Germany. The report also has a nice link library with useful sites and resources for those wanting to do business in Germany.