German Ecommerce Localization and Social Media
The key to being successful in a new market is to understand your target audience. If companies don't do proper research, the people they are marketing to will at best be confused and at worst be offended. Either option is not an optimal way of securing new business in a new market. Companies that are well prepared have a thorough understanding of a country's culture, social behaviors, shopping habits, economy, government and political environment. In the current digital age, marketers must also have a solid grasp of the social media platforms most frequented in their target market and be present and actively engaged on those platforms.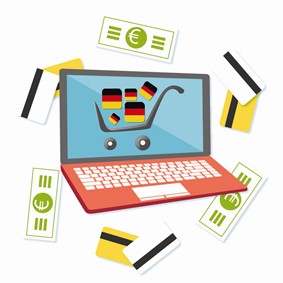 The German market is no exception to that rule.  If a company is considering expanding into Germany, they need to understand how the German people think, act and what motivates them.  For example, when people hear or read, "Made in Germany," the term is associated with durability, longevity and stability.  Companies must pay close attention to details like this, it is a clue about how Germans view their country and their products.
Fast Facts on the German Ecommerce Market
Germany has the largest economy in Europe and the fourth largest, by nominal GDP, in the world. The country has over 81 million people, a GDP of $3.6 trillion USD and an economic growth rate of 10% in the third quarter of 2014, making Germany an ecommerce mega-market. Below are some statistics that explain why:
Approximately 85% of the population are active on the internet.
Online spending in 2013 surpassed $70 billion USD.
According to the Association of the German Internet Industry, more than half of the German GDP generated in 2017 will be ecommerce related.
The most popular online product category is fashion, followed by consumer media and electronics.
In the categories, consumer electronics & computers and media, Germans prefer to shop for those items online rather than in brick and mortar stores; a major shift from just a few years ago.
German Consumer Behaviors
Privacy and Security: Over 77% of German online shoppers have some level of concern regarding privacy and security when shopping from a new retailer they have not used before. First time visitors to a site will seek out the security policy, if there is none provided, 75.2 % of German shoppers will cancel the transaction.  77.5% of consumers are also very concerned about any unknown payment methods and prefer to pay after they order something online via invoice. Other payment methods are PayPal, GiroPay or cash on delivery (COD).
Familiarity: Almost 75% of online shoppers will frequent a retailer with whom they have already established a purchasing history with.
Purchasing Behavior: Nearly 25% of all purchases by German consumers are made during their lunch break which is typically from 12 to 2 pm.
Gender and Age Differences: Males and younger age groups are much more likely to use online auction sites.
Return Policies: Germany has a very high percentage of returns, and based on some industry reports, 50% of all merchandise is returned for one reason or another.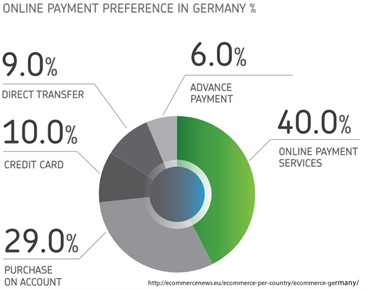 Fast Facts on German Social Media and the Digital Landscape
The number of Germans accessing social media sites via a mobile device at least once a month increased to over 19 million in 2013.
By 2013, 78% of German web users over the age of 14 had established an online profile on at least one social network site, and 67% of them were active users – which is the equivalent to around 37 million people.
According to socialbakers.com, Germany had over 25.2 million Facebook users by 2013.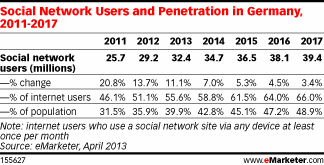 German Ecommerce and Social Media Campaign
Optimize your ecommerce strategies and social media campaigns by constantly tracking results by region and locale.
Recognize differences in consumer behavior and adapt your strategy accordingly.
Manage global and local communication effectively. One size does not fit all.
Optimize your content visually.
Understand that some social media platforms work better for some countries than others. For example, Twitter is less popular in Germany partly due to the 140 character limitation and the tendency of German words being very long.
Utilize multimedia whenever possible. Relevant national videos, popular games and overall interactivity can have a positive impact on the level of engagement of your audience
Nearly 50% of German mobile social media users read posts from brands which highlights the importance for companies to be present when and where the conversations happen. That means carefully researching the target audience, reaching out in a culturally appropriate and socially savvy way, and most importantly, doing it all in the target country's native language.