Marriage Traditions of the World: Language of Love
I recently became engaged and I am fully immersed in planning a late summer wedding.  I am breaking a few of the modern-day American wedding traditions by having a small, family-only ceremony at a winery and trading out the standard sit down dinner and dancing reception for a more intimate cocktail party reception, we are even having our dog walk down the aisle.  I appreciate big, beautiful weddings, but for me and my fiancé, it was important to have a smaller wedding with our nearest and dearest.  Thankfully, our families supported our non-traditional plans, but it got me thinking a lot about wedding traditions.
Globalization Partners International (GPI) has teams around the world, and one of my favorite things about working for GPI is having the opportunity to learn about my coworkers' cultures.  So, I thought it would be interesting to research the wedding traditions of a few of my coworkers' countries: Argentina, Egypt, Greece, Japan, the Philippines, and the United States.  The wedding traditions of each of these countries are rich and unique, and too numerous to list in one blog.  But, I would like to highlight some of the traditions I found most interesting.
Argentina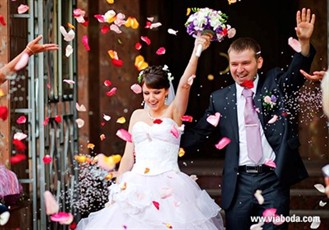 Weddings in Argentina are often vibrant affairs, with emphasis placed on celebrating late into the night at the reception; with food, dancing and alcohol.  A pre-wedding tradition I discovered through my research is the way the rings are presented.  The wedding rings are exchanged at the engagement, rather than at the wedding.  The rings are worn on the right hand until the ceremony, where they are then blessed and moved to the left hand.  An interesting alternative to an engagement ring and exchanging wedding bands at the ceremony.