5 Interesting Global Web Statistics
Global means everything in this digital age.  The internet is a great equalizer as more and more users are added from countries all over the world.  Companies are faced with localizing their websites and translating their content in order to attract users that now have access to their products and services via the World Wide Web.
The internet lowers the barriers to entry, and competition across numerous industries has become fiercer as users and companies from regions not previously considered a threat to market share are entering onto the playing field.
I recently looked at internet usage statistics and want to highlight the ones that stood out the most to me:
1. USA is moving towards third place in internet users.
In 2008, the USA gave up the title as the country with the most internet users to China.  As of today (March 2015) the USA is still in second place with about 280 million users.  But, India is quickly adding users and is in third place with 243 million users and a massive number of people may join in the next few years.  The USA will likely move to third place sometime in this decade.
India moved from twelfth place at the start of the last decade to fourth place by the end of it. They have been in third place since 2011.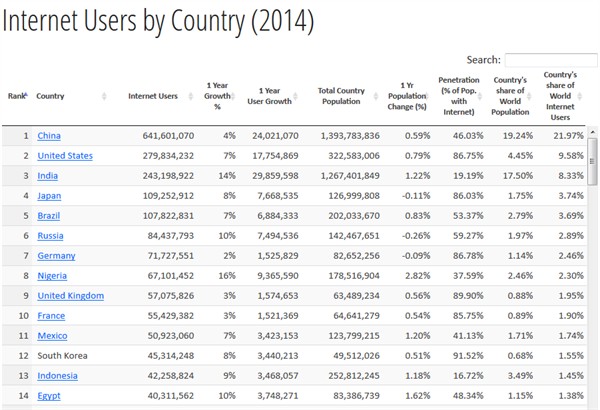 https://www.internetlivestats.com/internet-users-by-country/
Once India passes the USA they will have some time before they are a contender to surpass or match China who currently have over 641 million users.
Combined, India and the USA do not even come close to China with current online users. China is where we see a large amount of attention for ecommerce localization, global SEO and website localization. But, marketers may want to get familiar with India very soon.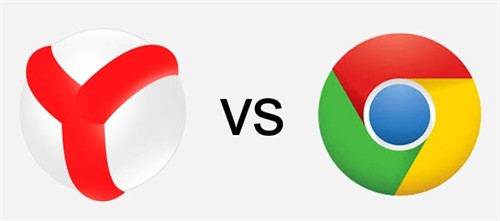 2. The leading mobile operating system (OS) in Russia is overwhelmingly Android at 88%.
While marketers tend to focus on Yandex to reach the Russian marketplace, they may wish to consider Google, the default search engine and a matter of dispute for Yandex with Russian courts currently, on the Android devices sold in Russia.  While Yandex has 60% of the PC search market, they only have 44% on mobile devices.  Website localization and global/multilingual SEO efforts in Russia should consider a blended approach considering both Google and Yandex.
3. Countries with >10% growth for internet users.
There are currently 118 countries with at least one million internet users (https://www.internetlivestats.com/internet-users-by-country/).  Among these countries 43 have grown more than 10% in the past year.  No country in this group grew more than 17%.
Many markets are still vastly growing even though it may feel like everyone is already online.
4. Europe only represents 19% of users online.
Much of the website localization activity we see is focused on China and Europe which have solid and active online and offline consumer bases. But more coverage could be achieved with only a few languages by looking beyond Europe and should be evaluated.  Here is an interesting graphic that shows internet users by region.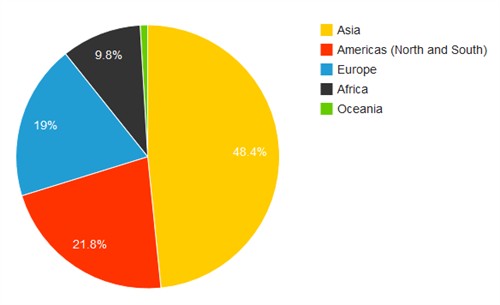 (https://www.internetlivestats.com/internet-users/#byregion
5. In one second, this is what happens online.
Tweets: 8,730 (in 1:55 minutes there are 1 million+)
Photos added to Instagram: 1,833
Tumblr posts: 1,784
Skype calls: 1,685
Google searches: 47,859
YouTube videos viewed: 97,161
(https://www.internetlivestats.com/one-second/)
Conclusion
We all know internet usage and users are growing, but it helps to take a snap shot view regularly to gain perspective. People are using the internet for many needs and usage is rapidly growing globally for social media, websites, ecommerce, communication, entertainment, etc. Matching this is the need for localized content for these users and the need for companies to be found across the global marketplace and not be lost without translation.
Additional Resources on Language Translation Services
To further understand the entire globalization process, you should download GPI's Language Globalization Guides. You may also benefit from reading some of GPI's previous blogs: