How to Implement SEO Basics for your Website
A well-planned search engine optimization (SEO) strategy is the most effective way of making your website successful and visible to search engines.  According to David Booth, to create a successful SEO strategy for your website, implement factors including: keyword research, content optimization, technical SEO, content strategy and link building strategy.
All of these factors work together to increase your search visibility and user experience. In this blog I have outlined tips and steps for successfully implementing a successful SEO strategy.
Keyword Research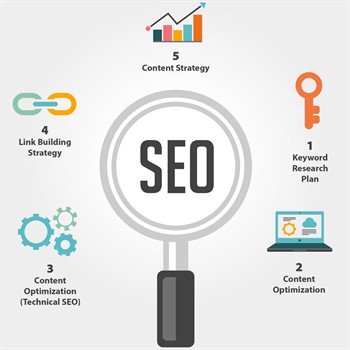 Keywords are words or phrases typed into a search box, the search engine will then deliver the most relevant results for queries based on the content available on the internet. Do keyword research to analyze what types of words and phrases are searched the most and optimize your pages and content to be in the search results for those terms.
How to do keyword research
Make a list of keywords and phrases that you think are important to rank for in the SERPs.
Use Google Keyword Planner tool to expand your list and to see the search volume.
Use Moz Keyword Difficulty tool to get competitive keyword analysis metrics.
Choose keywords and phrases that have high search volume with low competition to get easily ranked.
Assign keywords to specific website pages and create relevant content.
Evaluate keywords to see if they are driving conversion action and business objectives, readjust your keyword list if any are not effective.
Content Optimization
Content optimization is the process of enhancing the quality and relevancy of your website's content to be indexed.  Content types can include: website text, images, videos and audio clips. Aim to create engaging, informative and relevant content for your customers.
How to optimize content
Optimize the URL by using the keyword phrase you're targeting in the URL slug.
Optimize Meta title tag with the target keyword phrase and company name.
Write a Meta description.
Write a clear H1 header tag to give the reader an idea of what the content is about.
Use related keywords in the content.
Optimize the image tag and alt text with targeted keyword phrases.
Optimize the non-text components by surrounding the non-text elements with text that describes it.
Analyze content quality by using On-Page Grader Tool to make sure that is optimized in the correct way.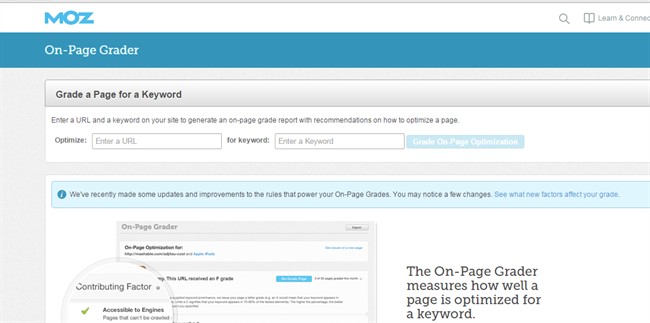 Get User-Generated Content on your website, good examples of (UGC) are blog comments and forums.
Content Optimization (Technical SEO)
The technical aspects of your website that need to be optimized may include page load time, page errors, and sitemaps.
How to optimize technical factors
Create XML sitemap by visiting a sitemap generator and submit it directly to the search engines.
Start working with canonical URLs, redirects, and Schema.org microformat.
Work with server side factors to make sure your pages are fast and reliable.
Google Webmaster tools can help you in finding and fixing errors that may exist from a technical SEO perspective.
Content Strategy
Content strategies have three parts: planning, creating and managing.
How to create a content strategy
Plan: Before you begin writing content, define your target audience in order to understand their needs, know what's important to them and where they are active online, this will help you deliver the content they need.
Create: Creating content is not about quantity, is about quality. Write content that answers the common questions that your customers are asking.
Manage: Once your content has been created, manage and maintain it. Encourage your team members to write, edit, post, share and maintain content quickly and efficiently, helping with workflow and inspiring a more collaborative environment.
An Editorial Calendar can help you map out your content and organize it in professional way, here's an example of an editorial calendar: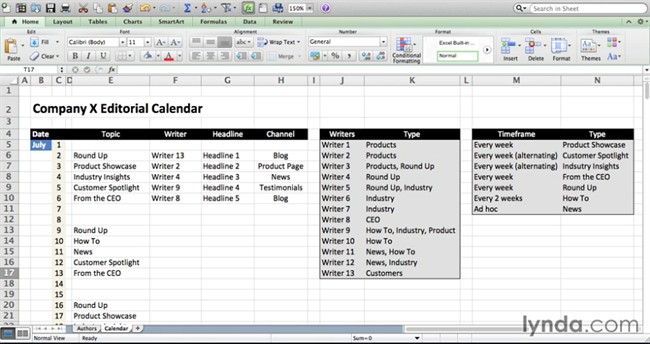 Link Building Strategy
Links are an important piece of SEO. Search engines crawl all the pages on the internet, and they find links pointing to other pages.  So to have quality links pointing to your website from other websites increase your website's authority to boost search engine visibility.
Summary
All of the steps outlined in this blog are effective ways of optimizing your website and the content you create.  But, don't make the mistake of assuming that one SEO strategy is universal for all of your target audiences.  If you are targeting a global audience make sure that your keywords, content, images, URLs, Meta descriptions, etc. are localized for the appropriate locales.  Literal translation of keywords and content is not an effective strategy.  Research your audience and understand which keywords, URLs and content will be most effective.
The Benefits of Global SEO Services
By addressing these top factors in multilingual search engine marketing, over time you will achieve measurable success in attracting visitors to your site and converting them to customers. With the world as your market, you want to ensure that your website content is attracting all potential customers in the language they can best understand.
You may gain further insight into Global SEO and related topics by reviewing blogs written by GPI: