Global SEO for China's Baidu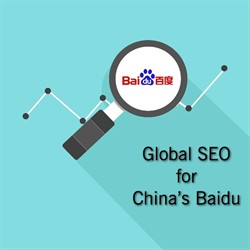 Baidu is the leading search engine in China, with around 70% market share of internet search in the country. Worldwide, it is the second largest search engine, with  8.8% market share. Baidu, created in 2000, searches the internet for web content and delivers search-related products, like local searches, images, blogs, maps, and mobile searches.
If your company is present in the Chinese market, or has plans to be in the future, plan a strategy for global SEO for Baidu as part of your marketing plan.
According to a Forbes article, during the first quarter of 2015, Baidu's revenue increased by 34% annually, and its operating margin was 16.9%. 52% of Baidu's revenues are derived from online marketing services. Forbes predicts that Baidu is positioned for long-term growth due to the immense growth opportunities present in the Chinese internet market.
What is SEO?
Search engine optimization (SEO) are the tactics used to boost your company's visibility and ranking in the search engine results page (SERP). As marketers, we are tasked with creating informative, engaging content and getting that content found in a sea of competition.
SEO tactics include:
Discovering keywords to target
Understanding what types of content your audience wants and needs and creating it
Maximizing user experience
Creating mobile responsive websites
Identifying and measuring KPIs (key performance indicators)
Using Schema mark-ups
Implementing TF-IDF, or term frequency-inverse document frequency
Optimizing Meta descriptions
Global SEO is the process of optimizing your multilingual content and websites for global and local search engines to boost ranking and visibility in SERPs. This is an important process if you are a foreign company entering into the Chinese market.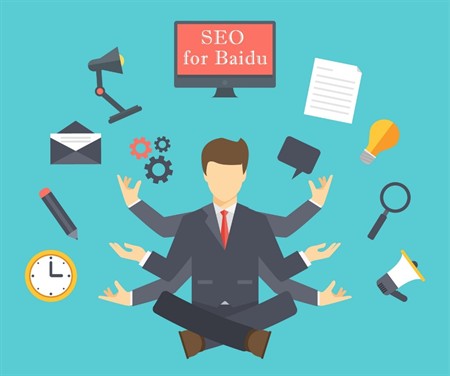 Global SEO for Baidu
Most SEO strategies are created with Google's algorithms in mind. Google dominates the online search engine market, but to attract one of China's 500 million+ internet users in local searches, it's important to also optimize your website for Baidu.
A few of the barriers companies face when optimizing websites and content for the Chinese search engine are: language, culture and government. There are strict government policies and censorships in China and to avoid having your website blocked in China, you have to abide by China's internet laws. See, Website Localization and the Great Firewall for more information.
I have compiled a list of global SEO tactics for Baidu from BaiduGuide. The top guidelines and tips for Baidu to remember are:
It does not uniquely format and divide paid search and organic search
2 PPC advertising models: Tuiguang and Tuiguang Lianjie
Prefers sites hosted in China
BaiduSpider, the Baidu crawler, can only read text content (flash files, pictures and non-text contents are ignored and unreadable by BaiduSpider)
Requires localized keywords for Chinese language
It has its own keyword tools (https://top.baidu.com/ , https://e.baidu.com , https://editor.baidu.com)
Emphasis on Meta tags
Rewards unique, quality content
Title tags should be clear and include most important words of the page
Each page should have a unique title, avoid all of the pages using the default title
Use clear anchor texts and keyword rich URLs
It doesn't measure subdomains are separate sites
And of course, always translate and localize your content for the Chinese audience and language.
Conclusion
Baidu is the leading search engine in China with 70% market share of internet search in China. Some of Baidu's SEO requirements differ from tactics used for Google's algorithms or other search engines. If your company currently operates in China or hopes to in the future, localize your website and content for the market and create a global SEO strategy that includes tactics for visibility in Baidu.