eCommerce in India: To Localize or Not?
There is a lot of buzz about eCommerce in India and whether localizing eCommerce websites is necessary due to the notion that most people in India speak English. But is it true that localization for these sites isn't necessary?
As part of our global eCommerce blog series, we focused on various regions around the globe, like Africa and the UAE. But what about India? How are the needs of customers met in that country? Do marketers take for granted that Indians speak English and, therefore, an English eCommerce platform is good enough? These are interesting questions we wanted to get more insight into.
A very interesting article I recently read shed some light on the current landscape of India's eCommerce ecosystem. The article, Indian Languages Finally Making Their Presence Felt in E-Commerce by Gopal Sathe, explained in great detail how companies traditionally marketed to the Indian customer base and where some of the challenges and opportunities exist when marketing in native languages rather than English only.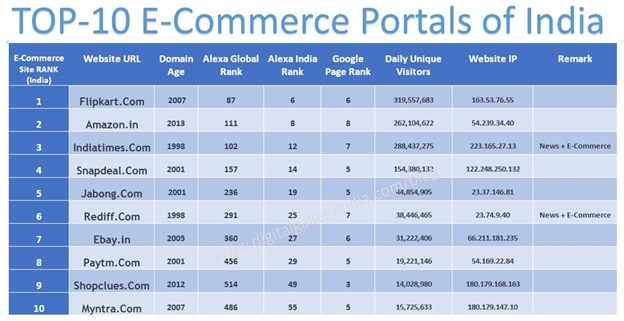 eCommerce in India
Sathe states that although several companies are making strides in providing online content in Indian languages, there is a lot more that can be done.
Videos in Indian languages are in high demand and social networking sites, like Facebook, have been localized into Hindi. What we see missing is online shopping. There are very few eCommerce sites that cater to their Indian clientele in their native language.
OLX and Quikr offer content in Hindi (Quikr supports seven Indian languages total), but the drawback is that these sites do not support any online transactions in Hindi or any other Indian language, and interestingly enough, the listings aren't translated either.
The graph to the right shows only Flipkart, Snapdeal and Jabong as the sites looking to launch Indian language support and it seems that Snapdeal is the only one that succeeded.
One of the companies not listed that has invested greatly in the concept of localizing its site content into Hindi and other Indian languages is MakeMyTrip. Head of Mobile Product, Pranav Bhasin, stated that MakeMyTrip considered localizing into Indian languages a global strategic initiative and looked at localizing flight booking information into Hindi as a starting point. They are currently launching their rail services into several Indian languages including Hindi, Tamil, Telegu, Gujarati, placing them well ahead of their competition.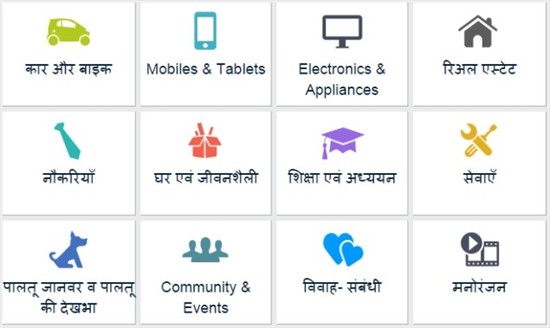 Challenges with Localizing into Indian Languages
Bhasin said that localizing into several Indian languages seemed like the logical thing to do, and the concept itself seemed to be quite simple at the time. But, the process came with its own set of challenges and problems.
Once he recognized that they were targeting a different market and different customers, localization was not as straightforward as originally assumed.
Some of the challenges centered on items such as cash-on-delivery for rail tickets. Other challenges were focused on the actual language requirements themselves. The users were what Bhasin calls "English aware" meaning they could book their tickets in English, but what they were really yearning for was content that spoke directly to them in their language and was easier to understand.
This was a sentiment shared by companies, such as Snapdeal, which launched online support for several Indian languages about a year ago and has benefited from positive client feedback since its initial launch.
Image Credit: NDTV Gadgets
Amit Khanna, Senior VP of Product Development for Snapdeal, confirmed a prevailing preference among Indian customers who use the Indian language site content over the English. So even though payments are finalized by banks in English, the fact that Snapdeal offers content in Indian languages seems to be resonating quite favorably with its customer base.
eCommerce and Real-Time Translation
Another challenge facing eCommerce content localization was articulated quite accurately by Snapdeal's Khanna. He commented on the fact that there is so much information that is being updated on an ongoing, daily basis that there is a real need for live translation. This is a challenge that not many companies are able to address adequately. Snapdeal worked with several companies to come up with what they called a "plug into" solution to address that particular need.
The Solution
In the case of MakeMyTrip, the company eventually decided that it had to develop its own translation methodology which incorporates a self-learning system that helps improve language over time, similar to a smart phone's ability to use auto-correct for new words or frequently used words by its users. Character sets proved to be another challenge for this company until they were able to make all their content available in Unicode so that all character sets can be supported and displayed correctly.
Outlook on Indian Languages in the eCommerce Space
Indian languages are not expected to become as important as English in the Indian eCommerce ecosystem in the near future. However, what is apparent is that there is a growing need for providing content in Indian languages as audiences gravitate steadily towards mobile devices and apps. Companies, like MakeMyTrip and Snapdeal, are wise in offering Indian language support for mobile app installs when the customer demands it.