On August 6, 2015 Egypt inaugurated a new Suez Canal. According to the Egypt Daily News, the goal of the new Canal is to maximize the benefit of the present Canal and double the longest parts of the waterway to facilitate traffic in the two directions and minimize the waiting time for transiting ships.
The new Canal is a part of the Suez Canal Area Development Project. It will increase the waterway's capacity and eliminate competition, in anticipation of the expected growth in world trade.
The New Suez Canal Project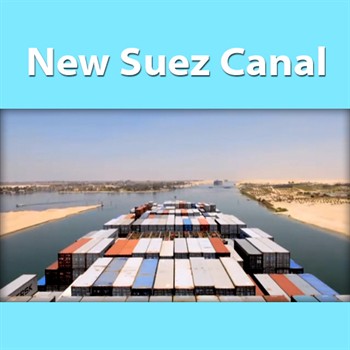 The new Suez Canal is a 72 kilometer addition to the existing Canal, which connects the Mediterranean Sea to the Red Sea.
The Suez Canal is a key waterway for international maritime trade.
This project was started in August of 2014. The New Suez Canal website states that the first phase was to deepen and widen 37 kilometers of the western by-passes at a depth of 24 meters.
The second phase was digging the new parallel waterway, at a length of 35 kilometers and a depth of 24 meters, at a water level width of 320 meters at its widest point.
The project was expected to be completed in three years, but President Abdel Fattah el-Sis ordered it to be completed in one year, to demonstrate the strength and determination of the Egyptian people.
The new Suez Canal project is owned and maintained by The Suez Canal Authority (SCA). Funding for the project was gained from Egyptian nationals through local banks. The authority received $8.5 billion in just six days. Quarterly dividends of 12% will be paid back to all investors.
New Suez Canal Benefits
The new Suez Canal is Egypt's gift to the world, Vice-Admiral Mohab Mamish, chairman of the Suez Canal Authority said "The Suez Canal has always been a symbol of the Egyptian people's will," as it is the most strategic waterway in the world.
The Suez Canal Authority lists the follow benefits
Minimizes transit time from 18 hours to 11 hours
Minimizes wait time to three hours instead of 8-11 hours
Minimizes shipping costs
Allows larger ships to pass
Reduces navigation time from 22 hours to 11 hours.
Will increase the number of ships per day using the canal from 49 to 97 by 2023
Will generate $13.2 billion by 2023 up from $5.3 billion
Ships will use less fuel, which will reduce pollution
Summary
The new Suez Canal, is an engineering miracle and will dazzle the entire world with its new capabilities. It is the fastest shipping route between Europe and Asia, and will continue to present new opportunities as world trade increases.