Translating Inbound Marketing Content: Landing Pages
Landing pages are web pages built for capturing visitor's information and include a form for obtaining contact details and a call-to-action (CTA) with a content offer. These pages are designed to organically attract traffic and engage with your website visitors. They are key components of inbound marketing strategies and should be adapted, translated and localized for all of your audiences.
This blog will focus on translating and localizing landing pages in order to reach your target markets.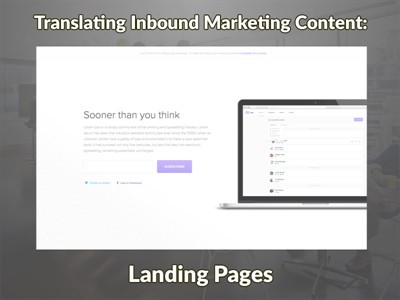 Components of a Great Landing Page
Effective landing pages will draw viewer's attention, obtain contact information, have a CTA with a relevant offer and convert visitors, leads and customers.
The design of your landing page should center on the user experience and make it as easy as possible for the visitor to convert. Use colors, text and images to draw your viewer's eye to specific areas of the page.
According to WordStream, red and green button colors for CTAs are the most effective at increasing landing page conversions. While there are many other aspects to test for button colors, always be sure the colors stand out against your background color.
Keep your landing pages simple, minimalist and mobile friendly. Create a clean page with natural navigation, no distractions and only the information needed to attract visitors and guide them through the sales funnel.
Use short forms to capture the most important information from you visitors. Forms that ask for too much information may cause your viewers to lose interest and not complete the form. Stick to the most essential contact details and keep the forms short and concise.
Tailor your landing pages for your individual audiences. One form for all of your audiences may not be effective at converting all of your personas. Create different landing pages for different stages of the buyer's journey, with content to match each stage. For example, offer a blog for someone in the awareness stage and ask for basic contact details like name and email address and offer a case study for someone in the consideration stage and ask for more detailed contact information.
Translating and localizing your landing pages and their components will ensure that you are attracting all of your global audiences.
Why Localizing Landing Pages is Important
If you are trying to attract global audiences the best way to reach them is to translate your website content into the target language and localize it so it is culturally and regionally appropriate. Don't leave it up to your visitors to find a way to understand what your content says.
Localizing your landing pages will not only make user experience better, it will result in higher search engine results in your audiences queries. Pages that have content in a searcher's native language will appear higher in their SERPs making your website more visible to them and easier to find.
Your visitors will also feel valued knowing that you took additional steps to localize your content into their language. Researching your target audience to understand what words or phrases they use when communicating will show your dedication to providing the best service and experience for them.
Localization is a Continuous Process
It is very important not to rush the localization process; and you must constantly work together with a professional translation partner and their language and subject matter experts to make sure you achieve the highest-quality localized content as you expand your business globally.
Here are some tips to consider when localizing your landing pages:
Know your audience.
Conduct research to understand which content is relevant to your target market.
Prepare you content for localization.
Choose the right translation partner.
Make content management effortless.
Show, don't tell – provide sufficient visual cues with colors and images that are culturally appropriate.
Always keep in mind that the appearance and content of your global landing pages reflects your brand's identity and one simple mistake could be enough to tarnish your brand's reputation. Many international companies have had problems with expanding their brand worldwide due to lack of research and failure to understand the localization process.
Summary
Taking your brand global could mean huge success if you take the time and resources to do it correctly. Localizing your inbound marketing landing pages into different languages is definitely not an easy task and it will require research, a clear understanding of your audience, a detailed plan and proper strategy execution, but it is worth it. Successful landing page localization can be achieved if you embrace localization, understand the process, and choose the right localization partner.
Further Resources on International Search Engine Marketing(SEM) including Search Engine Optimization (SEO), Search Engine Advertising (SEA) and Social Media Localization
Global Digital Marketing for multilingual websites or for content destined for specific locales (country + language + geography) is more than just translating keywords. Today companies should work with a combination of owned, earned and bought digital media in order to drive traffic to their localized or translated websites. Localization of any media requires in-country native speaking professionals to copy write and localize content in order to engage potential customers. Whether you work with a traditional digital marketing agency, or you are one, GPI's global digital marketing team can serve as an extension of your in-house digital marketing department to help you deliver your message around the world.
For more information on specific topics related to global digital marketing, you may wish to review some of our previous blogs.