The Mobile Traveler: Tips for Using Your Mobile Device Overseas
If traveling for business is part of your job description and being offline or permanent voicemail is really not an option, then being able to use your mobile device overseas in a smart and economic way will require some research in terms of the best plans and options to select.
Even if your international travels are purely for vacation and not business you may still want to stay in touch with loved ones back home, share a picture with friends, or pull up a Google map in the country you're visiting. Without preparation and research, a couple of overseas phone calls and a few YouTube videos can cost you half your plane ticket.
What's the Best Phone Plan for Overseas Travel?
Let's take a closer look at the four leading U.S. carriers and how their international plans compare.
AT&T
AT&T offers various Travel Minute packs as well as Passport Roaming packs.
For example, if you are traveling to Mexico or Canada you can buy 80 minutes of talk time for $30 or about 38 cents for one minute. There are also 200 minute options for $60/month or 500 minutes for $120 with Travel Minute packs.
Passport Packs are great for global roaming as they include include talk, text and data. The plans start at $30 and the $30 dollar Passport Basic plan includes unlimited text and multimedia messaging, unlimited data over Wi-Fi, 120MB of cellular data and phone calls are billed at $1 per minute. Data overage fees apply.
The $60 Passport Silver plan provides all the features of the basic plan but instead 300MB of cellular data and lower per minute voice plan of $0.50/minute.
Passport Gold offers 800MB of cellular data and a per minute voice plan of $0.35/minute for $120.
AT&T customers on Passport Gold and Silver have unlimited access to Wi-Fi hotspots at participating locations in over 18 countries.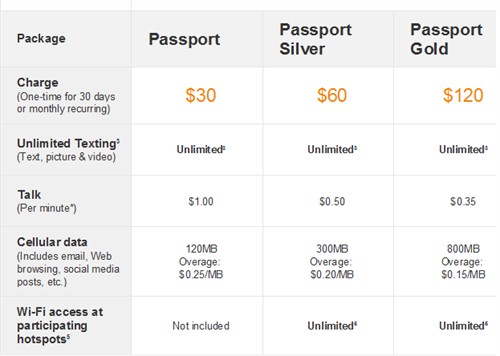 Calls to Canada and Mexico without a plan will cost you $1.00/minute and calls to Europe start at $1.50/minute.
Sprint
Sprint offers what they call the Sprint Global Roaming service, which gives its customers free and unlimited data up to 2G speeds in 64 countries.
The nice thing about this feature is that it can be added to any Sprint plan free of charge, and it also includes unlimited texting back to the US from those same countries. Another plus is that you can make calls globally from any of those 64 countries for 20 cents/minute.
If an increase of data speed to 3G is required, Sprint also offers International Speed Data Roaming passes starting at $15. The one day $15 pass offers 100MB, 200MB for $25 for one week and 500MB for two weeks for $50.
Sprint has also introduced Sprint Open World for travel to Canada, Mexico and almost all other Latin American countries with compatible devices at no additional cost:
Free Unlimited Talk
Free Unlimited Text
1GB of high-speed data
Verizon Wireless
Verizon now offers what they call a TravelPassSM and you can now take your domestic talk, text and data allowances with you and get charged only for the days you use your device abroad. The fee for this service is $2 a day per line in Mexico and Canada, and $10 a day per line in more than 65 other countries.
For international travelers Verizon is offering the following plans and options:
Monthly International Travel Pricing

Mexico & Canada

Other 140+ Countries

Cost

$15/mo per device

$25/mo per device‡

$10/mo per device

$25/mo per device

$40/mo per device

Talk

100 minutes

500 minutes

$0.99/min

$1.79/min

100 minutes

Text

100 sent
Unlimited received

500 sent
Unlimited received

$0.50/sent
$0.05/received

$0.50/sent
$0.05/received

100 sent
Unlimited received

Data

100 MB monthly allowance

1 GB monthly allowance

100 MB monthly allowance

100 MB monthly allowance

100 MB monthly allowance
Source: Verizon
Pay-as-you-go rates for Verizon customers who do not purchase any of the packages listed above have voice rates of $0.99/minute for Mexico and Canada, and $1.79/minute for another 140 countries. Outgoing texts are $0.50/text and incoming texts are $0.05/text.
T-Mobile
T-Mobile's has been offering its Simple Choice plans to access unlimited data and texting in over 140 countries, at no extra charge since October 2013. Calls are $0.20/minute to any country on that list. The only downside to the unlimited data is that it is restricted to 2G unless you are traveling in Mexico or Canada.
In Mexico and Canada, Simple Choice customers can enjoy unlimited calls and text to and from any number, including mobile phones PLUS use their monthly 4G LTE data just like they do in the U.S., at no additional charge.
Stateside International Talk gives its customers unlimited calling to landlines in over 70 countries from anywhere in the United States, Mexico, and Canada for a monthly fee of $10 per month (per line) or you have the option to add unlimited calling to mobile numbers in over 30 countries for $5 more per month.
If you need faster web browsing, T-Mobile allows its customers to purchase high-speed data passes that can be added to your plan. A single day pass costs $15 and provides 100MB, 200MB is $25 for one week, and $50 will get you 500MB that can be used within 14 days.
If you are not part of any of the above T-Mobile plans, the pay-as-you-go voice rates for customers are $0.59 per minute for Canada, $1.49/min for the UK, and $1.79/minute for Mexico.
International Plans for Other Carriers:
Boost Mobile offers Todo Mexico Plus and for $5/month you get unlimited calls to Mexico and Canada and unlimited international text. International Connect Plus offers unlimited landline calling to over 70 countries and 200 minutes to mobile phones in over 50 countries plus unlimited texting.
Cricket Wireless plans already include free international texting to 38 countries (SMS only) and unlimited calls and texts (SMS & MMS) to Canada and Mexico. Cricket International plan offers unlimited calling to landlines in 36 countries for $5 extra a month, and International Extra with unlimited MMS and 1,000 mobile-to-mobile minutes to 32 countries for $15/month.
MetroPCS' $10/month World Calling now includes 200 minutes of calls to mobile numbers in 43 countries and 200 texts per month while roaming in 21 countries in addition to the unlimited international calls from the US to landlines in over 75 countries and unlimited international texting originating from the US. There are also $5 and $10 plans for talk and text to Mexico.
Mobile Tips for your Trip
International plans are great but it may still be tricky to track and monitor all activities in real-time while traveling abroad. Even though many carriers offer tracking options expect delays in providing up-to-date information while overseas.
Data Usage may be charged in increments of KB; typically in a minimum of 10KB increments.
Cheaper alternatives can be buying global SIM cards that offer discounted
local rates.
Free Wi-Fi anyone? The beauty of Wi-Fi when traveling overseas is that it is free in many places from most hotels (in-room or at the very least the lobby), bars and restaurants, public places and buildings, train stations and airports and quite often buses and trains which makes it very easy to text and email while spending very little to nothing.
Apps such as Skype or WhatsApp allow you to share pictures and talk with friends and family for hours without using any of your data and minutes.
Do your research on the best plans available for your travels and take advantage of free in-country Wi-Fi and smart apps and you will save a ton of money that will be better spent on your next travel destination instead. Bon Voyage!