Diversification Grows UAE's Economy
The United Arab Emirates (UAE) is working towards lessening their reliance on oil to continue growing their economy. They are doing this by building up other sectors of their economy, like renewable energy and tourism. This strategy makes the UAE more flexible to the sharp fluctuations in the global oil sector we have seen lately.
According to a June 2016 article in The National, mining and quarrying, part of the oil sector, contributed to only 2.2% of Dubai's economy last year. The biggest sectors are wholesale and retail and property, which make up 29% and 15% of the economy, respectively. The IMF expects Dubai to grow by 3.7% in 2016.
In the next few years, Dubai will begin experiencing added growth from hosting Expo 2020, especially in the construction, transport, tourism and hospitality sectors.
70% of the UAE's economy comes from non-oil sectors. Key sectors the UAE competes in globally include:
Global Aviation
Commercial Trade
Tourism
Renewable Energy
Manufacturing
Media
Financial Services
Healthcare
Below is a graphic from AmCham Abu Dhabi which shows the UAE's growth and how they are competing in some of their key sectors.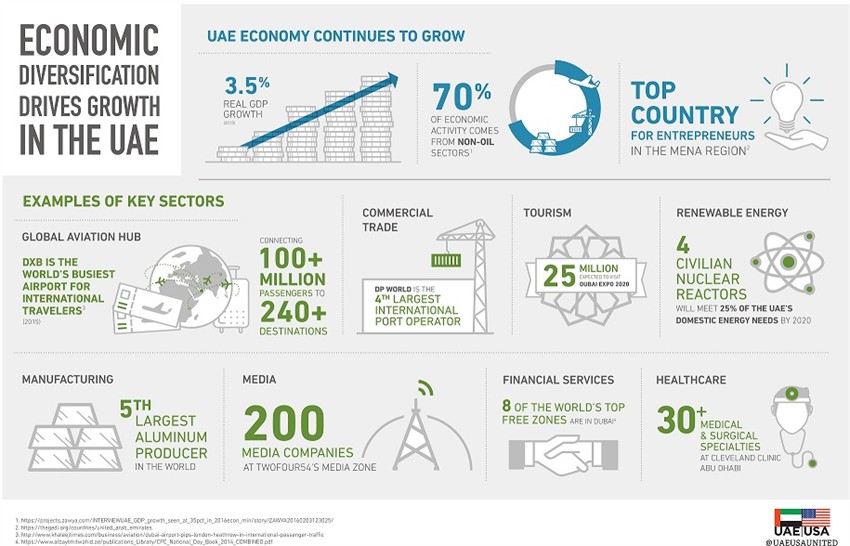 It's vital for countries to lessen their dependence on oil in order to be more resilient to the unstable oil sector. Diversifying across many sectors will allow the economy to continue to grow, even when some sectors experience lags. The UAE has shown this to be true as their economy drives onward and upward, despite decreased oil prices.