News: The World's First Object Translator is Launched
Imagine pointing your smartphone at an object and an app installed on your phone has the ability to translate it into 40 languages. That's exactly what the new language learning app, FlashAcademy, developed by Learning Lab, promises to do. It is currently available for iOS and Android operating systems.
Users simply point their phone at a white ceramic cup, for example, and the Spanish translation "taza de cerámica blanca" pops up, and is also pronounced by a native Spanish speaker.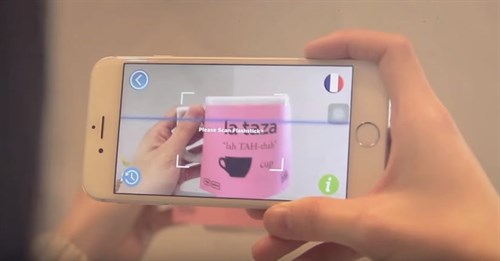 By combining object recognition with translation technology and the latest augmented reality technology, the app is able to deliver virtual native speaker videos on demand and a variety of adaptive learning technologies to create a unique learning environment for each user.
FlashAcademy Key Features:
Hundreds of five-minute interactive language lessons
Scan and instantly translate objects around you
Native speaker tutor videos
Word games for all ages
Instructive flash cards
Progress tracking with leaderboards
Veejay Lingiah, CEO of FlashAcademy, said in a press release: "Science tell us that the more engaged we are when learning and the more we can be pushed to recall our new knowledge in a variety of ways, the more powerfully we'll remember."
This is how FlashAcademy has been designed to help learners; encouraging them to learn and recall language in a variety of stimulating ways. The app developers are very excited for the potential of what this new platform can do to help anyone who wants to improve their language skills.
Language Labs is a venture-backed start-up based at the Innovation Birmingham Camus in the United Kingdom. There is a free version available for download on iTunes and Google Play stores, and subscription plans start at $3.83 per month. The object translator is available only as part of one of the premium packages.
For more information, please visit: Flashacademyapp.com.