Airport Security Wait Times for Leading Global Airports
When you are planning to travel internationally do you wonder how U.S. airport security wait times compare with global airport security wait times? I was curious, so I did some research and below is what I found out.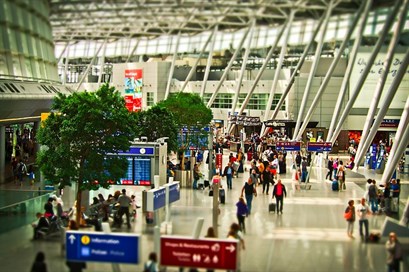 U.S. Airports
Here are typical security wait times for leading U.S. airports:
Atlanta (Hartsfield-Jackson Atlanta International Airport): Under 20 minutes most of the time in recent months. In July 2017, the wait was under 20 minutes 96% of the time.
Denver (Denver International Airport): 20+ minutes is common most times of day. Line waits have been as high as almost one hour at peak times.
Chicago (O'Hare International Airport): 10 to 20 minutes is common, but peak times can have hour delays. Wait time has improved from this spring when delays over an hour were common. Last summer, wait time was often two hours.
New York City (LaGuardia Airport): 20 minutes or less is often the case at key times.
Boston (Logan International Airport): Their goal is 15 minutes or less. They are usually close to this, but under 20 minutes appears to be normal.
Washington, D.C. (Dulles International Airport): According to recent traveler reports, wait times are often 10 minutes or less. Happy travelers in D.C.
Los Angeles (LAX): LAX is also processing travelers pretty fast with wait times at peak business travel hours of under five minutes.
The summer of 2017 appears to be a much better situation than the trouble we heard of from wait times in the summer of 2016. 10 to 20 minutes seems to be a good expectation across the U.S. for the larger airports.
International Airports
Now, let's take a look at some leading international airports and see how they compare:
London, UK (Heathrow Airport): 25% of recent travelers had wait times of over 45 minutes in April 2017, according to information from the airport. With passport control requirements, the times were up to three hours according to BAA, the airport operator. The goal of the airport is 45 minutes for non-Europeans who have to go through passport control and 25 minutes, on average, for European travelers. When Brexit is completed it could get worse as more travelers will likely need to use passport control.
Paris, France (Charles de Gaulle Airport): Security and passport control wait times have often exceed two hours. Airlines are recommending arriving three to four hours before your flight time. France is currently taking additional safety measures due to recent terror attacks, which have caused wait times to increase from previous levels. Increased security measures causing longer wait times are becoming more common across Europe. In Spain, wait times are reported to have exceeded four hours.
Beijing, China (Beijing Capital International Airport): 45 minute wait times. For international travel in today's world, that is not too bad.
Tokyo, Japan (Narita Airport): Recent traveler reports have commented that while lines can be long, they usually process travelers fast and 15 minutes is common.
Dubai, UAE (Dubai International Airport): 10 to 15 minutes is the norm with most travelers being on the lower end of this time. The airport implemented new technology this year that has reduced the wait time average by 10%.
International travel does require additional time, but it would seem that outside of Europe the times are not an issue. In Europe, the wait times seem to be increasing due to security issues in multiple countries in the past couple of years requiring stricter controls to assure passenger safety.
Arrive early and enjoy your trip!