Articulate Rise for eLearning Content
Articulate Rise is a web authoring tool offered as part of the Articulate 360 subscription and used to create eLearning courses. It doesn't require on-device installation or expert level experience to be able to use. Among many helpful features, Rise's main powerful feature is its ability to create responsive courses.
Responsiveness is a valuable feature and Rise is the only player in this game. Unlike other tools, you don't need any special settings to make your course responsive. For example, in Adobe Captivate you need to design your course to be responsive by using fluid box mode and create a series of settings like content flow, wrap options, padding, etc. In Rise, you just build your course and the tool takes care of the rest.
Below, I am going to explain what to consider, other than responsiveness, before choosing Rise as your eLearning course authoring tool.
Language Support
Rise 360 supports left-to-right (LTR) languages and double-byte character sets (ex: Chinese, Japanese). Rise doesn't currently support the right-to-left (RTL) language direction. If you are planning to localize your course into one or more of the RTL languages (ex: Arabic, Persian, Hebrew), consider using a translation vendor who has a skilled development team to create a work around for this issue.
Accessibility
Rise 360 doesn't fully meet the Web Content Accessibility Guidelines (WCAG) yet, however with some precautions and proactive steps you can make simple, accessible courses.
Rise's accessibility features:
Alt text for images.
Keyboard-accessible navigation.
Closed-captioning for videos.
What Rise doesn't support:
Screen readers.
Full keyboard navigation.
High contrast between text and background.
Tool Limitations
When working with Rise, you need to be aware of some of the tool limitations.
Character limitations: There are places in your eLearning course content where you need to pay extra close attention to character limitations, especially if you're localizing your course into other languages.
Here are some examples:
Matching questions: the maximum characters allowed is 76 characters without spaces and 90 with spaces.
Original text: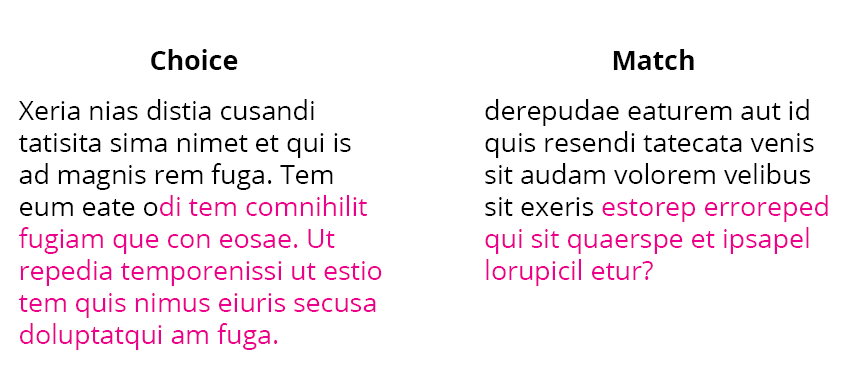 View in Rise:

You will notice that all of the pink text doesn't exist in Rise and there is no notification or alert to tell you that you have exceeded the character limit.
Tabs view: the maximum characters allowed is 25 characters without spaces and 30 with spaces. You will see "…" if you have exceeded the character limitation.

Accordion view: the maximum characters allowed is 70 characters without spaces and 80 with spaces. You will see "…" if you exceeded the character limitation.

Searching and replacing: There is no search and replace feature in Rise. You can only search within the viewed page.
Changing heading styles: You can't edit a heading's font size, type, color, etc.
Importing multiple images: You must import images one at a time.
Renaming attachments: To rename any attachment, you must rename it on your local device, then upload to Rise.
Conclusion
Articulate Rise's responsiveness and elegant design have the power to attract many eLearning clients. It serves as a refreshing alternative to other course content authoring tools. If you are developing a multilingual eLearning course using Rise or any other authoring tool, the GPI eLearning and translation teams can work with you to create a program that meets the needs of all your global audiences.