Arabian Horse: Some History and Characteristics of the Breed
Horses have been around for more than 50 million years, and there are over 400 different breeds of horses in the world. They were first domesticated in Asia between 3000-4000 B.C. Horses were mostly used for meat and milk, and then they became a form of animal transportation.1
The Arabian horse is an extremely unique breed with distinctive qualities and attributes. It's not known where the Arabian horse originated from, but the distinctive silhouette of the horse was first seen in Egyptian art around 3500 BC.2
Arabian horses are classified as the most improved breeds of horses, and they're recognized for their endurance and beauty. People are breeding the Arabian horse with many other breeds worldwide to combine the Arabian's speed, stamina, and beauty.
How Are Arabian Horses Different than Other Breeds?
Arabian horses are unique both physically and their personality compared to any other breed. With horses in general, it's quite difficult to tell the difference between each breed unless you're extremely knowledgeable about horses. However, Arabians are relatively easy to identify.
Physically
The Arabian horse has striking characteristics. Some of the most identifiable characteristics include3:
Chiseled head
Dished face
Long arching neck
High feathered tail
Deep chest
Strong and dense legs
Horizontal pelvic bone position
Short back due to one less vertebra
The Arabian horse was bred to thrive in harsh desert climates and has had to adapt over time. Some of the main adaptations are:
Requires less food than other horses
Good hoof structure to withstand rocks and sand
Dense bones to promote physicality and masculine nature
Thin skin to cool the body
High tail to allow heat to leave faster
Tremendous lung capacity
These adaptions have allowed the Arabian horse to outlast other breeds and become extremely popular.
Personality
As we mentioned, Arabian horses have unique personalities. Although they're hot-blooded and highly strung, they're also extremely intelligent and loyal. Their willing nature makes the Arabian breed a perfect family horse especially around children3.
Arabian horses tend to cooperate with humans when they're treated well. However, if they're treated badly, they won't tolerate it. They can forgive easily, unlike the thoroughbred or other breeds.
What Arabian Horses Are Used For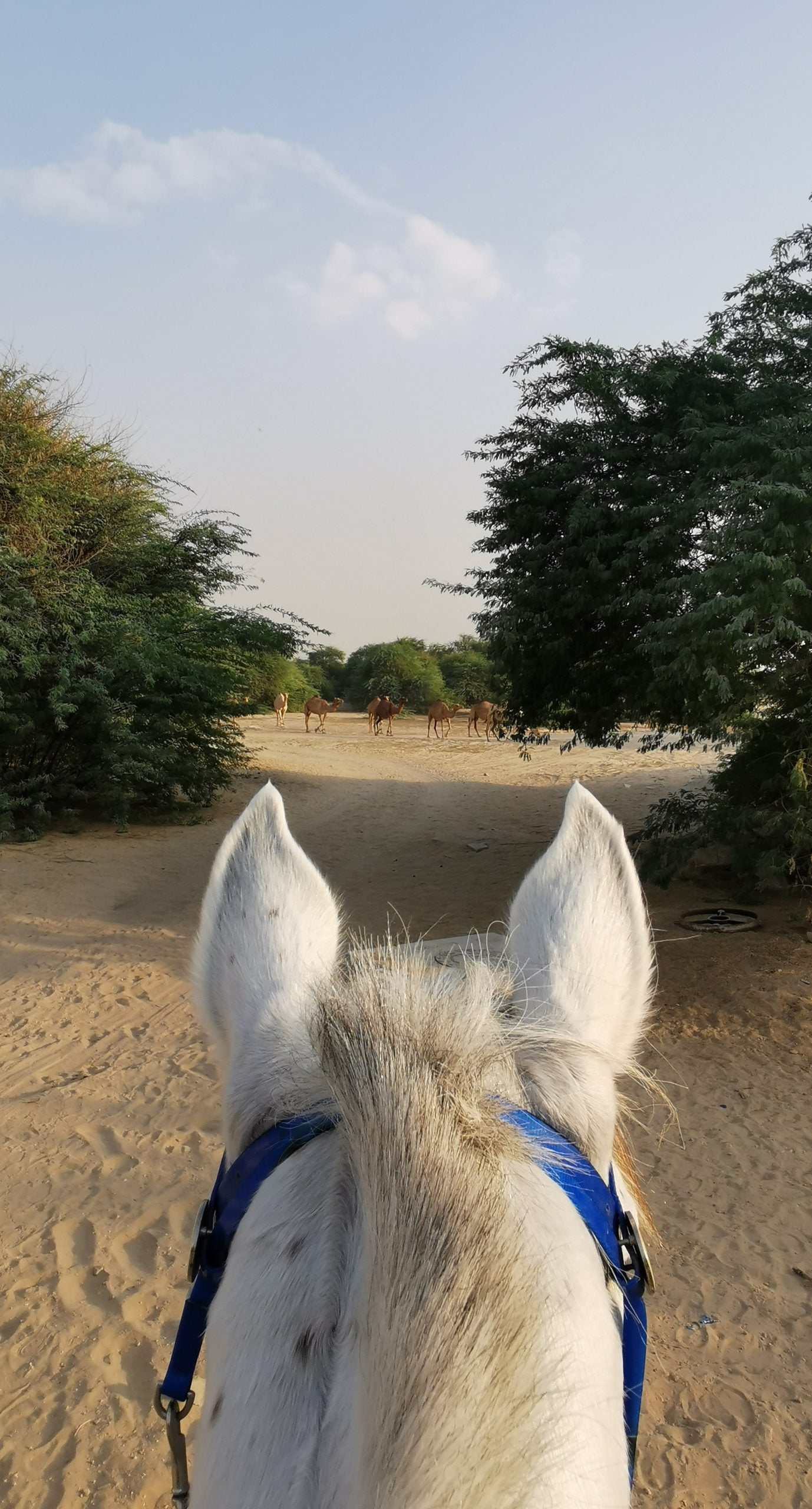 The Bedouin way of life always depended on horses and camels. However, today the breed is used in various recreational activities. The most dominant sport is endurance racing since they have a compact body, lean muscle, and the ability to conserve energy while exercising4.
Endurance racing can be between 25-100 miles (40-160 kilometers) with several checkpoints throughout the race by professional veterinarians.
Sheikh and the Horses
Within the Middle East, the Arabian horse plays a large part of the culture. His Highness Sheikh Mohammed bin Rashid Al Maktoum, Vice President and Prime Minister of the United Arab Emirates and Ruler of Dubai, founded Godolphin as an expression of his lifelong passion for horses and racing5.
Sheikh Mohammed was captivated by the Arabian horse's power, elegance, speed, and grace. Now they own one of the world's most renowned brands and a team of horses across four continents.
Conclusion
Overall the Arabian horse is an incredible breed, as it is an extremely versatile equine. The Arabian horse was an indispensable asset during wars, owing to its superior stamina, calm nature, companionship, human loyalty with humans, and endurance4.
Reference: