Celebrating the Mid-Autumn Festival
Mid-Autumn Day is a traditional festival celebrated in East Asian countries. It falls on the 15th day of the 8th month of the Lunar calendar, which is usually late September or October in the Gregorian calendar.
Mid-Autumn Day Variation in Different Cultures
Mid-Autumn Festival is usually a time for big family reunions to celebrate harvest and honor the moon. In China, it is considered the second most important festival, after the Chinese New Year. Before the festival, people visit their relatives and send Mooncake as gifts. While September is the beginning of school season, people usually send wishes to the moon goddess to bless their kids for advances in studying.
Japan
In Japan, it is called the Tsukimi, which means "moon-viewing", also known as Jugoya, an occasion to honor the Autumn moon. On the Mid-Autumn day, it is traditional for people to gather in a place where they can see the full moon, display decorations made with Japanese pampas grass, and serve Tsukimi dango (a white rice dumpling).
Korea
In Korea, Mid-Autumn (also called 'Chuseok' in Korean) is one of the most important festivals of the year. It is also time for big family gatherings, as well as paying respect and tributes to their ancestors in worship ceremonies. In Malaysia and Singapore, the Mid-Autumn Festival is also known as the Lantern Festival. While it is also time for family gatherings, it's also a fun time for kids to paint colorful lanterns and walk around in their communities under the full moon.
Mooncake – The Ultimate Comfort Food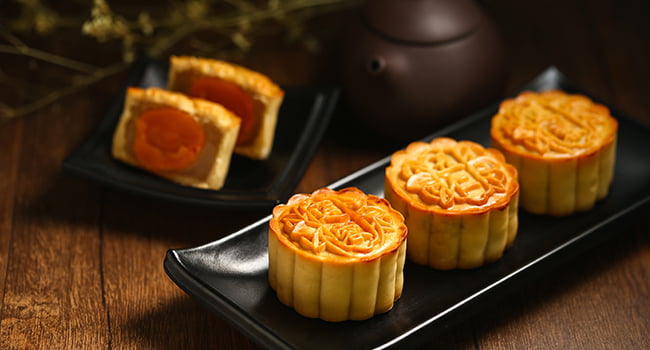 A Mid-Autumn Day without Moon Cake is not complete. Therefore, the Mid-Autumn festival is also known as Moon Cake Festival. Traditionally, mooncake is a round pastry with a thin crust and filled with red bean paste or lotus seed paste. The higher version may contain yolks from salted duck eggs There are more and more variations to the fillings in the mooncakes in recent years, such as lava custard, coconut paste, various fruit and even durian! The mooncake is usually cut evenly into 4, or 8 wedges and shared among groups celebrating.
Since every family celebrates this important festival, usually 1 or 2 months before the festival, you can see shops, bakeries, supermarkets and malls hanging festive decorations, as well as displaying all kinds of mooncake gift boxes. Most of the top hotel chains produce high end Moon Cake that's embedded with their own brand names, such as Mandarin Oriental, Bulgari Hotel, Hyatt, Four Seasons, St Regis, Hilton, Marriott Hotels, etc.
Mid-Autumn Day Celebrations Conclusion
As Mid-Autumn Day is an important festival for families, businesses and especially hotels also run their own festive-related campaigns and events. This brings a personal touch to hotel guests and business customers acknowledging the importance of this day. It is a good time for businesses to visit their customers bringing them mooncakes and show their appreciation for their businesses in the past year. Hospitality or Tourism businesses set up Mid-Autumn menus and host specialized activities such as sending mooncakes, writing festive wishes, etc.., in order to celebrate with guests and their families.
This year 2021, the Mid-Autumn Festival falls on 21st September, so don't forget to send advance wishes to your clients and wish them a Happy Mid-Autumn Festival. If your business or hotel needs a Mid-Autumn Festival message for your guests, potential guests, or customers, please feel free to reach out to us to put that message in any language!
References: