Introducing GPI's New Translation Services Portal!
GPI has introduced its newest version Translation Services Portal for clients who need to monitor and manage translation projects and teams anywhere in the world. Just a bookmark away, the portal has helped some of the world's top brands save considerable time and money on managing all aspects of their translation needs.
Translation Services Portal
The new version Translation Services Portal has a robust set of features that provide any translation stakeholders detailed visibility into a wide range of translation project data.  The portal is completely customizable with your own branding, report types, and access privileges for any of your employees and team members worldwide.
New and enhanced Translation Portal features include:
– Key localization project modules such as Quotes, Projects, and Reports.
– Enhanced Quick Quote Calculator to provide real-time translation quotes & budget planning.
– Range of projects, quotes, and translation memory reports.
– Full visibility of localization projects, including files, schedules, billing, analytics, and other features.
– Fully customizable reports to track translation spend per language, per time frame.
– Advanced SBS (side-by-side) proofing for translation collaboration and client review & approval
– Resources Library and Blogs covering a wide range of translation topics.
– Secure integrations with industry-leading CRMs through GPI's Translation Connectors.
– Private branding and customizations are provided as part of GPI's translation services.
– ISO 17100 – Translation Services certified embedded workflows and quality assurance.
– Human translation teams and/or Neural Machine Translation (NMT), plus post-editing workflows.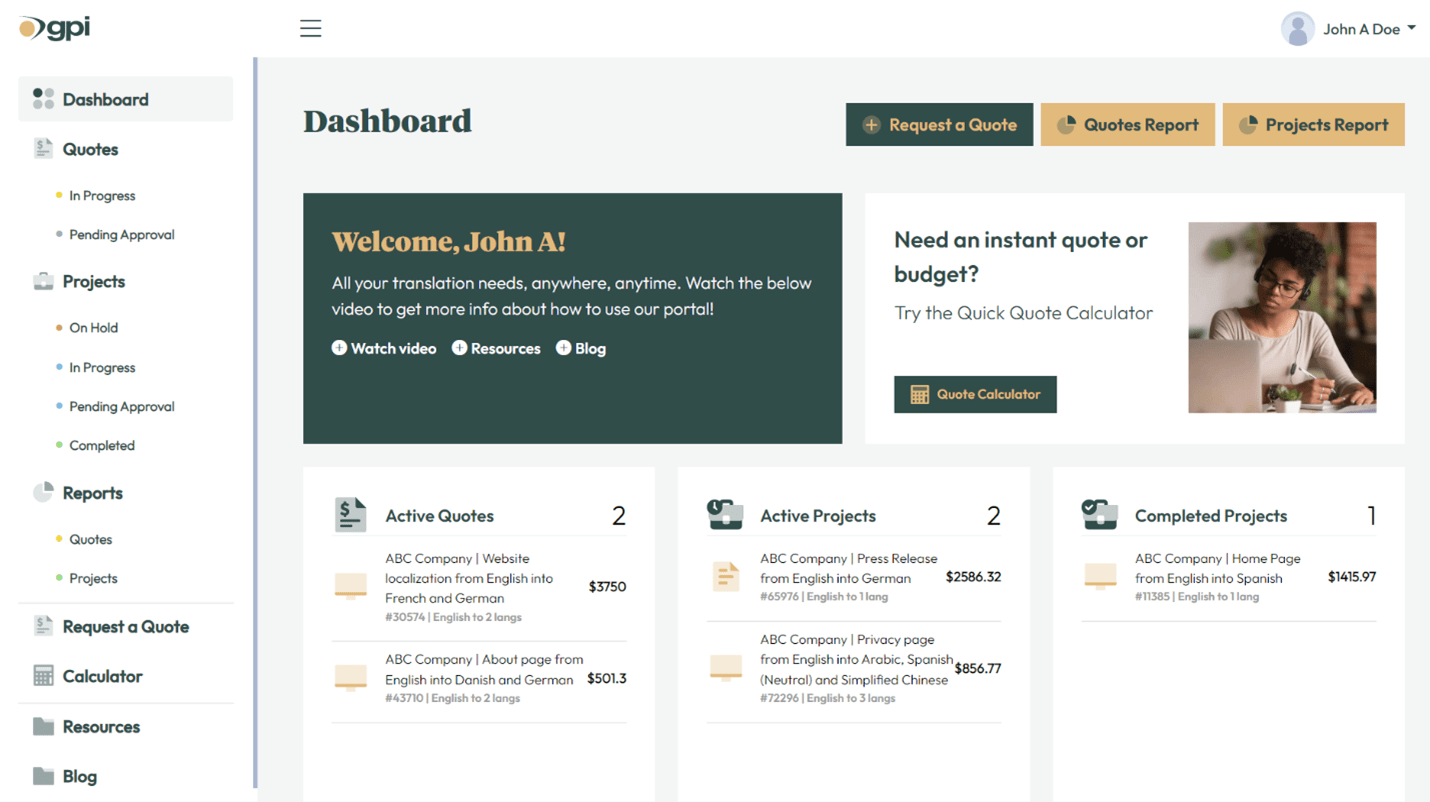 The new translation portal has an expanded range of business intelligence through reports and KPI monitoring tools to help guide management, translation project managers, and any team members who need this information to leverage business intelligence and make better decisions.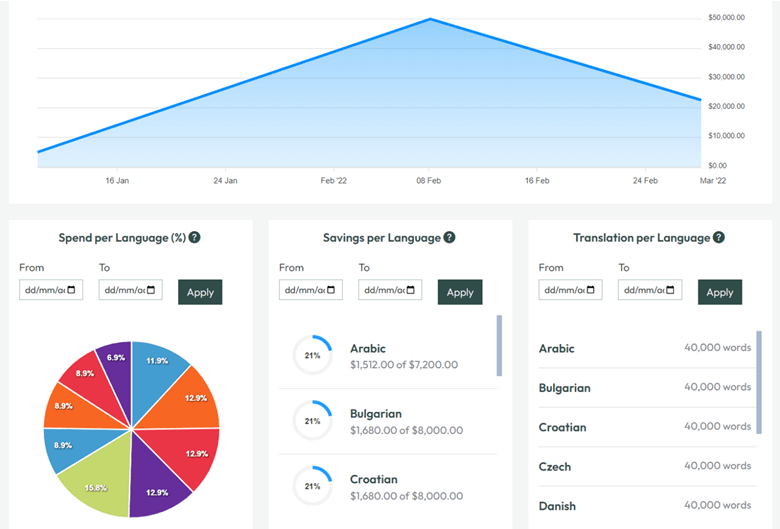 Spend per Language (%): This pie chart shows the percentage spent per language on all the projects completed in a given time frame. By default, it considers all completed projects, but you can filter them by using the date range filter.
Savings per Language: This graph shows the savings per language due to the usage of Translation Memory in all the projects completed within a given time frame. By default, it considers all completed projects, but you can filter them by using the date range filter.
Translation per Language: This graph shows the total amount of words translated per language in all projects completed within a given time frame. By default, it considers all completed projects, but you can filter them by using the date range filter.
Two improved tools offered with the translation portal include a "Quick Quote Calculator" and an "Online QA Tool" which have been client favorites in earlier versions of the portal.
Translation Quick Quote Calculator
With the translation portal, you can get translation quotes by simply requesting quotes via the request form and submitting any source files, OR you can use the real-time Translation Quick Quote Calculator for instant quotes by inputting some basic project metrics, such as languages and word counts to get an instant quote including tasks list and schedules.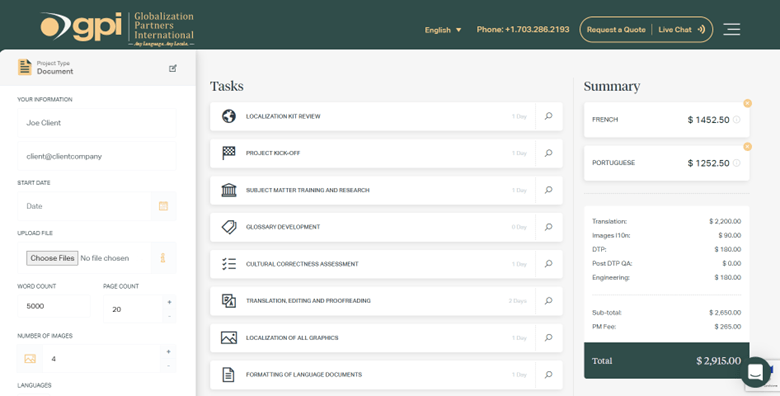 +Quick Quote Calculator Form
The Translation Quick Quote Calculator provides the most detail of any online instant translation quote in the industry and can be used for real-time budgetary quotes. Running into a meeting and needing a translation estimate, no problem… Just punch in some basic metrics and hit "Calculate". You will get translation costs, and tasks per language to help you understand the scope and schedule for your translation project.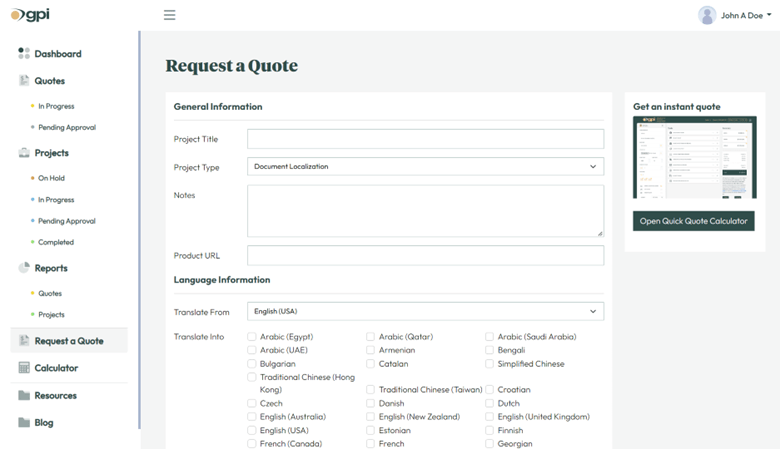 +Request a Translation Quote Form
Need exact translation costs, schedules, and tasks per language? Just submit the basic information and source files via the "Request a Translation Quote" form and the GPI analysis team will generate an actual quote including leveraging any client translation memories in use by GPI to give the best price possible.
To learn more or schedule a demo, please visit GPI's Request a Translation Demo.
Online Translation Review Tool
With the online QA Tool, you have the opportunity to review and approve every translation in addition to using any other customized review and approval workflows and tools you decide.  Easy side-by-side review for translated content by any reviewers you assign.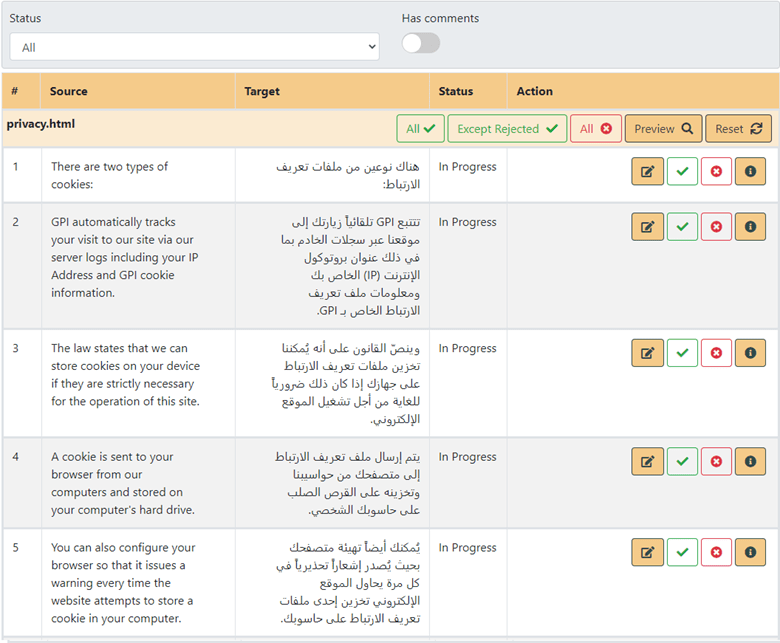 +Online Translation QA Tool for side-by-side language review and approval
Translation Reports
Many of the new features of the translation portal center around increased business intelligence now available to our clients who need to make important decisions related to languages, budgets, and schedules. The portal's dashboard gives clients visibility into a collection of business intelligence combining data mining, data visualization, data tools, and business analytics for many of the key performance indicators needed for translation project management, tracking, and decision-making.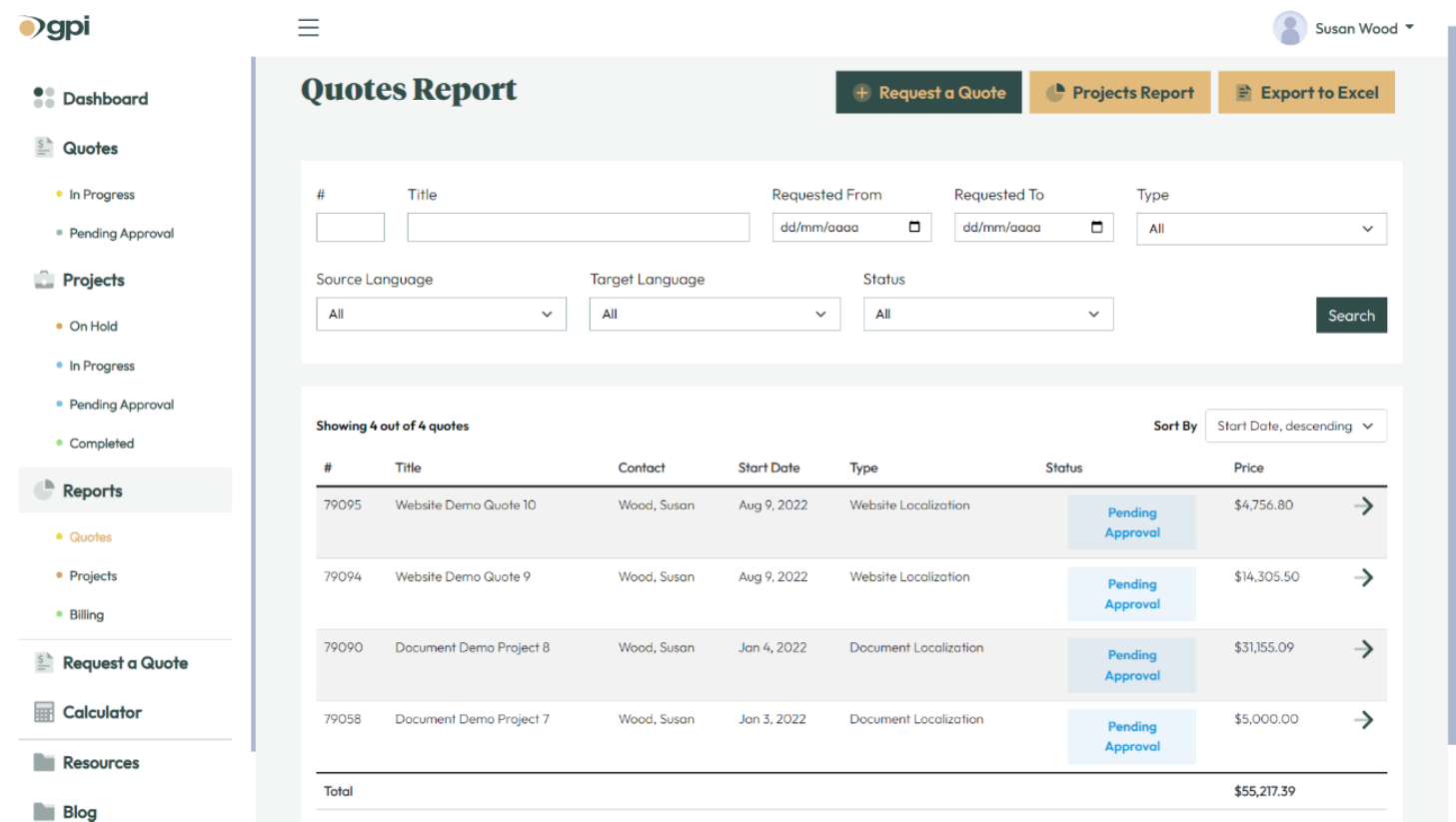 Conclusion
Over 30 years of creating multilingual content for clients and listening to their business intelligence needs has led the GPI team to develop one of the most effective and efficient translation portals available today.  Providing clients secure access and visibility into all of their translation information ensures clients get the most out of their content, budgets, and teams.