Tips for Restaurant Menu Translation into Arabic
Although English is widely spoken in Arab countries, especially in the Gulf area, many Arab speakers feel more comfortable seeing restaurant menus in Arabic, especially for the global restaurants that have outlets in Arab countries.
As per the Dubai Gastronomy Industry Report published by Dubai's Department of Economy and Tourism (DET), Dubai has 13,000 food and beverage outlets. Most of these outlets are luxury international restaurants, bars, and cafes.
Why It is Important to Translate Restaurant Menus into Arabic
One of the most important approaches for restaurants to attract guests from different cultures is to have the menus written in their native languages. As most of the restaurants in Arab countries are international brands, they have their own dish names, and in most cases, they are not in Arabic or not understandable for Arabic-speaking guests. Here comes the importance of translating restaurant menus into Arabic so Arab guests can easily understand the menu items.
What to Consider When Translating Restaurant Menus into Arabic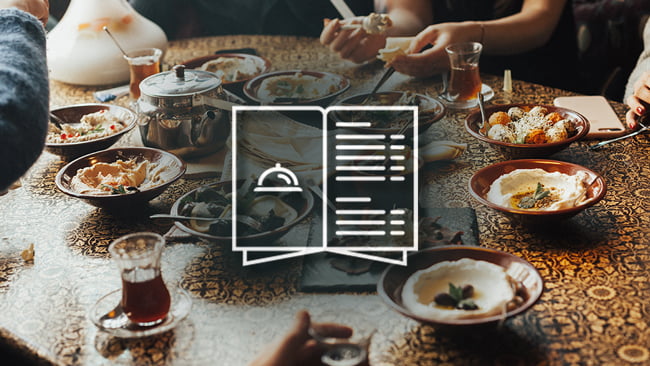 In order to translate your restaurant menu into Arabic, some aspects need to be considered.
How to Display Dish Names and Ingredients
While it is important that the guest can read the menu in Arabic, it's also important for the restaurant staff, who may not speak Arabic, to understand what the guest has ordered. Therefore, it is recommended to provide the dish names in a bilingual format (in the source language and Arabic).
This way, the guest will easily understand what to order, and the waiter or chef will understand what is ordered.
It's unnecessary to display the ingredients in a bilingual format, as the chef knows the dish's ingredients perfectly. Displaying the ingredients in Arabic only is important so the guest can understand the dish components.
Items to Exclude from Translation into Arabic
As Arab Muslims comprise the majority of the population of Arab countries, it's important to be aware of Muslim traditions when translating restaurant menus into Arabic.
Alcoholic beverages are forbidden in Muslim traditions. So, alcoholic beverages may not be translated into Arabic. It needs to be determined if alcoholic items will be translated into Arabic, kept in English, or entirely removed from the translated menu.
Also, dishes that include pork may be excluded in the Arabic version as pork is forbidden for Muslims. This will need to be determined and confirmed, as it's not allowed in most restaurants in Arab countries to present dishes with pork in their ingredients.
Restaurant Menu Layout and Design
Arabic is a right-to-left language, so the menu layout should be prepared to accommodate Arabic. It is best to create a layout that has room to accommodate the translated copy. The Arabic dish name will be quite longer than the source, which needs to be taken into consideration during layout design, especially if the menu will be bilingual.
Some ways that the layout is adjusted to accommodate longer text is to change the font size or the dish name location may need to be moved/shifted.
 Conclusion
A good restaurant menu translation into Arabic is important to make it easy for Arabic-speaking guests to understand the menu items and ingredients. There are quite a few factors to consider when translating restaurant menus into Arabic. In order to perfectly translate a restaurant menu into Arabic, the Arab culture's traditions should be considered and confirmed before proceeding with the translation.