Russian Translation in Dubai
The Russian community has been expanding in Dubai since the beginning of 2022 due to the Russian government invading Ukrainian territories. Statistics show that Russians took 1.2 million trips to the United Arab Emirates last year.
Dubai: A Welcoming Hub for Russian Entrepreneurs
Nowadays, settling down and starting up a business in Western Europe is difficult due to the various sanctions and restrictions. On the contrary, Dubai has been very supportive in this situation, welcoming Russians and giving them the opportunities to start over, pursuing new business possibilities and potential growth.
Russian Businesses Flourish in Dubai: A Gateway to New Ventures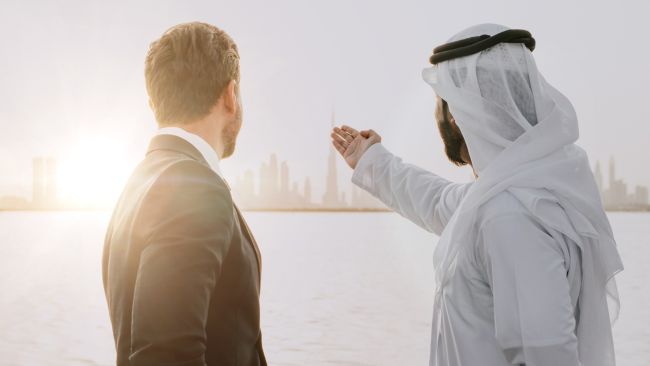 Among the city's beachfront, shopping malls, and residential neighborhoods, Russian is becoming a lingua franca. Russian real estate businesses are slowly launching their branches in Dubai, Russian restaurateurs are renting spaces to open their dining venues, and Russian local brands are relocating to Dubai; opening brick-and-mortar shops and expanding their online presence.
Any business that is venturing into the UAE market can benefit from professional translation services, helping clearly communicate the right message to the target audience. Promotional marketing materials, digital ad copies, SEO campaigns, software, websites, and video footage translated into Russian will strengthen client relationships, and influence the understanding and decision-making with the potential guest, customer, or buyer.
The Power of Professional Translation Services for Tapping into the Russian Market
There are a few vital aspects to consider when choosing to work with a professional translation agency.
It is essential to find an agency that is aware of the cultural differences and uses subject matter-trained linguists, who are native speakers with translation degrees.
Knowing the audience and the tone of voice helps linguists to communicate in a more appealing way and translate with a culture in mind. Any sort of brand guidelines and stylistic guides will just reinforce that message, making it clearer and easy to read.
Glossary – the safe box of all industry and company-related abbreviations, acronyms, and keywords. This should be created and translated by a subject matter specialist to ensure accuracy. Once the client approves the glossary, it will be applied and followed in the projects moving forward by your agency.
Ensure that the translation company you collaborate with provides translation, editing, and proofreading. It is standard to have a second pair of eyes review translated content from a linguistic point of view – this eliminates errors and adds additional measures of quality control.
Work with an agency that will manage your translation memory (TM). Maintaining translations in a TM is like money in the bank. It will serve you literally like a bank of all your translations that you can leverage long-term. By managing time efficiently, reducing costs by leveraging previous translations, and ensuring content consistency, a well-maintained TM is invaluable.
Now, going to the challenge of working with the Russian language! Keep in mind that Russian letters are Cyrillic, and the length of Russian text can be approximately 15% longer than the English source. Planning a layout for your content to accommodate translations in advance will save time and money.
Paying attention to punctuation is key to the way the Russian will sound. Russians use completely different punctuation rules.
Russian translations cannot be done word for word from the English context, as the grammatical order is not the same. To avoid literal translations, native Russian speakers will be able to accurately adapt English content to Russian with accuracy.
Conclusion: Unlocking Business Potential with Professional Russian Translation
To conclude, partnering with a professional translation agency helps businesses communicate and attract Russian audiences in Dubai without the fear of the original message's meaning being distorted. Through a successful partnership, translating English content into Russian will lead to new business and customers, influence revenue growth, and help increase website traffic and rankings.
Hopefully, you will find this blog beneficial to read, and you will look to expand your business in the UAE market, engaging the growing Russian population as business prospect.