Articulate Rise vs. Storyline: How to Choose the Right Tool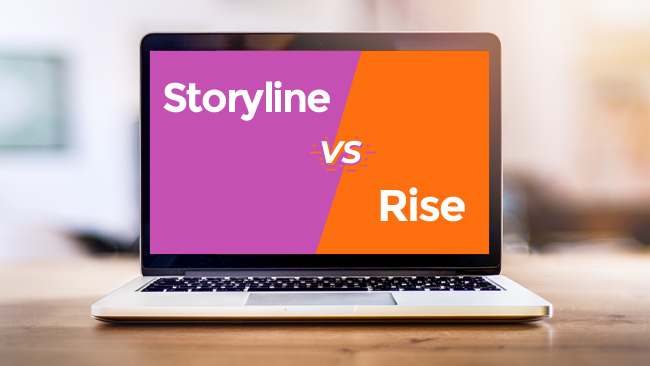 Articulate Rise and Storyline are the most popular authoring tools chosen by instructional designers. Its principal function is the development of online eLearning courses. Nowadays, many companies in different industries and professionals use eLearning courses to train their employees and improve their skills or learn online.
Both tools were created by the same company and have similar functions. With these two eLearning development tools available, the question is how to choose the right tool to use. Well, the answer depends on the type of project you want to create. In this article, we will talk about their differences and their uses.
Articulate Rise
Features and uses
You can create your course completely on your browser because Articulate Rise is an online tool. That means that you don´t need to download any program on your computer. It's a cloud-based tool, with a powerful drag-and-drop function included in the browser.
The most important thing about Rise is that it allows you to create content for all screen sizes. That is called "responsive design" and means that your course will adapt to any screen size. Rise is flexible and was developed for pc, notebooks, and mobile phones.
Rise doesn't have many customization options, which means we have limited control over the look and feel of the content in our courses. But it is an easy-to-use tool, you can learn it in minutes, and allows you to create simple interactions and design a course quickly.
What about localizing courses in Articulate Rise?
Regarding the localization of eLearning courses, Rise supports content creation in multiple languages but unfortunately does not support RTL (right to left) languages at 100%. In this scenario, engineers must create solutions to adapt courses correctly. There are some online tools which can be sued to improve the appearance of an RTL course.
Articulate Storyline
Features and uses
Compared to Articulate Rise, Storyline is a tool with a little more time in the eLearning market. It looks and feels like Microsoft PowerPoint, it consists of a series of slides where you can add content easily.
With Storyline you can create courses from scratch, allowing you to add countless design elements such as graphics, animations, audio, videos, and much more.
In case you don´t have enough experience with eLearning tools, Storyline comes with hundreds of pre-built templates, ready to be customized as you desire.
One of the features of Storyline is that it allows us the creation of attractive and complex interactions in our courses. You can create activities to solve quizzes, games, assessments, etc. Complex interactions include, for example, when a user selects an incorrect answer. The program allows the creation of a custom error message and shows the appropriate explanations.
What about localization courses in Storyline?
As for the localization of eLearning courses, it initially allowed translation through a Word document. Nowadays, Storyline supports XLIFF files, and it simply consists of exporting the content and then importing the translation. The tool supports content in multiple languages, including RTL languages.
Conclusion:
Both tools are powerful in creating eLearning courses. For companies or professionals, Rise works fine. It's flexible, easy to use and learn, and you can create courses with simple interactions, in record time. The most important feature is that these courses will be flexible and adaptable to any screen.
But if you need to create courses with customized content and complex interactions, Storyline is the best choice. It allows extreme customization of many design elements, including their pre-built templates.
For content localization in multiple languages, both are suitable, but Storyline is a better option, as it supports content creation in RTL.