GPI's Latest Version of Translation Services Portal Wins 2011 Web Award
The International Academy of the Visual Arts (IAVA) has awarded a 2011 Silver W3 Award to Globalization Partners International for its latest version of its Translation Services Portal (TSP).
"We added several new features requested by clients this year" comments Martin Spethman, GPI's managing partner, "including a blog, global news feed, global business resource library, translation budgeting tools and connectivity to a variety of web content management and client relationship management platforms, including WordPress, Ektron, Episerver, and RightNow."
Used by the world's top hotel chains, interactive agencies, franchises and global Fortune 500, the new version of the Translation Services Portal helps companies lower per word translation costs, minimize project coordination and completion times, and ensures consistency of clients' branding and content across the globe.
"The Translation Services Portal is hosted for free and there are no licensing charges or IT burden on clients who adopt it," says Jackie Janeri, Global Client Services Manager. "Clients who need to manage a multitude of translation projects, whether documentation, software, or websites across departments and global markets, appreciate the access and visibility the translation portal gives them to all of their project information."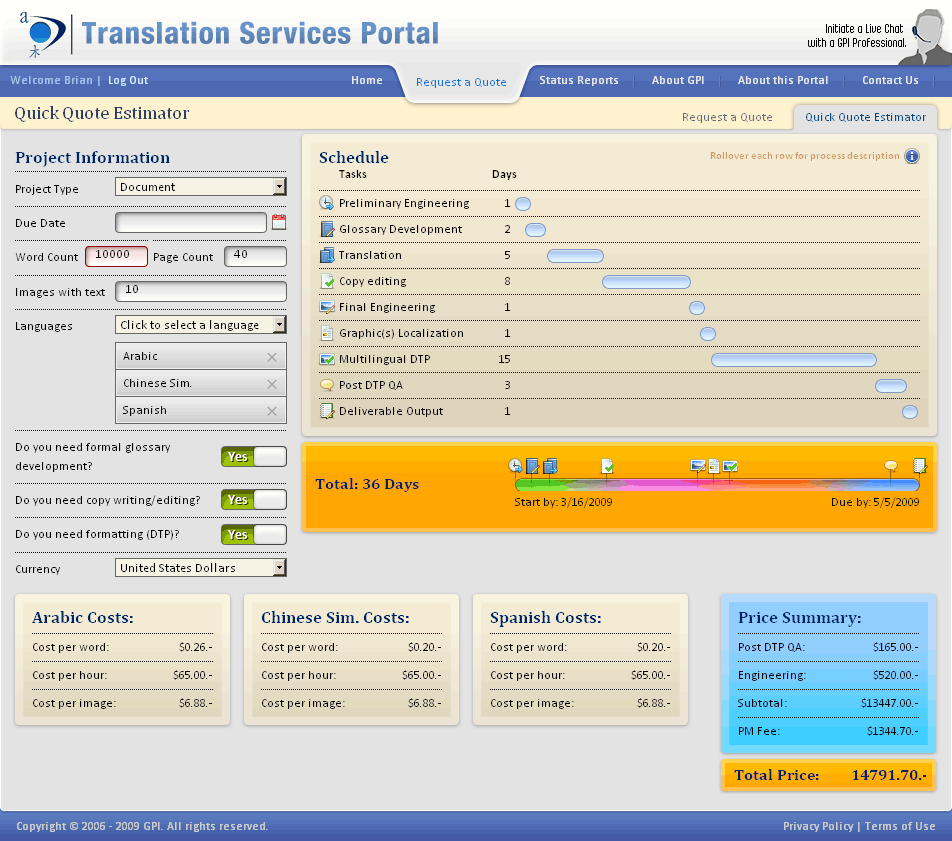 Translation Services Portal Overview
GPI's Translation Services Portal is a fully customizable, internet-based communication and collaboration portal designed to give companies immediate, secure and global access to all of their translation, localization and internationalization project and team information. Globalization Partners hosts and customizes the portal based on a client's globalization services requirements. Your GPI Globalization Services Team™ (GST) is ready to assist you in customizing your very own portal today.
GSII (the Translation Services Portal's predecessor) was chosen as one of five finalists for the 2003 Software and Information Industry Association's (SIIA) 18th Annual Codie Award for the Best Enterprise Portal Platform.
Translation Services Portal Features
The Translation Services Portal allows your teams to:
Pick up translation quotes and proposals
Upload and download files
View status reports, complete with comprehensive task lists and calendars
Pick up projects, anytime, anywhere
Import and export spreadsheet information
Subscribe to project status information for automatic email updates
Apply roles-based security to all users
Collaborate with any number of virtual team members you select
GPI offers custom WCMS Connectors to a variety of web content management systems in order to streamline localization workflows and access to translation project information across your enterprise. Connectors and Plug-In's include:
Ektron Translation Connector
Episerver Translation Connector
WordPress Translation Plug-in