Arabic and Hebrew support in InDesign CS6
In order to create Arabic and Hebrew content, graphic designers and desktop publishers need to address several typographical aspects of the Arabic and Hebrew written scripts.
Many people do not realize but the Arabic writing system is the second most widely used script in the world next to the Latin script.
There are many differences between the Arabic and Hebrew languages including the different appearances in their alphabets, Hebrew letters are written individually while Arabic letters are strung together in cursive and the number of letters in each alphabet, Hebrew has 22 and Arabic has 28.
Both languages though are written from right to left, so translators and desktop publishers need the ability to change paragraph direction which was always a big challenge when it came to localizing file in these languages.
Before Adobe launched this version CS6, Middle Eastern versions of InDesign were supported by third-party companies. With the advent of this new version they have taken over development, support, and sales of Middle Eastern versions of InDesign. New features in the Middle Eastern version include:
support for tables in the Story Editor
improved Kashida justification
enhanced diacritic positioning
right to left writing preferences
page and chapter numbering
copy-paste from Microsoft Word
other text-handling improvements really helpful for document localization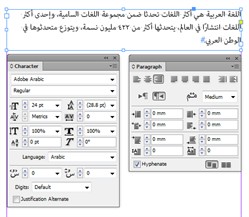 Arabic and Hebrew support in InDesign CS6
The new InDesign CS6 has  extensive features for right-to-left languages which help to handle the writing system for these languages and the different nature of the fonts used by languages like Arabic and Hebrew. In addition, CS6 allows for the creation of designs with Arabic, Hebrew, or mixed content.
To work with localized Arabic and Hebrew content using InDesign, you need some special features for the layout such as the paragraph direction, story direction and binding direction.
InDesign provides the option to reverse the layout which is one of the best features for desktop publishers who commonly use right-to-left languages. This option allows a complete reverse for the layout including graphics and paragraphs into right-to-left direction layout.
International language support
Another significant improvement is found in Placeholder text use. You can now fill a text frame with placeholder text not only in Roman script, but also with Cyrillic, Greek, Hebrew, Arabic, Japanese, Korean, Simplified Chinese and Traditional Chinese. In addition, InDesign now supports Indian languages, including Hindi Marathi, Gujarati Tamil, Punjabi, Bengali, Telugu, Oriya Malayalam, and Kannada.
Overall, InDesign CS6 is an impressive upgrade to an already mature program. Several of the new features will make Desktop publishers very happy in the translation industry.
Desktop publishing and Arabic localization
Arabic translation and localization, which includes desktop publishing, requires solid experience with the Arabic language and Arabic-enabled desktop publishing tools to enable delivery of localized Arabic files in best quality. Your language translation services company should have qualified desktop publishers or graphic artists who are proficient in the programs mentioned in this blog. You may find some of our previous blogs on Arabic design and translation issues useful: