Global eCommerce a Hot Topic at Internet Retailer 2013
Globalization Partners International exhibited at the Internet Retailer Conference & Exhibition in Chicago, IL June 4-7, 2013  and hosted booth #667. Internet Retailer is the world's largest e-commerce event showcasing the latest e-commerce practices and technologies.
There were 100-plus conference sessions and more than 600 exhibits of e-commerce solutions providers at the show. GPI professionals in attendance included:
Daniela Bustamante – Global Account Services Manager
Peter Betts – Director Global Accounts
Martin Spethman – Managing Partner
The keynote speaker was Hiroshi Mikitani, Chairman and CEO of Rakuten. Rakuten is Japan's largest online shopping mall with the 3rd largest B2C online marketplace in the world. They have over 100 million items for sale and $14 billion in sales.
The special guest speaker was former Vice President and current Director at Apple and Senior Advisor with Google, Al Gore. He gave a funny and interesting presentation about the internet and the worldwide opportunities with global ecommerce. He emphasized as one of his main pieces of advice to "go global"!
The conference had a great Global E-Retailing Track with sessions that among others included:
"Marketing in a foreign country: What you can and can't transfer from the US" by Aaron Magness, VP Marketing Coastal Contacts.
"Strategic planning: Equipping your business for e-commerce abroad" by Mitch Goldstone, President/CEO at ScanMyPhotos.com.
"EBay explores what's next for e-commerce in emerging markets" by Wendy Jones VP-Geographic Expansion and Cross Border Trade.
In addition to raffling off a Bose headset to lucky visitors to our booth, we were promoting copies of Nitish Singh's book "Localization Strategies for Global E-Business" from Cambridge University Press. Professor Singh, Ph.D., is an Assistant Professor of International Business at Boeing Institute of International Business at Saint Louis University. His educational efforts in the field of localization have been supported by US Department of Education, CSU, Google, HP, IBM, Microsoft and other companies. GPI has collaborated over the years with Professor Singh on various projects and research reports including a series on website globalization and e-Business available for free download on GPI's website at Website Globalization and E-Business Series. GPI was honored to contribute content and case studies for Localization Strategies for Global E-Business which includes topics ranging from website translation to utilizing web content management systems to publish multilingual websites.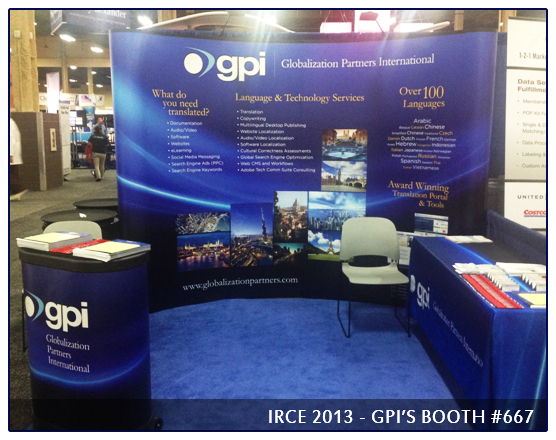 GPI has recently expanded our eCommerce website translation teams and services to include:
Country specific research and reports on market selection and entry
Website cultural correctness and customizations review and reports
Translation Services Connectors for CMS and eCommerce platforms
Translation and localization services for online/offline content
Global Search Engine Optimization (SEO)
Global Search Engine Advertising (SEA)
Country specific Social Media Localization
See also our press release: eCommerce Website Translation Practice expands to help online retailers sell worldwide