Website Translation: Online QA, Global SEO and Launch
Website Translation can be broken down into 14 primary steps which will ensure a company's new language version websites will attract new visitors and convert them into customers. This is Part 5 in our series on Website Translation: 14 Steps to an effective worldwide website. We will cover three final steps in the website translation process which are:
12.  Basic Online QA & Testing
13.  Search Engine Marketing
14.  Launch Language Versions
You can read the other blogs in the series by following the below links: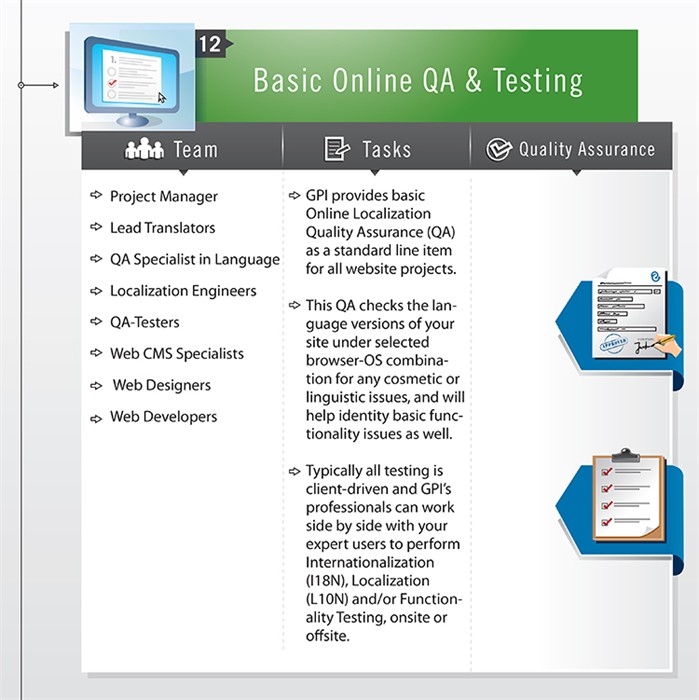 Step 12: Basic Online QA & Testing
It is critical to include basic website online Quality Assurance (QA) or testing as part of any website translation effort. This includes testing your localized website utilizing required browser/OS combinations to ensure the language versions of your site do not have any linguistic, cosmetic or basic functionality issues.
In general , website testing services vary depending on your needs. There are several types of testing that can be performed including; Internationalization (I18N), Localization (L10N) and/or Functionality testing.
Internationalization Testing is QA or testing that should occur on the source language website to check if the site supports different character sets, different currencies,  time/date formats, etc…  These are examples of issues which should be supported to ensure the site can be translated and function properly in other languages and markets. Then of course the localized site should be tested for the same types of issues to ensure any internationalization programming or configurations that were completed  actually work.
Localization Testing is completed after your website has been localized and tests the website again under specified  browser/OS combinations. Localization testing/QA is to review the website and language versions in context in order to check for any linguistic, cosmetic  and possibly cultural issues.
Functionality Testing is conducted after your website has been localized and tests the site to verify that your website works properly for your target users. Proper platforms, browsers, test cases and test scripts are used to ensure the experience of the target user will be as good as if the website was designed and developed specifically for a target market.
See our previous blog for more information on items that should be checked in a website translation project: Is Your Website Ready for Translation?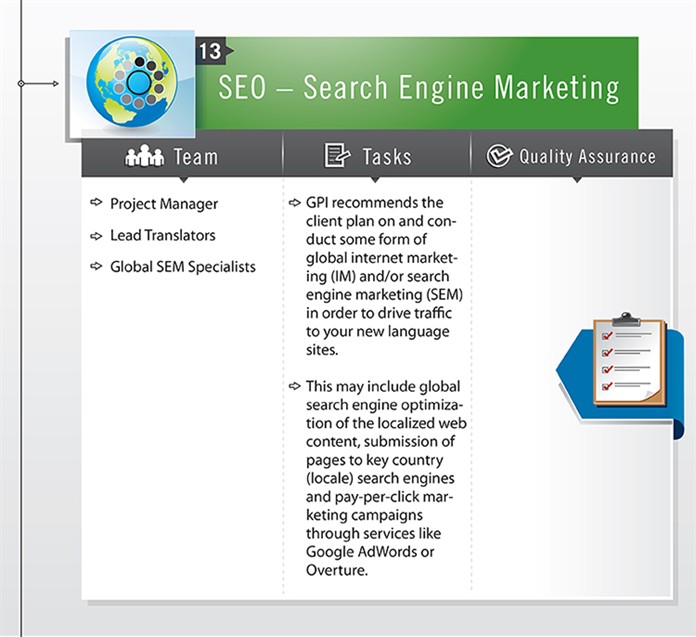 Step 13: SEO – Search Engine Marketing
So to make sure your new target-language websites are actually found on the web and to help you achieve better visibility with country-specific search engines,  you need to perform some initial and ongoing Search Engine Marketing (SEM). This may include both organic Search Engine Optimization (SEO) and Search Engine Advertising (SEA) such as Pay-Per-Click (PPC), paid inclusions or contextual advertising.
Some of these tasks are actually completed during the previous website localization steps as well.
Search Engine Marketing (SEM) steps may include:
Multilingual keyword phrase research, refinement and localization
Multilingual Search Engine Optimization and copy writing of main site content
Multilingual Search Engine Optimization of meta-tags, titles, alt-tags, heading tags, HTML, etc.
Submissions to major locale (in-country) and international Search Engines
Website traffic and keywords ranking reporting
Pay-Per-Click (PPC) campaign content localization
Pay-Per-Click (PPC) country-specific campaign management
Search Engine Optimizing your website targeting a specific locale (country + language + geography) goes beyond the process of simply translating keywords into another  language. The Arabic language is just one example of the issues you can encounter when optimizing content and building key word lists for another language, culture and locale; check our blog on Arabic SEO and Localization to see what I mean.  Several countries may use the same language, but with words and expressions that have different meanings based on specific locales. Your website content and keywords need to be professionally localized and Search Engine Optimized for the specific language or region.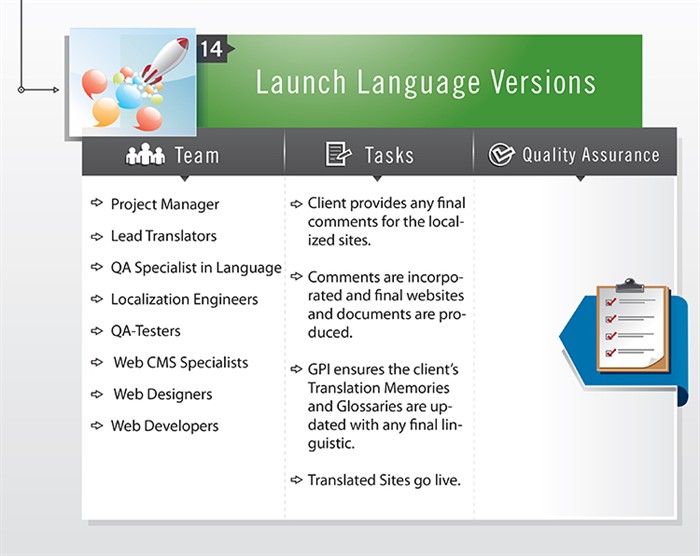 Step 14: Launch Language Versions
Now comes the big day when your translated websites are ready to launch. By addressing the 14 steps in this blog series your end result should be a well-planned and executed website translation project with new language versions of your website which can be found, understood and used by new clients around the world!
So to review the entire process, here is the simple animation which summarizes the 14 steps. We introduced this video in the first blog of the series as well!