GPI at the Gilbane Conference 2013
I am looking forward to attending the Gilbane Conference 2013 – Content and the Digital Experience next week in Boston at the Westin Boston Waterfront hotel December 3rd thru 5th. The theme for this year's conference is manage, measure, mobilize, monetize. The conference has built a strong following over the 12 years it has now been conducted attracting a bit over 20% of an international audience. Over 70% of the attendees are from Global 2000 companies.
The main conference is December 3rd and 4th with workshops conducted on the Thursday, December 5th.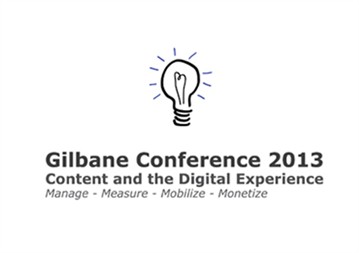 Keynotes
The conference has two sessions for Keynotes on Tuesday, December 3rd. The first keynote will feature Gerry Moran who leads Social Media at SAP Americas; Meghan Walsh of Marriott International who focuses on many of the digital issues for Marriott to present an efficient and positive online customer experience; and Scott Brinker, CTO of ion interactive, a software-as-a-service platform for marketers.
This first keynote session will focus on how these managers are moving their organizations or clients into the next level for digital marketing. It is a marriage of marketing and technology.
The second Keynote session will feature three digital analysts from leading firms:
Jake Sorofman, Research Director, Marketing Leaders Research Team, Gartner
Stephen Powers, Vice President and Research Director, Forrester Research
Tony Byrne, Founder, Real Story Group
They will each address a specific area important for their clients to take action on to stay ahead of the technology curve to support their businesses.
The tracks this year include:
Track C: Content, Marketing, and the Customer Experience (C)
Track E: Content, Collaboration, and the Employee Experience (E)
Track T: Re-imagining the Future: Technology and the Postdigital Experience (T)
Track P: Digital Strategies for Publishing and Media (P)
Post-conference Workshops
A few of the highlights I know I am looking forward to at this year's conference are:
On Wednesday is a session within Track C called "How Do You Implement Global Digital Experience Management?" I speak with many companies who have decided to localize their website and feel they are ready to do so and would like it completed quickly. But what I often find is that they have not considered all of the variables to make this happen. The translation task is only one facet of taking your website or ecommerce business global. Providing your customers an appropriate (localized) experience regardless of where they reside should be considered and as well,  if your current technology will support delivering multilingual, culturally appropriate content.
Within Track E I am interested to attend the session titled "Incorporating Content Strategy into Your Project: Why and How?" Content is king. It is not all about technology. People still need to create quality content.
Track T on Tuesday has "New Techniques for Designing Digital Experiences: Empathy, Animation, Visualization". This session sounds interesting as it is a bit different than discussing pure technology for managing your content, creating standard content or analytics. It will address techniques to enrich your user's experience. Culture should certainly be considered in how you do this if you are managing a global digital business.
In track P on Tuesday there is a session called "Strategies for Updating and Managing Your Changing Digital Products (and teams!)". While the discussion may not venture into globalization I am interested to see how the panel suggests managing updates as in the digital world we live in today, change is a constant. I see companies working to manage "change" and then address website globalization as an after-thought. A company's full global business must be taken into account in the initial planning phases of a global website. Today more and more companies do take global requirements into account with the initial planning, but many still miss it and will likely learn some hard lessons.
The multilingual digital experience for global markets
This conference is of interest to me as what we do at GPI is more than localize content. We consult with our clients regarding best practices to take their digital presence global, from a successful website launch to supporting the ongoing content creation and localization needs in order to avoid many of the 'gotchas' that can keep their global digital presence from efficiently reaching the end customers.
GPI has had the opportunity to partner with CMS companies, Interactive agencies, and end clients to provide services including:
Localization of web/mobile applications
Global search engine advertising (SEA)
Global social media localization
Localization of documentation from product manuals to training content
Let me know if you would like to meet at the Gilbane Conference 2013 (@gilbane) by emailing me at pbetts@globalizationpartners.com or call me at +1 303-697-6534.