Who is Really on Top of the Social Media Ladder?
Facebook is everywhere, right? Well, not so fast. Although Facebook, Twitter and LinkedIn dominate the social media landscape in the US, we don't necessarily give a lot of thought to which social media networks are most frequently used in other parts of the world.
So how does social media in the United States compare to the rest of the world? In today's global social village it is an interesting question as there may be many differences between "villages."
First, let's take a look at the overall social media landscape. Who are the biggest players and are the big players in the US really the dominant social media drivers everywhere else on the planet?
Let's start with a quick snapshot of our digital footprint, globally: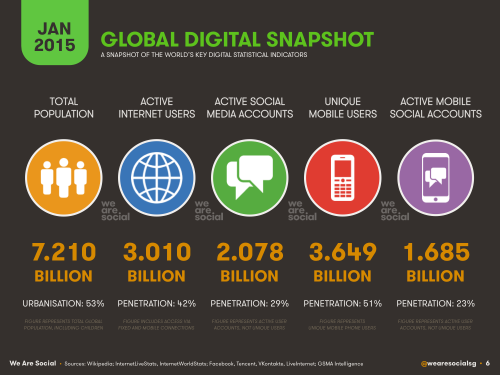 Source: www.wearesocial.net
What's interesting is not only are 40% of the global population active internet users, which was expected, but there are over two billion active social media accounts and 81% of those accounts are active mobile social accounts.
Social Media Channels and Global Ranking
Let's now look at the world's largest social media networks based on the percentage of global internet users: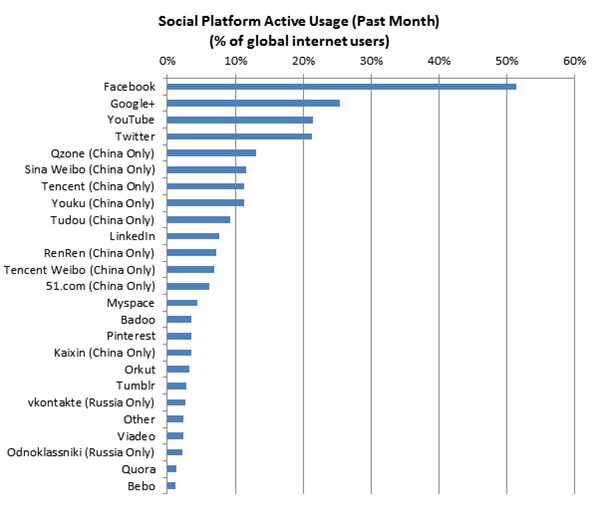 Source: www.techhive.com
According to the graph above, Facebook, Google+, YouTube and Twitter still dominate the social media landscape. However, it's worth noting that Chinese only sites, such as Qzone and Sina Weibo, and Russian only sites, like vkontakte, are growing fast in numbers and may play a more prominent role within their borders than we may have initially realized.
The majority of social networks that exceed 100 million users started in the US, but European platforms, such as VK (Europe's largest social network with more than a 100 million active users, over 66% in Russia alone), and even Chinese social networks, like Qzone, have increased their number of loyal followers partially due to providing local content and much needed context.
To remain competitive and relevant in the global social media space, the top social networks are typically available in many different languages to allow their users to build connections across geographical, political and socio-economical divisions.
Time Spent on Social Media
So what does this mean in terms of social media usage regarding active accounts and time spent on social media? Are there differences between the US and other countries and regions? Of course there are.
Singapore, Hong Kong, Argentina and the UK all have more active accounts on top social media sites than the US.  Additionally, a dozen or so countries spend more time overall on social media networks than the US, including countries as diverse as the Philippines, Brazil, Malaysia, South Africa, Turkey and Saudi Arabia.
Quick and Fascinating Social Media Stats From Around the Globe
In Asia, 4 out of 5 of the top social networking sites originated in China.
Only 67% of Americans are on social media networks as opposed to 91% of the Chinese online population.
YouTube's highest popularity ratings are in Saudi Arabia.
Japanese only spend 30 minutes a day on social media networks (among the lowest).
In the US, we spend an average of 2 hours on social media platforms.
Among Finland's top 3 social media platforms, 2 are Finnish.
660 million Chinese social media users access social media on their mobile device(s), opposed to only 72 million in India.
Mobile Social and Instant Messaging
We also see that the increase of mobile usage for social networks goes hand in hand with the increase of global instant messenger (IM) applications, such as WhatsApp, WeChat and Viper, which have all reported upwards of 100 million monthly users in the last year. These same IM applications now account for three out of the top five social media platforms.
Mobile Social Commerce
Increased mobile net speeds, particularly in east Asian countries, have also contributed to an increase of eCommerce on mobile devices.
37% of South Koreans have made a purchase on their mobile device in the last month.
27% of Chinese have made a purchase through their phone in the last month.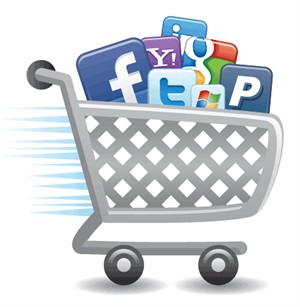 Source: https://www.adrecom.net
Conclusion
Social Media Marketers need to take notice. If you are going global with your eCommerce strategy keep in mind that more and more transactions will be made on mobile devices globally, often much more frequently than in the US.  Target and adapt your global Social Media Marketing Campaigns accordingly and make them mobile-friendly.
Additional Resources from GPI
Globalization Partners International (GPI) has developed a suite of globalization tools to achieve internationalization. You can explore them under the Tools sections of our Translation Services. GPI also offers internationalization and globalization consulting services and can evaluate your application. Partnering with GPI before you localize or translate your application will ensure that you avoid many mistakes and will also save you considerable time and money on your localization projects.
For more information about mobile application translation and localization please check our services and blogs: