Magento Imagine Is Coming To Las Vegas

The Magento Imagine Conference, held at the Wynn Las Vegas April 20-22, will attract over three thousand eCommerce professionals eager to learn what's coming next for this leading eCommerce platform, along with success stories of its utilization.
I will be attending this conference along with one of my GPI colleagues.  After reviewing the agenda, I found some areas especially interesting that I would like to highlight.
Day One
Monday morning while the developer sessions are running, I will be attending the commerce and business related sessions. I hope to understand how the end business users are benefiting from the channel and affiliate opportunities from Magento.
Late Monday afternoon is the Commerce Conversation session in which small groups will be formed to discuss various topics. If you are an attendee interested in the multilingual features and capabilities of Magento perhaps we can meet and start a table. I am aware of many development agencies and end clients using Magento that wish to expand their business to China and other global markets with eStore localization and Global SEO.
Day Two
Bright and early (by Vegas standards) at 8:00 am on Tuesday is Pitchfest. This sounds really interesting. Pre-selected companies will provide a quick pitch of their business, technology, and value proposition. With so many plugins for Magento, this should be an informative 45-minute session for learning about some interesting solutions available for the platform.
The agenda for day two is not detailed on the website, but it looks like there are exams being taken for Magento certification and breakout sessions. I expect the breakout sessions will cover development and business topics.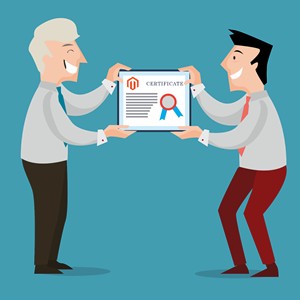 Day two ends with time for networking and a Legendary Imagine Evening Event.
Day Three
Wednesday also starts with Pitchfest. What a great idea!
Day three has a large focus on design and development training with sessions on each topic in the afternoon.
The partner summit will also take place in the afternoon and continue into the early evening. This will be a great opportunity to network with other partners and see how to work with one another and how to benefit from the Magento partner program in general.
Summary
While there is not a formal session focused on eCommerce localization using Magento or Global/ Multilingual SEO, which is similar to what I have seen at other CMS/eCommerce conferences, it will be a topic that gets discussed within some sessions, but usually to a limited degree.
From what we have seen, Magento based eStores who kicked tires on localization previously, are now expanding globally and localizing either their full stores or their leading products.
eCommerce is rapidly growing in acceptance across Europe, Asia, South America and Africa. In North America, Mexico has seen a large increase in eCommerce business in the last two years.
I hope to see you at Imagine! Please feel free to contact me at pbetts@globalizationpartners.com if you would like to meet while at the conference.  Fotini Limes will be joining me at Imagine, contact her at (flimes@globalizationpartners.com) she is also excited to meet the Magento community.
Further Information on Multilingual CMS and Translation Resources
Globalization Partners International (GPI) offers comprehensive translation services ranging from initial glossary development and copywriting to eCommerce localization and website translation services. You may also benefit from our resources and blogs: