Translating Inbound Marketing Content: Forms
Traditional outbound marketing is focused on buying attention via cold calling, direct mail and advertising, or sending sales people to tradeshows and industry-specific conferences to look for new leads and opportunities. This is an outdated marketing practice. Now savvy, progressive marketing strategies focus on inbound marketing. Inbound marketing, a term first coined by HubSpot, introduced the idea of attracting and engaging with customers by producing relevant and compelling information-rich content via eBooks, white papers, blogs, etc.
Producing great content in English seems mandatory for most reputable brands and a great way for SMEs to level the marketing playing field, but localizing content should be just as much of a focus when a brand is looking to expand globally.
In previous blogs we covered translating and localizing emails, eBooks, blogs and CTAs as part of a comprehensive global inbound marketing strategy. This blog will focus primarily on localizing forms.
How Great Forms Can Fuel Your Sales Funnel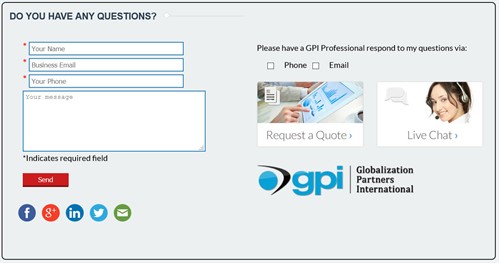 Creating great forms to capture website visitors' contact information is an important part of your inbound marketing strategy. Visitors fill out forms in exchange for a piece of content. Some companies believe that one catch-all form is enough and others have dozens of forms for different products and campaigns. This begs the question of what is the right way to create forms? What are the factors to consider?
It is important to develop a good strategy for form creation, naming conventions, and how to leverage the forms you already use and see how they can be used in multiple ways. Aim to match your content offer to your customer's stage of the buyer's journey, and use that content to guide them along the process from the awareness stage to the decision stage:
What type of offer are you making (a white paper, blog, eBook, etc.)?
What stage in the buying process is your buyer? Are they in the awareness, consideration or decision process?
As an example, blogs are useful content for visitors looking to be informed in the awareness stage and case studies are helpful to sway visitors in the consideration stage.
If your prospect is just beginning their journey of finding a product or service and gathering information, your form should be focused on gathering basic contact information: first and last name, email and company name. Once a prospect seeks further information about your products or services then the form can be a bit more comprehensive and seek to capture more information: company size, location, company revenue, job title, etc. Creating smart forms, or using progressive profiling, that asks for additional information each time a visitor fills out a form will be helpful to capture additional contact details and guide the visitor towards the decision stage.
What is Progressive Profiling?
Progressive profiling is a way of gathering information about your website visitors by allowing you to change the type of information you assemble for prospects as they visit your site over a period of time.
Progressive profiling benefits:
Shorter and more concise forms make it easier for your prospects to engage in a conversation with you and your brand and help turn more prospects into leads.
Customizing and replacing old questions with new ones allows you to collect more intelligence and personalize your marketing message on future visits.
Asking the right questions at the right time will help you know where your prospect is in the sales process.
Localizing Forms for Your Global Website Visitors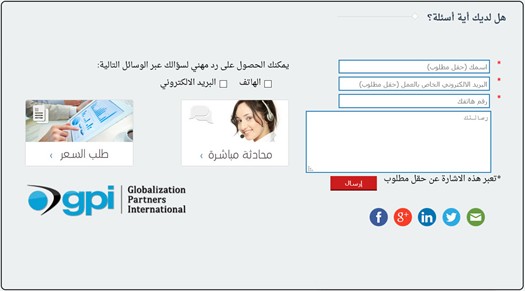 Your inbound marketing campaigns should produce localized versions of your eBooks, white papers, blogs, emails and CTAs for your global audiences, it is also equally important to localize your forms into the native languages spoken in your target markets. How else will you be able to gather important information about your global prospects and potential customers? Some important factors to consider here:
Understand cultural differences and nuances when marketing to international audiences, use the words and phrases your audiences use.
There are differences in how prospects want to be marketed to in different regions and locales. In some countries straightforward and direct questions may be considered intrusive and inappropriate, understand if your audience has a direct or indirect style of communication.
Respect regional differences of languages, ie: French for France vs. French for Canada.
Don't forget to localize the design of your forms. Do thorough research and use colors and images that are relevant and appropriate for the target audience.
Engage a professional translation partner that understands global inbound marketing and deploys translators that are not only subject matter experts but have the necessary finesse and skill to convey the right message in any language and locale when localizing forms.
Summary
Forms are a crucial piece of inbound marketing strategies as they are the vehicle with which we start conversations with our customers and tweak those conversations with a prospect depending on where they are in the sales process. Asking the right questions at the right time and customizing and changing them to gather more relevant information allows marketers to personalize the message and increase the conversation rate from prospect to customer. Localization of those forms will do the same exact thing for your global leads and turn interested prospects into engaged and loyal global customers.
Further Resources on International Search Engine Marketing(SEM) including Search Engine Optimization (SEO), Search Engine Advertising (SEA) and Social Media Localization
Global Digital Marketing for multilingual websites or for content destined for specific locales (country + language + geography) is more than just translating keywords. Today companies should work with a combination of owned, earned and bought digital media in order to drive traffic to their localized or translated websites. Localization of any media requires in-country native speaking professionals to copy write and localize content in order to engage potential customers. Whether you work with a traditional digital marketing agency, or you are one, GPI's global digital marketing team can serve as an extension of your in-house digital marketing department to help you deliver your message around the world.
For more information on specific topics related to global digital marketing, you may wish to review some of our previous blogs: