GPI HubSpot Translation Services Connector
HubSpot is a leader in inbound marketing strategies and all things content marketing. In order to attract customers, you must produce remarkable content. But in order to expand your reach and attract global customers you must produce remarkable content that is localized for all of your target markets.
Globalization Partners International (GPI) has developed a Translation Services Connector that simplifies the process of translating all of your inbound marketing content.
GPI's Translation Services Connector for HubSpot enables users of HubSpot's marketing automation platform to initiate translation workflows with a few clicks for eBooks, brochures, web content, emails, whitepapers and an array of inbound marketing content!
Click here to watch the GPI HubSpot Translation Services Connector video.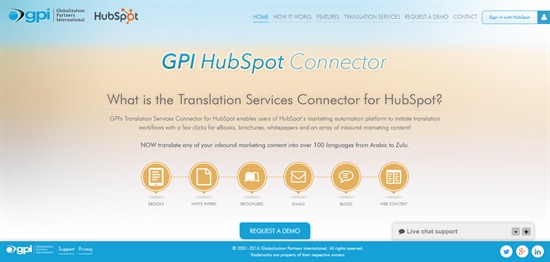 Features and Benefits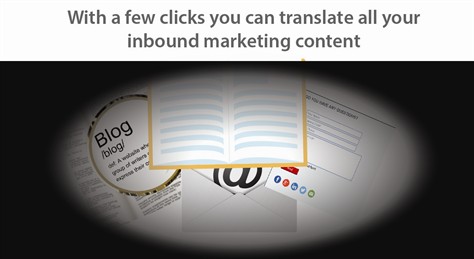 The benefits of using the GPI HubSpot Connector include:
Manage any number of translation projects with a few clicks
Simplifies import/export process for content translation workflows
24/7 secure access for your global teams to collaborate and track translation projects
Quotes, proposals and a wide range of project materials available for download
Dashboard to view status reports, schedules and project task lists
Translation Services Connectors are available & supported for FREE as part of providing our inbound marketing content translation services
To Learn More
Successful global inbound marketing campaigns have content that is effectively translated and localized for the target markets. In order to engage with your target audiences you must speak to them the way they communicate and in their language.
So whether you need a landing page and form in Arabic, a blog in Chinese or a CTA in Spanish… GPI's team of translators, digital marketing specialist and project managers can help.
To learn more, please visit: www.hubspotconnector.com
Resources on Translation Services
Globalization Partners International (GPI) offers comprehensive translation services ranging from initial translation glossary development and copywriting to global SEO and online testing.
For more information about our globalization and localization processes, please feel free to download our  Language Globalization Guides. You may also benefit from our resources and blogs. You may find some of the following articles and links useful: