Reaching the Buying Culture of the Middle East
Traditional brick and mortar retailers and eCommerce portals are scrambling to capture market share as retail spending soars in the Middle East. Retailers are faced with differentiating themselves from their competition and looking for ways to provide a unique shopping experience for their target audiences in the Middle East.
The growth of the middle class in the Middle East has resulted in an earning and spending culture. This new demographic wants a flexible, efficient, convenient and enjoyable shopping experience; in store or online.
The rise of technology and mobile access means that consumers in the Middle East are using online browsing as a way of buying. A survey conducted with regards to mobile adoption, showed that 13% of people in the Middle East segment strongly agreed with the fact that their phone will become their main tool for purchasing. While this may seem minimal, the rise of social media continues to influence buying decisions, which will result in online purchases in the future.
Now we will look at in-store spending versus online spending and the state of both in the Middle East.
In-Store Spending
Despite the rise of online interest, consumers are still visiting stores to browse and purchase. According to a PWC 2015 retail study, 37% of Middle East consumers in their survey prefer the immediate nature of purchasing physically as opposed to adding contents to a virtual basket.
The ability to try garments on and test products out is also a highly appealing factor, as is the sense of security that comes with handing over cash or a card in order to make a transaction.
Malls are more popular than ever, with the second biggest mall in the world in Dubai. For the Middle East community, shopping here and at other malls is an experience.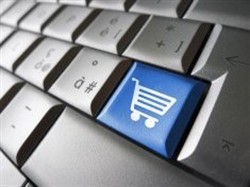 Online Spending
Online spending continues an upwards spiral in the Middle East, as there has recently become more evident interest in making purchases online and connecting with brands through their online portals, such as social media and blogs. The same PWC 2015 retail study said that 74% of people in the Middle East now shop online, compared to 93% globally. Reasons for opting for online spending is due to convenience and the lower prices compared to going in-store to purchase.
However, it seems that individuals living and buying in the Middle East also have their concerns. The thought of returning an item if they are not happy, and then waiting for a new one is not the instant gratification that shoppers are searching for when making a purchase. There is also the concern of online security, which has many shoppers hesitant to use their cards online. However, this attitude is beginning to shift, with quick turn-around exchange policies as well as various security measures.
International Spending
International spending is not limited to local purchasing habits. Many residents visit other cities around the globe including London and Paris before holy holidays such as Ramadan in order to shop at high-income focused retail establishments like Harrods.
eCommerce websites with international shipping are becoming popular with consumers in the Middle East because it is easier than ever to purchase contents from top brands from around the globe.
Online and in-store consumers have specific needs which can be met in both a way that meets precise demands, but still showcases a variety of options. The rise of online shopping is highly evident, and eCommerce websites need to address the needs of the international consumer in order to tap into this market. It is imperative that international eCommerce websites have a global strategy in order to attract various markets, which includes an internationally appealing content strategy that is available in a variety of languages, which can be completed by language translation services.