Doing Business in Australia
Australia, officially the Commonwealth of Australia, is the world's sixth largest country by total area and has a population of approximately 24 million people.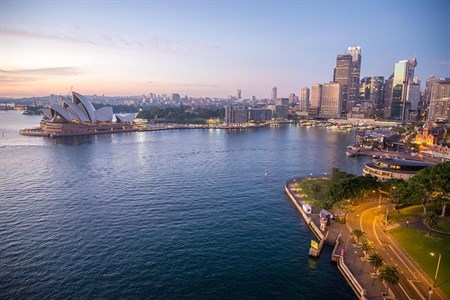 It is comprised of six states and two territories:
Australian Capital Territory, which includes Australia's capital, Canberra
Northern Territory
South Australia
Tasmania
Western Australia
Victoria
New South Wales, which includes Sydney, Australia's largest city
Australia is a federal parliamentary constitutional monarchy. It has the ninth largest immigrant population and is home to over 200 nationalities. One in four Australian residents were born overseas. The five largest immigrant groups are from England, New Zealand, Mainland China, India and the Philippines.
Language
Although the official language is English, there are more than 200 languages and dialects, including over 50 indigenous languages.
Business Culture
Despite the country's reputation of being relaxed and laid back, Australia's dynamic and highly-educated business community is guided by some basic rules of engagement that companies doing business in Australia should be aware of.
Be respectful of people's time. When the one hour meeting is done, don't hold up people unnecessarily with small talk.
When going out for a business lunch or dinner, being rude to the waiter is considered a sin.
No pitching business at the bar.
Don't schedule meetings on a Friday afternoon.
Be direct and polite and look people in the eye.
Don't try to launch any major initiatives between Christmas and Australia Day.
Diversity and gender equality are pillars of the Australian business culture.
Economy
Australia is the world's 12th largest economy and one of the world's wealthiest countries. In 2013, it was second only to Switzerland for the average wealth per adult, due to a large GDP (1.560 trillion) and low poverty rate.
The main industries include mining and mining-related exports, retail franchising, banking and telecom. China is Australia's largest trading partner and many US companies make Australia their regional HQ for doing business in Asia. Major US exports to Australia included electronics, processed foods, transportation equipment and machinery.
Business Laws and Regulations
The national body for registering and administering companies in Australia is the Australian Securities and Investments Commission (ASIC). Starting a business is governed by the same rules regardless of which state it is run in, and the same regulations apply for both local and overseas companies.
Establishing a business in Australia is quite similar to establishing a business in the US. The process is pretty straightforward and foreign companies can choose from various business structures, like a partnership or joint venture, regional branch or office of a parent company. Most businesses are incorporated and automatically registered as an Australian company and all registered companies must adhere to Australian company laws as administered by ASIC.
Future Outlook
With a strong labor market and rising export volumes, Australia's economy will continue to grow at a healthy rate in 2018. Over the next two decades, the major economic drivers will be finance, agriculture, tourism and education, which will provide lucrative investment opportunities as the country continues to diversify post-mining.
Australia's service industry sector accounts for almost 80% of employment, which means that the country is suited to fill the jobs in a sector that will account for more that 50% of global employment in the next ten years.
Conclusion
Australia will continue to capitalize on its many strengths and advantages and remain a strong global player and excellent candidate for foreign investments. A highly skilled and educated workforce (over 99% literacy rate), substantial natural resources, political and socio-economic stability and the ease of establishing a business in the country will assure Australia remains an ideal candidate on the global business stage for anyone looking to invest and grow their business internationally.