The Most Requested Languages for Translation in the Gulf Region
The Gulf region is a strategic location and market in the Middle East for many global companies. It is a vibrant region for business, investment, finance and tourism. Top international companies across various industries often choose the Gulf as their Middle East headquarter and the area attracts millions of foreign expats and tourists. Although Arabic is the official and dominant language used in this region, English and other languages are also widely used.
With a Middle East headquarter in the UAE, GPI's Dubai office often receives requests from clients and companies for translation into many other languages. The most requested languages are Arabic, Chinese, Russian, Hindi and other Indian languages.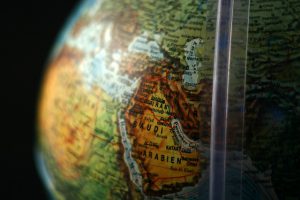 Arabic. Over 20 countries use Arabic as a national language and there are many Arabic dialects among these countries. For translation, the majority of translation projects use Modern Standard Arabic (MSA), which is the formal written form used in newspapers, magazines, academic books, etc.
Chinese. Chinese is one of the top requested foreign languages for translation in the Gulf region. For example, the UAE offers opportunities for businesses, tourism, healthcare, logistics, real estate and finance, and this attracts many Chinese companies to set up their Middle East regional office in the UAE. With the Belt and Road initiative, the UAE and China are expanding economic collaboration in both public and private sectors and further strengthening ties in other aspects, like cultural exchange, tourism and investment. For example, the hospitality and retail sectors hire Chinese speaking staff and use Chinese menus, signage and promotional materials to cater to their Chinese guests.
Russian. With its strategic connectivity, climate and luxurious facilities, the Gulf region has been an ideal destination for tourists and residents from Russia and the CIS countries. With active business, cultural and economic interactions between Russia and the Gulf region, Russian has become one of the most highly demanded languages for translations in this region. On a recent visit from President Vladimir Putin in October 2019, the Russian Direct Investment Fund (RDIF) estimated deals worth $1.3bn were presented in Abu Dhabi covering businesses in technology, energy and healthcare.
Hindi and other Indian languages. The Gulf region and India have a long-established economic and political relationship. The Indian population makes up a significant share of the total population in the region. It has become one of the favorite destinations for Indian expatriates and tourists including visits to several Bollywood- themed parks and attractions. There are several Indian languages that are frequently used in the region, including Hindi, Malayalam, Bengali, Urdu and Tamil.
GPI has vast experience working with the above languages for clients in the Gulf Region. Our professional project managers, desktop specialists, native speaking translators and copywriters have extensive knowledge of the languages and various language technology tools to facilitate website localization, audio/video localization and documentation translation to help clients communicate and conduct business in the region.
Sources:
https://www.arabianbusiness.com/politics-economics/418601-uae-china-eyes-deeper-ties-to-drive-70bn-trade-in-2020
https://www.iiss.org/blogs/analysis/2018/08/india-gulf-strategic-partnerships
https://www.globalizationpartners.com/resources/chinese-translation-quick-facts/
https://www.globalizationpartners.com/resources/russian-translation-quick-facts/