Compare Between Concrete CMS and Drupal.
What is Drupal?
Drupal is a free and open-source content management system that powers millions of websites and apps. It is created, used, and supported by a global community of active and diverse individuals.
What is Concrete CMS?
It is an open-source content management system that lets you publish material on the web and intranets. It is intended for users with only little technological knowledge. It allows users to make changes to the site's content directly from the page. It has recently shifted to using Symfony components.
Type of customers
Both can be used for
Small businesses
medium businesses
Large enterprises
Freelancers
Multilingual Content Support
Do you want to create a website that can be viewed in multiple languages? Concrete CMS offers built-in multilingual capabilities. From the user interface, to packaging, to content, every component of your website can be translated into other languages. Each user can also specify their preferred language. For more information on Concrete CMS translation, please see GPI's Concrete CMS Translation Services Connector.
Drupal's Multilingual content module, which is part of the Internationalization (i18n) package, gives nodes more multilingual possibilities. These parameters affect how the language for nodes is configured, which helps to handle a range of translation methods. For more information on Drupal translation, please see GPI's Drupal Translation Plugin.
Usability
Concrete CMS is simple to use. Content can be simply managed, style settings can be edited in the visual editor, materials can be copied, batch downloads can be done, and deleted objects can be recovered.
If you do not have any technical knowledge or experience, you could find Drupal's UI to be a little overwhelming. Although Drupal offers a lot of flexibility in terms of customizing various components of your website, such as the thematic representation, customizations are done using code, which means that making changes takes web programming skills.
Search Engine Optimization
Concrete CMS is search engine friendly, requiring no additional code or add-ons to optimize a site for search engines. URLs, sitemap XML, meta tag descriptions, directory structure to arrange your material, control of your header h1-h6, bulk SEO updater page, and titles page may all be customized with Concrete CMS.
For Drupal, content optimization, link management, webmaster tools, keyword research, advanced tagging, drag-and-drop capabilities, and, best of all, competitor analysis and integrated analytics are just a few of the Drupal modules available. Sharp dashboards that integrate well with Google Analytics are part of the data-driven strategy. It is also an SEO-friendly CMS.
Features Overview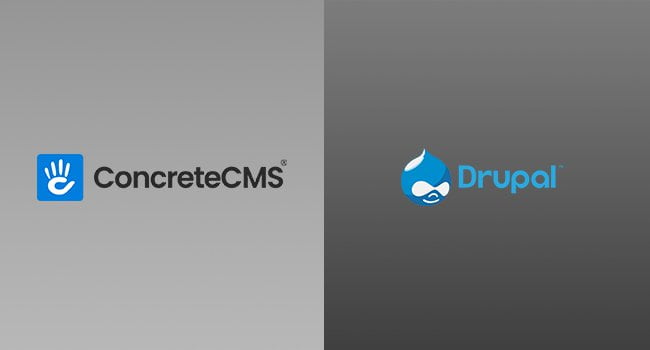 Concrete CMS
Security
Simple Installation & Add-on Support
Mobile-Optimized
Modular Building & Templates
Multilingual Support
Create Forms & Collect Data
Integrated Reporting for Errors and Logs
Users and Permissions
Content Workflows
No Hassle Support
SEO Support
Drupal
Theme Engine
More HTML5
Multilingual
Easy Authoring
Quick and easy Edits
Views Now Part of Core
Better Accessibility Support
Web Services
Guided Tour
Loading Speed
JavaScript Automated Testing
Big Pipe in Core
Conclusion
You might be wondering which is better for multilingual website design, development and deployment: Concrete CMS or Drupal? Both content management systems include a lot of features that make them worthy candidates for authoring and launching a multilingual website. Both have solid functionality, usability, design, language support, SEO, and security features.
Concrete CMS supports:
Multi-language websites and character sets
Comparison of content side-by-side helping track different versions of your website
Workflows are customizable and can be built to manage workflow & notifications between editing, quality assurance and publishing steps
Fall back language to manage untranslatable content across various language pages
Drupal supports:
Multi-language sites and character sets
Content side-by-side comparison which aids in tracking various versions of your websites
Customizable workflows and notifications for editing, QA and publishing steps
Fall back language approach to serve up another language and manage untranslatable content across language pages
Left-to-Right (LTR) and Right-to-Left (RTL) for languages such as Arabic and Hebrew
References