Optimizing InDesign Documents for Translation with Tables
Many of us remember the early, dark days of InDesign desktop publishing (DTP) when there were no real tables. Users had to create "fake" tables with a combination of tabbed text and manually drawn vertical and horizontal rules. "Real" tables have been available in InDesign for years, and they can automatically increase cell/row depth and adjust line breaks within table cells to minimize billable, post-translation format correction.
Document translation becomes much more expensive when "fake" tables are present in InDesign files, because all post-translation text expansion must be manually corrected one line at a time. Even though InDesign has an excellent tables package today, we still see many new clients submitting files for document translation which were created in Adobe CS5.5, without automatic tables.
This blog is a quick guide on how to create a new InDesign table from scratch, how to convert existing text into an InDesign table or how to import a table into InDesign from other file.
Create an InDesign table from scratch
Start using the Type tool; place the insertion point where you want the table to appear.
Choose Table > Insert Table.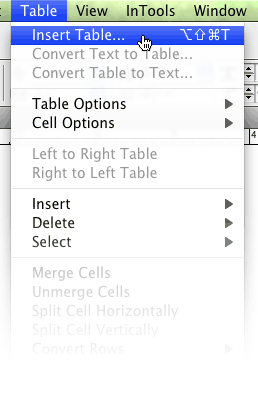 Specify the number of rows and columns.
If your table contents will continue on more than one column or text frame, specify the number of header or footer rows in which you want the information to be repeated when the table continues.
(Optional) Specify a table style. Click OK.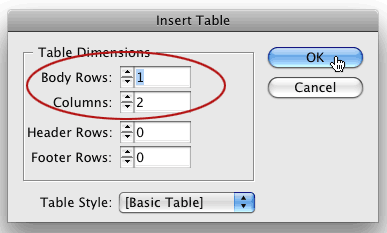 Minimum row height in an InDesign table is determined by the specified table style.
Create an InDesign table from existing text
You can organize existing text in an InDesign document for conversion into a table before document translation takes place. To accomplish this, insert tabs, commas, paragraph returns or other characters to indicate where separate table columns will occur. Then, insert tabs, commas, paragraph returns or other appropriate characters to indicate where a new table row should begin. In many instances, text in an InDesign document can be converted to a table without having to be edited.
Using the Type tool, select the text you want to convert to a table.
Choose Table > Convert Text To Table.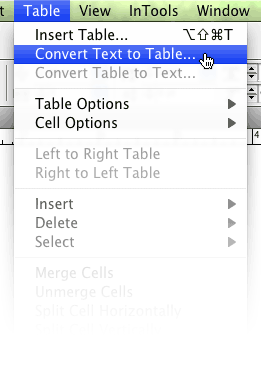 For both Column Separator and Row Separator, indicate where new rows and columns should begin. Choose Tab, Comma, or Paragraph, or type the character, such as a semicolon (;), in the Column Separator and Row Separator field. Note: any character you input will appear in this menu the next time you convert InDesign text into a table.
If you specify the same separator character for columns and rows, indicate the number of columns you want the table to include.
(Optional) Specify a table style to format the table. Click OK.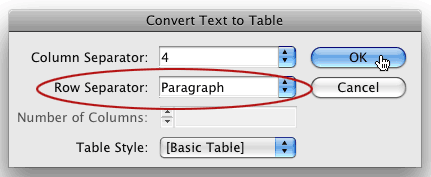 If any row has fewer items than the number of columns in a table, empty cells will fill out the row.
Importing tables from other applications
When you use the Place command to import a MS Word document that includes tables or a MS Excel spreadsheet into an InDesign document, imported data will display as an editable table. You may also use the Import Options dialog box to control the formatting.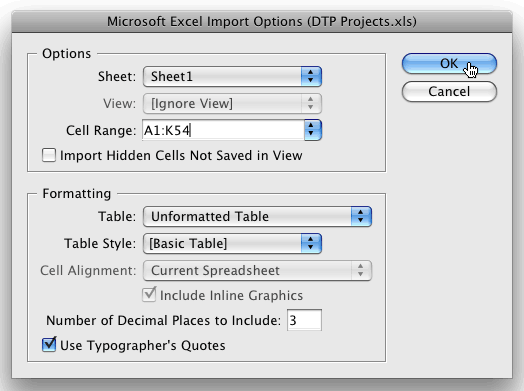 You can also paste data from an Excel spreadsheet or a Word table into an InDesign. If Text Only is selected, the info appears as unformatted tabbed text, which you can then convert to a table. If All Info is selected, the pasted text appears as a formatted table.
If you're pasting text from another application into an existing table, be sure to insert enough rows and columns to accommodate the pasted text, and make sure that at least one cell is selected otherwise you will embed the pasted table into a cell.
If you want more control over formatting the imported table, or if you want to maintain spreadsheet formatting, use the Place command to import the table.
Flexible InDesign documents reduce document translation costs
If you use the techniques described in this blog to create dynamic InDesign tables, translated text with text expansion (more lines or characters than the source language) will automatically adjust table row height and line breaks. This can eliminate hours of billable DTP post-translation format adjustment from your translation services agency in InDesign document translation projects.
If your translation agency is working with you in close partnership to ensure that you achieve optimal results in document translation projects, they should proactively suggest that you convert "fake" tables to real ones in InDesign files destined for document translation.