How RoboHelp 9 benefits Translation Projects – 1
Many of our clients and blog readers are familiar with RoboHelp, at least by reputation. This innovative product for generating various forms of help files celebrated its 20th anniversary this year. Due to the many versions of the product and recent dramatic improvements, there are often misconceptions about this products tremendous strength and benefit in language translation projects.
RoboHelp 9 can be used very productively as a standalone product, for people who only need various forms of Help systems or ePubs. But one of the biggest benefits to end-users is RoboHelp's seamless integrations with FrameMaker 10, Acrobat X and Captivate 5.5 in Adobe's Technical Communication Suite 3.5 (Tech Comm Suite.) Although this blog focuses specifically on RoboHelp, the incredible power of combining content creation from FrameMaker and rich media generation from Captivate, seamlessly output through RoboHelp via Tech Comm Suite should not be overlooked. In fact, you should check to make sure that your language translation services provider (translation agency) is "up-to-speed" on the latest version of Tech Comm Suite 3.5.
A note about FrameMaker 10 and RoboHelp 9 integration
A desirable option to maximize your single-source workflow for traditional documentation and HTML Help (or other formats) is to author your basic content in FrameMaker 10. Then, have FrameMaker paragraphs or DITA elements mapped to appropriate styles in RoboHelp 9, and output to a distinctly differently formatted Help system via Tech Comm Suite 3.5. Conditional text control in unstructured FrameMaker or DITA/FrameMaker can allow you to produce multiple versions of content, e.g. one for PDF output, and another, more extensive set of content for a complex Help system. For purposes of simplicity, this review will just focus on RoboHelp 9 functionality.
How the product has changed
Many readers may be familiar with older versions of RoboHelp (e.g. pre-Adobe releases created and supported by Macromedia), and may not be familiar with some of the compelling reasons to consider RoboHelp 10, or to upgrade to it from an older version. Here are just a few reasons to consider an upgrade to the current version of RoboHelp:
Improved user-interface and "author-friendly" workflow. Despite the many forms of input and output, the tools are remarkably accessible and logical.
The product is scalable and can easily grow with expanding needs.
Significant time and money can be saved with the new Review and Collaboration workflow solution. Adobe Acrobat Reader is a free tool for reviewers to use.
Several "extras" are bundled into the product at no extra charge, including RoboScreen Capture, RoboSource Control and Extended Scripting automation.
RoboHelp Features that specifically aid translation projects
Here is the short list of product functionality in RoboHelp 9 that is critical to multilingual and translation projects:
Unicode support for over 35 languages
Edit topics side-by-side with the Multiple Document Interface (MDI)
Support for multiple tables of contents, indices and glossaries and different languages
Granular control over language definition: define a language at the topic or even paragraph levels, in addition to the project
The "LANG" attribute is used for thesaurus, spell checking, Smart Indexing and also creating the search index
The language attribute specified at the paragraph level is given the highest preference
RoboHelp produces clean XHTML code
The new Review and Collaboration workflow solution can streamline your workflow saving considerable time and cost as the team is empowered to communicate efficiently and accurately
Although these few features assist Help translation projects tremendously, several new product enhancements, and features introduced in the previous release are very relevant as well.
RoboHelp 9 streamlines the Review and Collaboration process
One of the biggest challenges most clients have in managing the source language content for Help Systems is keeping content in sync and managing the review and collaboration process. RoboHelp 9 has several potent methods to ease these processes. The three major workflow solutions to this challenge are detailed below:
Adobe PDF Based Review
This method supports a "round-trip" workflow. The content manager can select topics individually or based on status. This can include just snippets or Master Pages. After the review process, authors can import the comments back into RoboHelp and either accept or reject comments as they deem appropriate. There is no limit to the number of reviewers of topics, so this is highly scalable.
PDFs generated for review can be hosted on an internal server, on Acrobat.com (a cloud), or a Microsoft SharePoint server. So, the reviewer's access to files for review can be very flexible. Creating a PDF for Review in RoboHelp is relatively simple.
Once all comments are in from reviewers, the author can use the Review > Import Comments from PDF command. A Review Pane shows a list of comments or changes. The author can easily go to a specific topic to accept or reject it by double clicking on the comment.
The screen capture below, from Adobe's RoboHelp 9 Reviewer's Guide, shows a document with imported comments visible in the Review Pane at the bottom of the screen: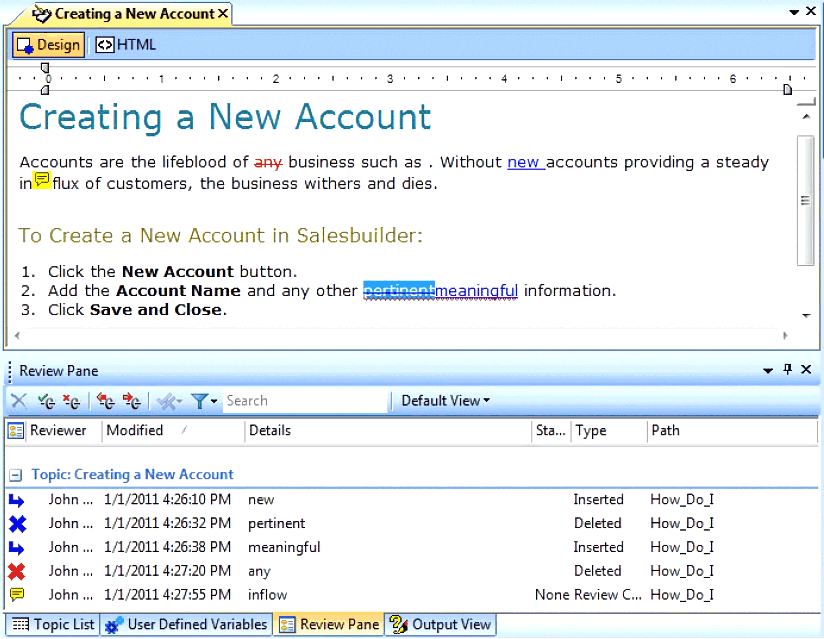 At this point, as the content-creator clicks on comments, logical navigation toolbars appear and he can accept or reject individually, or even Accept All corrective comments, as shown below in another illustration from the RoboHelp 9 Reviewer's Guide: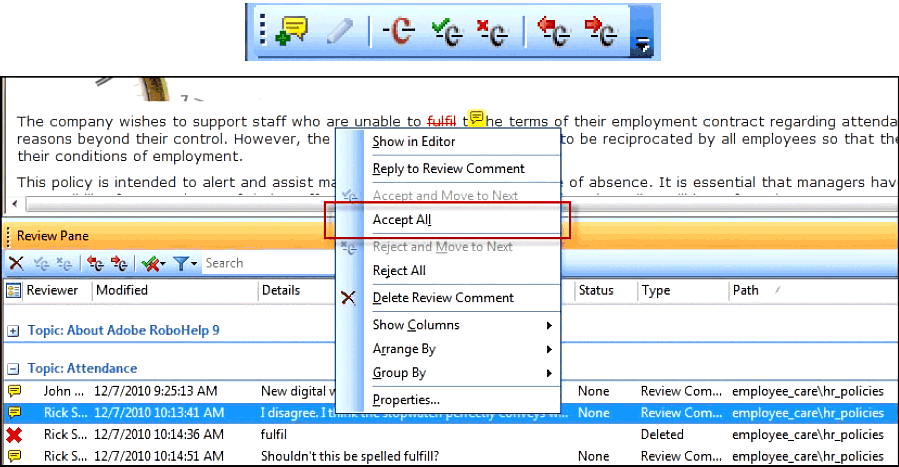 Comment Moderation in Adobe AIR Help 2.0 for end-user input
Sometimes companies have Help documentation that is evolving, particularly in early product releases in the source languages. RoboHelp can output tot the Adobe AIR Help platform, which provides several useful commenting options:
Enable limited commenting by end users for their own use in topic annotation or sharing with co-workers
Use commenting between your content-creation team and SMEs to consolidate comments
Allow end-users to share comments with other users
Share comments amongst users in a shared review
RoboHelp 9 gives you the option to enable Moderation so that comments are first reviewed by a moderator and accepted or rejected before being made visible to the end-user community.
RoboHelp's ability to manage tracked changes amongst multiple content creators
RoboHelp now has a powerful track changes facility, very similar to that introduced in FrameMaker a few releases ago. Using the Review > Track Changes command will highlight additions and deletions. Comments can also be added at this point. RoboHelp also has a feature under Tools > Options that allows the Reviewer or author to identify themselves, so their name will be associated with any insertions or deletions that the specific team member makes.
The image below, drawn from the Reviewer's Guide, shows an example of Tracked Changes as seen in the Design Editor and the Reviewer pane: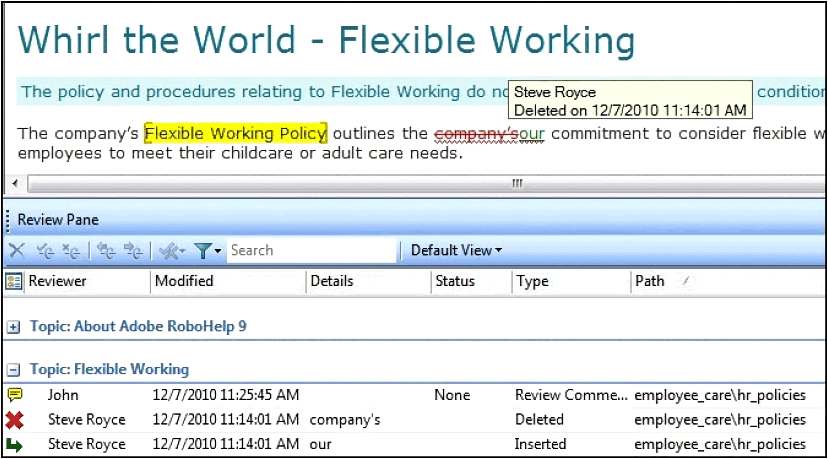 More reasons to use RoboHelp for complex, multilingual Help projects
Our "part 2" blog on this topic will focus on several more compelling RoboHelp features, including improved ways to work with shared and reusable content. An improved resource manager, cross project "live linking" and highly accessible "version control" are just a few features to be touched on in the next blog in this series.
More resources about RoboHelp
Adobe staff and customers have created a large amount of highly useful reviews, blogs and feature overviews on the latest version of RoboHelp. The following list of links will take you to some of the better blogs or video demos on this dynamic product: