Website Translation: RoboHelp 9 Benefits, Part 2
Our previous blog, "How RoboHelp 9 benefits Translation Projects – 1," focused on several new RoboHelp features that improve translation projects, including a streamlined collaboration and review process, managing tracked changes across multiple collaborators and comment moderation. This second blog will expand exploration of relevant new feature/benefits, including improved ways to work with shared and reusable content, an improved resource manager, cross project "live linking" and highly accessible "version control."
Single source publishing may be achieved by publishing from FrameMaker through Tech Comm Suite via RoboHelp, or by authoring directly in RoboHelp. One of the chief benefits of RoboHelp is its versatile ability to output to a variety of critical formats. It is a real time and money saver to have one set of source language files translated to target languages and then output via RoboHelp in multiple languages to several file format deliverables: WebHelp, Adobe AIR, Word/PDF, ePub, CHM/HTML Help, Flash Help, XML, Oracle Help, Java help, WinHelp and Eclipse Help.
Review of RoboHelp Features that specifically aid translation projects
Here is the short list of product functionality in RoboHelp 9 that is critical to multilingual and translation projects:
Granular control over language definition: define a language at the topic or even paragraph levels, in addition to the project
The "LANG" attribute is used for thesaurus, spell checking, Smart Indexing and also creating the search index
The language attribute specified at the paragraph level is given the highest preference
Unicode support for over 35 languages
Edit topics side-by-side with the Multiple Document Interface (MDI)
Support for multiple tables of contents, indices and glossaries and different languages
RoboHelp produces clean XHTML code
More about Acrobat PDF-based review
We touched on this topic in the previous blog. But there are even more benefits to be discussed that can be highly useful for either in-country-review (ICR) or a general post-translation review process that involves Subject Matter Experts (SMEs).
RoboHelp methods for SME review via Acrobat PDF
RoboHelp easily produces PDF for commented review. But there are several workflows or methods that can be used, so clients and their translation agency may choose the technique that best suits the project and content at hand. As discussed in the previous blog, translation agency publishers can import the linguist's comments into RoboHelp and then accept or reject them based on glossaries or other project standards. This is a highly scalable solution, as there is no limit to the number of reviewers or topics.
Depending on the size and location of the linguistic review team, there are three RoboHelp PDF Review methods to choose from. The only software required by the remote linguistic reviewer is the free version of Adobe Reader software.
Send for Shared Review: in this scenario, RoboHelp creates a PDF and then uploads it to Acrobat.com (the cloud), a Microsoft SharePoint server location or an internal server for review. The RoboHelp publisher or author who starts the process must have Acrobat X Pro installed. Incidentally, Acrobat Pro is included with Adobe's Tech Comm Suite, which also includes FrameMaker, Captivate and Photoshop.
Create a Local PDF: probably the most common technique, this involves simply creating a PDF file and manually posting multiple copies for each reviewer.
Attach for eMail Review: this technique creates a PDF and automatically attaches it to a new email message opened in your email client (e.g. OUTLOOK.) You can provide instructions or descriptive detail in the body of the email and distribute what will become individual copies to any number of reviewers.
Mark topic status as "Ready for Review"
Sometimes projects are translated in "stages", e.g. portions of the content (chapters, or topics) are updated after initial translation begins. In this case, the client or translation agency staff can use the RoboHelp Project Manager to select topics and mark them "Ready for Review". Or the translation manager can simply send a topic or an entire set of topics inside a folder for review. This allows portions of a complex project to achieve LQA (Linguistic Quality Assurance) without waiting for the last topic to receive final approval in its source language.
Shared and Reusable Resources in RoboHelp aid Multi-Author Environments
RoboHelp 9 provides an enhanced Resource Manager and increased support for Version and Source Control application. This allows projects with multiple authors to leverage document assets more effectively when authoring source language files. Incidentally, lack of source and version control on the client side can be one of the biggest headaches for translation agency project managers, who must often make multiple requests from their clients for the latest or most accurate files.
Keep Assets up-to-date with "Live Linking" in Resource Manager
When working in a collaborative authoring environment with shared resources, it is imperative to know when externally linked content has changed. What if another author has updated a portion of an externally referenced topic, for instance? "Live linked" content in RoboHelp will now visually show the author when a referenced file has been changed. This new enhancement goes far beyond the simple linking of Adobe FrameMaker or Microsoft Word documents into RoboHelp projects, which was established in earlier releases of RoboHelp.
The screen capture below (drawn from the Adobe RoboHelp 9 Reviewer's Guide) shows how a linked graphic, "ChartCrop.jpg" has been modified; there is a linking color of red in the lower right corner of the icon. The author right clicks and selects Sync to update the graphic and make sure that the image reflects the latest change.

Source and Version control keeps team members "in synch"
RoboSource helps multiple authors avoid getting "out of synch" as changes occur in their projects. This is a natural benefit to the dynamic workflow which often requires Help projects to begin before final documentation or even final translation is complete.
Many source control applications integrate directly with RoboHelp and can be invoked directly from within your RoboHelp project:
RoboSource Control 3.1
Team Foundation Server 2010 and 2008
Perforce
Microsoft Visual Source Safe 5.0
Any other version control application that supports Microsoft Source Code Control API
The image below shows a topic being checked in to source control within RoboHelp.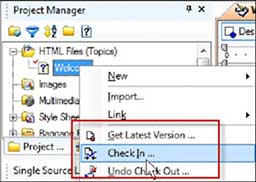 Here is a link to more information about RoboSource Control: https://www.adobe.com/devnet-archive/robohelp/articles/robosource.html
Asset Folders are now unlimited
Resource Manager enables every author to create as many Asset Folders as required. Asset Folders may range from Graphics, to Multimedia, to Cascading Style Sheets, to Master Pages and many other file types.
Create links via Drag and Drop
You may now use an "asset view" inside Resource Manager by simply dragging it from the pod directly into the project. A link is created, and once any changes occur to the original graphic, the RoboHelp author is notified and given the option to update to the new version. This feature can be used across multiple RoboHelp projects involving many authors.
Prevent duplication and maintain consistency with Asset Links
When a link is established between any resource and Resource Manager, RoboHelp periodically scans both the Project and Resource Manager locations to detect if anything has changed. If an asset has been modified in any way, RoboHelp will notify the author of the change.
Streamlined ePub output from RoboHelp
We have all read a variety of blogs, Tweets and White Papers on the swift proliferation of handheld devices and tablet computers. Most consumers are accustomed to immediate access to critical information either in mobile applications, or with technical information provided in a portable and dynamic format. It is now "old news" that Amazon outsells eBooks vs. traditional print books. All of these trends have influenced customers in locales and many languages to want their tech doc or Help "now", on a portable device smaller than a laptop or Netbook.
About the ePub format: ePub is an XML-based file format designed to reflow text based on current screen size. The ePub format provides a "standard" for organizing and reading digital content on mobile devices. The International Digital Publishing Forum (IDPF), a nonprofit standards organization, designed and maintains the ePub file format. The standard was developed with the participation of over 60 companies and organizations and was unanimously approved by IDPF members.
Top features of ePub:
Text reflows according to screen size, which is perfect for reading on mobile devices, eBook readers, and tablets
Simple table of contents and navigation implementation
Ability to embed images, objects, and multimedia files
Open, nonproprietary file format standard developed and maintained by the IDPF
Advanced control with font embedding and CSS styling
Interoperability for unencrypted files
RoboHelp 9 has a "wizard-driven" workflow that makes the process of publishing to ePub extremely easy.  You simply click File > Generate > ePub Output to start the process. You can view how simple the process by watching some of the webinars and video demos contained in the list of resources below.
More Resources for Adobe RoboHelp Information
A note about FrameMaker 10 and RoboHelp 9 integration
RoboHelp 9 can be used very productively as a standalone authoring solution for people who only need various forms of Help systems or ePubs. But one of the biggest benefits to end-users is RoboHelp's seamless integrations with FrameMaker 10, Acrobat X and Captivate 5.5 in Adobe's Technical Communication Suite 3.5 (Tech Comm Suite.) This provides a highly desirable product combination to maximize your single-source workflow for traditional documentation ("fancy" PDF) and HTML Help (or other formats) by authoring your source language files in FrameMaker 10. Then use the Publish function in FrameMaker 10 to transform files through RoboHelp 9, and output to a distinctly differently formatted Help system or ePub format.
Conditional text control in unstructured FrameMaker or DITA/FrameMaker can allow you to produce multiple versions of content, e.g. one for PDF output, and another more extensive set of content for a complex Help system. You can find even more related information about FrameMaker in our previous blogs, "6 Ways Structured FrameMaker 10 helps Translation" and "Automating Document Translation Formatting with Structured FrameMaker 10."
More resources about RoboHelp
Adobe staff and customers have created a large amount of highly useful reviews, blogs and feature overviews on the latest version of RoboHelp. The following list of links will take you to some of the better blogs or video demos on this dynamic product: